Phu Quoc appeals to many tourists from everywhere by its untouched and idyllic scenery of the emerald blue sky and seas, the endless fine white sands. However, there is another side of Phu Quoc. A simple and rustic Phu Quoc with fascinating night markets and the coastal locals who are always hospitable and kind to tourists. Visiting the Dinh Cau night market to enjoy all and learn more about the rural entertainments on the pearl island.
(The captivating scenic at the pearl island Phu Quoc)
The Dinh Cau night market is located on Vo Thi Sau street, Duong Dong village, Phu Quoc District, Kien Giang Province. The market stretches from the head of Bach Dang street to Tran Hung Dao junction. With the location that is near the sea and only 100 meters apart from Dinh Cau Temple, the night market is considered to be an ideal stopover after having fun all day long at the most beautiful beaches on Phu Quoc.
(The excellent stop when traveling to Phu Quoc)
The night market starts from 5 p.m to 9 or 10 p.m daily. In the distance of 300 meters to 400 meters, you will easily see there are up to 100 extremely eye-catching stores. During Phu Quoc tour, tourists will find joys when you are here, harmonize in the hustling and bustling atmosphere of the night, go shopping with a great pleasure and try plentiful aromatic seafood.
(The dynamic scenery at the Dinh Cau night market)
The dominant goods at the market is seafood: squids, shrimps, fishes, snails, crabs, flower crabs. With the advantage of being a coastal land, therefore, they have a bountiful source of seafood's supply. The food stalls always display fresh items and tourists can have various choices and be served kindly with your exact options. This is also a highlight for the market and make it become a should-not-miss destination in Phu Quoc tours.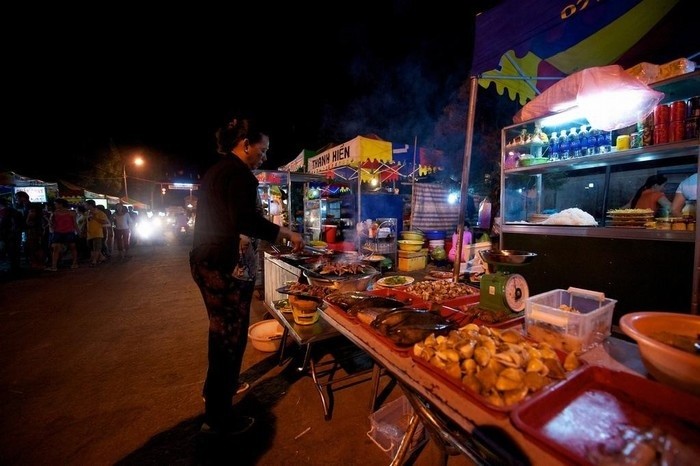 (An attractive seafood stall for tourists freely choose)
Visiting here, you would be blown your mind with the diversity and large amounts of bucolic seafood. Each seafood has their own featured taste but all of them feature the characteristic of "Phu Quoc" flavor. You can enjoy a dish of aromatic grilled noble scallop with Vietnamese scallion oil, a rich flavor of boiled fresh squids dipping in true Phu Quoc fish sauce.
(An eye-catching grilled shrimp at the Dinh Cau night market)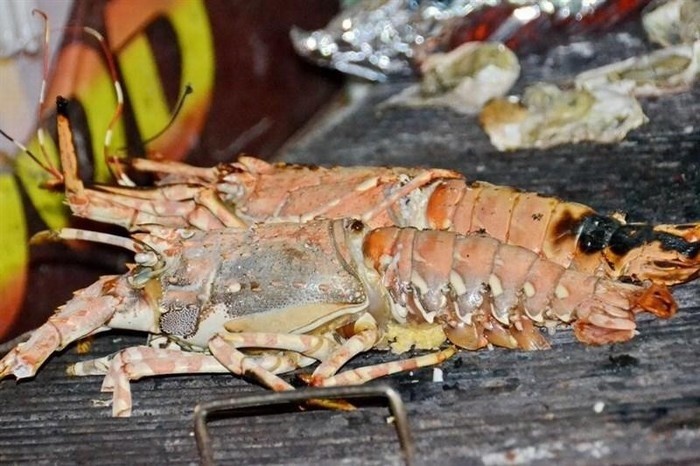 (A pleasant smell of grilled noble scallops with Vietnamese scallion oil and peanuts)
Nobody can resist steaming dishes of sea snail, bowls of Vietnamese thick noodles soup with yellow Vietnamese fish with turmeric and drill style, attractive noodle soup bowls, boiled flower crabs dishes or hot grilled shrimp dishes mixed with the special taste of salt, pepper and lime dipping sauce.
The art of cuisine on this land still remains the pristine characteristics with simple cook styles and seasoning with Phu Quoc spices but still keep the intact sea flavor for the foods. From a far distance, you still can smell a pleasant fragrance of food from a food stall and you would not be able to control yourselves in tasting all those delicious dishes.
(Fresh seafood)
After fulfilling your stomach with a bunch of appetizing food, you can continue to wander leisurely around the market. You will easily catch a sight of colorful souvenir stalls. Bounteous of handmade arts and handicrafts are presented, such as: pearl necklaces, pearl rings, hairbrushes, bangles and bracelets, assorted snail and scallop's shells, ashtrays, pen containers and so on. These are definitely interesting gifts for families or friends for the summer tours.
(A colorful pearl stall)
(There are various choices for tourists to freely choose the most satisfied gifts)
Traveling to Phu Quoc and visiting the Dinh Cau night market, experiencing the feeling to walk on crowded streets with tourists, listening to the sea's sound, stopping at some stalls and enjoying the comfortable and peaceful feeling. Not only that, you also cannot forget the daily life picture of the coastal local, the busy wholesale activities but always showing their affable smiles, their hospitality and friendliness towards tourists.
(Walking among vivid stalls in the night market)
It seems that the Dinh Cau night market is not only the place to satisfy tourists' love and passion for cuisine. You can also harmonize in the fresh and cool air and revel in the sea's presents, feel the sincere love from the nature and the locals on the pearl island.