Ho Chi Minh City (HCMC) is Vietnam at its most dizzying: a high-octane city of commerce and culture that has driven the whole country forward with its pulsating energy.
From the finest of hotels to the cheapest of guesthouses, the classiest of restaurants to the tastiest of street stalls, the choicest of boutiques to the scrum of the markets, HCMC is a city of contrasts. Wander through timeless alleys to incense -infused temples before catching up with the present in designer malls beneath sleek skyscrapers. The ghosts of the past live on in buildings that one generation ago witnessed a city in turmoil, but the real beauty of (erstwhile) Saigon's urban collage is the the seamless blending of these two worlds into one thrilling, seething mass, while a host of new and exhilarating tours get you way off the beaten track.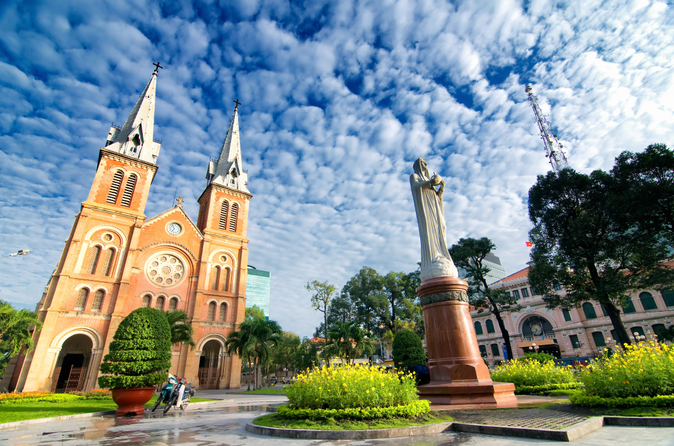 » May
» Nha Hang Ngon
» Temple Club
» …hum Vegetarian Cafe & Restaurant
» Baba's Kitchen
» Madame Cuc 127
» Giang Son
» Ma Maison Boutique Hotel
» Park Hyatt Saigon
» Blue River Hotel
Feb Hardly any rain, the least humidity and a city filled with blooms for the Tet celebrations.
Mar Also has low rain and humidity, plus the annual cyclo challenge.
Dec December is a whisper cooler than normal for HCMC and comparatively dry.
© Copyright by Dailytravelvietnam 2012 – 2022.
All rights reserved.



DAILY TRAVEL TRADING SERVICE COMPANY LIMITED
Sales booking office: 2nd floor, 98F Le Lai street, district 1, Ho Chi Minh City, VietNam
Business License No: 0312610635
Vietnam Tourism Certification Board Certified Trainer No: 486/09