Phoenix Island
Until his imprisonment for anti-government activities and the consequent dispersion of his flock, the Coconut Monk (Dao Dua) led a small community on Phoenix Island (Con Phung), a few kilometres from My Tho. The Coconut Monk left his family to pursue a monastic life and for three years he sat on a stone slab under a flagpole and meditated day and night.
In its heyday the island was dominated by a somewhat trippy open-air sanctuary (admission 5000d;  8-11.30am & 1.30-6pm). The dragon-emblazoned columns and quirky tower, with its huge metal globe, must have once been brightly painted, but these days the whole place has become faded, rickety and silent. Nevertheless, it is seriously kitsch, with a model of the Apollo rocket set among the Buddhist statues. With some imagination you can almost picture how it all must have appeared as the Coconut Monk presided over his congregation, flanked by enormous elephant tusks and seated on a richly ornamented throne.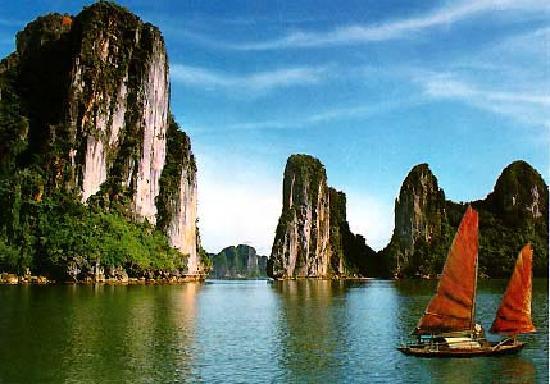 Plaques on the 3.5m-high porcelain jar (created in 1972) on the island tell all about the Coconut Monk. He founded a religion, Tinh Do Cu Si, a fusion of Buddhism and Christianity. Representations of Jesus and the Buddha appeared together, as did the Virgin Mary and eminent Buddhist women, together with the cross and Buddhist symbols. Today only the symbols remain, as the Tinh Do Cu Si community has dissolved from the island.
Private boat operators can include the island as part of an organised tour. It's possible to spend the night at the simple Con Phung Hotel ( 075-382 2198; www.conphungtourist.com; r from 200,000d). The VIP quarters have river views, but all rooms include TV, fridge and hot water. The restaurant serves a range of delta-flavour dishes (mains from 40,000d).
Other Islands
Famed for its longan orchards, Dragon Island (Con Tan Long) makes for a pleasant stop and stroll, just a five-minute boat trip from My Tho. Some of the residents of the island are shipwrights, and the lush palm-fringed shores are lined with wooden fishing boats. The island has some small restaurants and cafes.
Tortoise Island (Con Qui) and Unicorn Island (Thoi Son) are popular stops for the coconut candy and banana wine workshops.
Tan Thach Village
Across the river in Ben Tre province, this former ferry stop has faded into obscurity with the opening of the new bridge. The only reasons to visit are to chill out in its rustic guesthouse or to visit its riverside restaurant – a popular stop on the river tours.
Thao Nhi Guesthouse GUEST HOUSE $
( 075-386 0009; [email protected]; Hamlet 1, Tan Thach Village; r US$6-15) A traditional homestay-type experience amid abundant greenery with basic rooms and bungalows with fans. There are hearty meals, free bike rental and the owner's son speaks excellent English and offers tours.
(Hamlet 2, Tan Thach Village; mains 50,000-80,000d) Set in landscaped gardens complete with chickens and buffaloes, this attractive island restaurant does a roaring trade with tour groups exploring the delta. Lunch only.
Part of Chau Thanh District, Tan Thach is 6km north of the Ben Tre bus station (30,000d by xe om); take Hwy 60 back towards My Tho, veer right at the big intersection marked Chau Thanh and follow it to the end. The guesthouse and restaurant are both down the last narrow road to the right; Thao Nhi is signposted to the right after 300m, where it's a further 50m down a small lane.