My Tho was founded in the 1680s by Chinese refugees fleeing Taiwan after the fall of the Southern Ming dynasty. The economy is based on tourism, fishing and the cultivation of rice, coconuts, bananas, mangoes, longans and citrus fruit.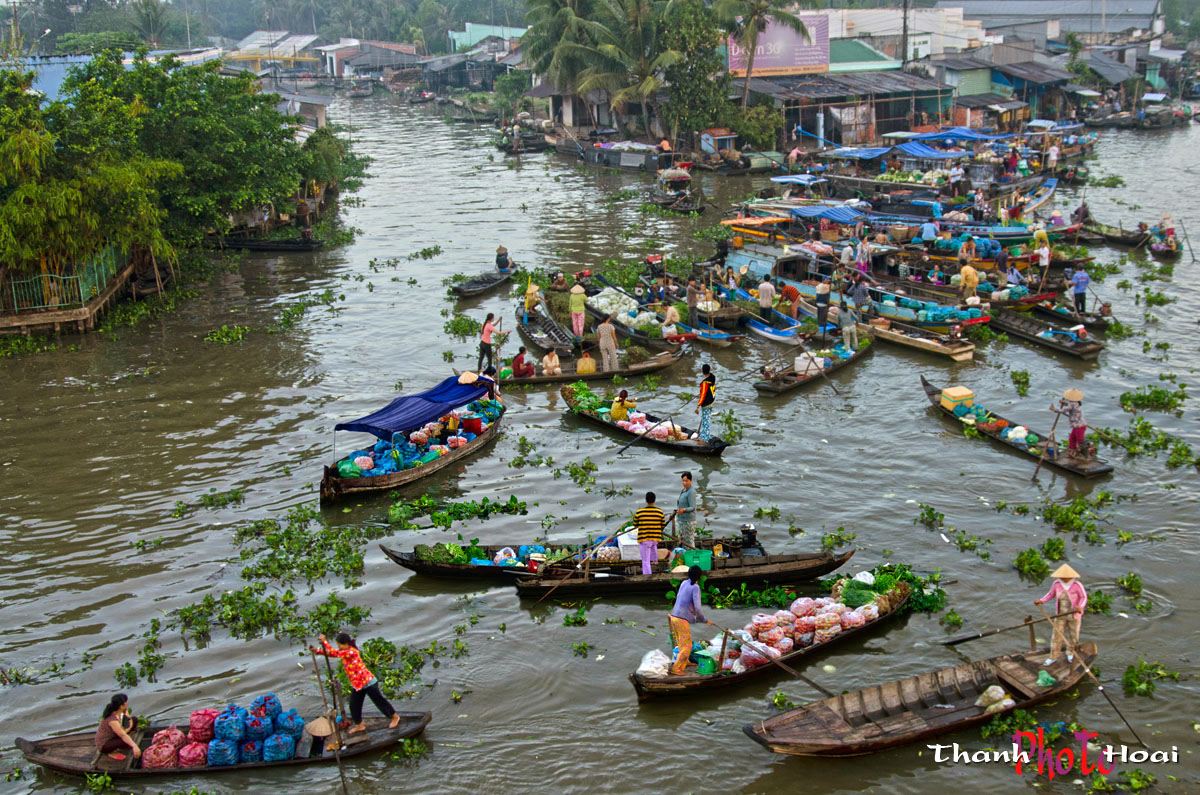 (Cho My Tho; Ð Trung Trac) Spilling out onto the street facing Bao Dinh Channel, this market offers a typically Vietnamese array of dried fish, exotic fruits, doomed animals and strange smells.
Cao Dai Temple BUDDHIST TEMPLE
(85 Ð Ly Thuong Kiet;  dawn-dusk) A colourful little temple with its all-seeing divine eye.
In a prominent building on the riverfront, the My Tho Tourist Boat Station MAP (8 Ð 30 Thang 4) is home to several tour companies offering cruises to the neighbouring islands and through the maze of small canals. Depending on what you book, destinations usually include a coconut-candy workshop, a honey farm (try the banana wine) and an orchid garden. A 2½-hour boat tour costs around 350,000d for one person or 450,000d for two. If you're a day-tripper, it's easiest to book your package (including connecting transport) through a HCMC-based tour operator. Prices are significantly better if you can join a group, although you may be able to negotiate a more flexible itinerary if you go it alone. Operators based at My Tho's Boat Station include the following:
Tien Giang Tourist MAP (Cong Ty Du Lich Tien Giang;  073-387 3184; www.tiengiangtourist.com; 8 Ð 30 Thang 4)
Vietnamese Japanese Tourist MAP ( 073-397 5559; www.dulichvietnhat.com; 8 Ð 30 Thang 4)
(073-387 7883; www.tiengiangtourist.com; 33 Ð Thien Ho Duong; r 450,000-500,000d) Rooms at this becalming, clean and tidy hotel have hardwood floors, natty extras such as bathrobes and hair dryers, lovely bathrooms with free-standing claw-footed bathtubs and modern furniture.
(073-387 0875; 10 Ð 30 Thang 4; r 500,000-700,000d) All rooms have a river view and come with the obvious amenities at this smart hotel. The restaurant here is worth a visit for its range of dishes, plus there's a lively coffee shop.
Song Tien HOTEL $$
(073-387 2009; www.tiengiangtourist.com; 101 Ð Trung Trac; r 450,000-850,000d) This friendly, smart and well-looked-after hotel has decent-enough rooms with satellite TV and minibars. Check the rooms: cheaper ones are windowless and there are occasional traces of mould.
My Tho is known for a special vermicelli soup, hu tieu My Tho, which is richly garnished with fresh and dried seafood, pork, chicken, offal and fresh herbs. It is served either with broth or dry and can also be made vegetarian.
Although hu tieu can be found at almost any eatery in town, there's a handful of speciality restaurants. Carnivores should try
 (44 Ð Nam Ky Khoi Nghia; soups 20,000d), while vegetarians can indulge at Hu Tieu Chay 24 MAP (24 Ð Nam Ky Khoi Nghia; mains 10,000-14,000d).
( 073-387 2742; 196 Ð Ap Bac; mains 45,000-150,000d;  8am-9pm) This friendly spot is down a lane off the main road into My Tho from HCMC, with tables set alongside ponds amid lots of greenery, and excellent, beautifully presented seafood.
Chi Thanh CHINESE, VIETNAMESE $
( 073-387 3756; 279 Ð Tet Mau Than; mains 35,000-80,000d) This small but extremely popular restaurant does a steady trade in tasty Chinese and Vietnamese fare (beef, chicken, pork, squid, crab, noodles, hotpots). There's an English menu.
Night Market VIETNAMESE $
(Ɖ 30 Thang 4; 5pm-late) Plonked right in front of the floating restaurant, this popular place packs in diners come evening, with a host of lively hotpot and fish stalls.
Floating Restaurant VIETNAMESE $
(Ɖ 30 Thang 4; mains from 30,000d;  8am-9.30pm) By the Tourist Boat Station, this is a good choice for a breezy meal on the Mekong.
Lac Hong BAR, CAFE
(073-397 6459; 3 Ð Trung Trac; 6-11pm) Set in a gorgeous old colonial-era trading house on the riverfront with lounge chairs and, upstairs, breezes and river views. Live music on Thursdays.
New bridges and freeways have considerably shortened travel distances to My Tho. It takes only about an hour to 90 minutes (traffic depending) from central HCMC (70km), while Ben Tre town is a mere 17km away via the new bridge.
The My Tho bus station (Ben Xe Tien Giang, 42 Ð Ap Bac) is 3km west of the town centre on Ð Ap Bac, the main road to HCMC. Buses head to HCMC's Mien Tay bus station (35,000d), Can Tho (50,000d), Cao Lanh (32,000d) and Ca Mau (123,000d).
THE RIVER OF NINE DRAGONS
The Mekong River is one of the world's great rivers and its delta is one of the world's largest. It originates high in the Tibetan Plateau, flowing 4500km through China, between Myanmar (Burma) and Laos, through Laos, along the Laos–Thailand border, and through Cambodia and Vietnam on its way to the South China Sea. At Phnom Penh (Cambodia), the Mekong River splits into two main branches: the Hau Giang (Lower River, also called the Bassac River), which flows via Chau Doc, Long Xuyen and Can Tho to the sea; and the Tien Giang (Upper River), which splits into several branches at Vinh Long and empties into the sea at five points. The numerous branches explain the Vietnamese name for the river: Song Cuu Long (River of Nine Dragons).
The Mekong's flow begins to rise around the end of May and reaches its highest point in September. A tributary of the river that empties into the Mekong at Phnom Penh drains Cambodia's Tonlé Sap Lake. When the Mekong is at flood stage, this tributary reverses its direction and flows into Tonlé Sap, acting as one of the world's largest natural flood barriers. Unfortunately, deforestation in Cambodia is disturbing this delicate balancing act, resulting in more flooding in Vietnam's portion of the Mekong River basin.
In recent years seasonal flooding has claimed the lives of hundreds and forced tens of thousands of residents to evacuate from their homes. Floods cause millions of dollars' worth of damage and have a catastrophic effect on regional rice and coffee crops.
Living on a flood plain presents some technical challenges. Lacking any high ground to escape flooding, many delta residents build their houses on bamboo stilts to avoid the rising waters. Many roads are submerged or turn to muck during floods; all-weather roads have to be built on raised embankments, but this is expensive. The traditional solution has been to build canals and travel by boat. There are thousands of canals in the Mekong Delta – keeping them properly dredged and navigable is a constant but essential chore.
A further challenge is keeping the canals clean. The normal practice of dumping all garbage and sewage directly into the waterways behind the houses that line them is taking its toll. Many of the more populated areas in the Mekong Delta are showing signs of unpleasant waste build-up. The World Wildlife Fund (WWF) is one organisation that's working with local and provincial governments to help preserve the environment.
In 2013, Laos declared its intention to build the 260-megawatt Don Sahong Dam on the Mekong, without consulting downstream neighbours, while its construction of the 1260-megawatt Xayaburi Dam continues in the north of the country. Dams on the Chinese stretch of the river have already been blamed for reduced water levels, and environmental groups have petitioned the Laos government to put plans on hold after concerns that the target of 11 dams will disrupt the breeding cycles of dozens of fish species. There are also fears that the reduced flows will cause more salt water to enter the Vietnamese section (a process exacerbated by global warming), which could have a catastrophic effect on rice production.