The 'rice bowl' of Vietnam, the Mekong Delta is a landscape carpeted in a dizzying variety of greens and slashed with mighty waterways. It's a water world where boats, houses, restaurants and even markets float upon the innumerable rivers, canals and streams that flow through the region like arteries. At times you can quite simply lose sight of land.
The area is both riparian and deeply rural, but it's also one of Vietnam's most densely populated regions, with nearly every hectare intensively farmed. Visitors can dwell on southern charm in little-visited riverside cities, sample fruits traded in the colourful floating markets, or feast on home-cooked delicacies before overnighting as a homestay guest. Mangrove forests, sacred Khmer pagodas and off-the-beaten-track attractions round out the picture.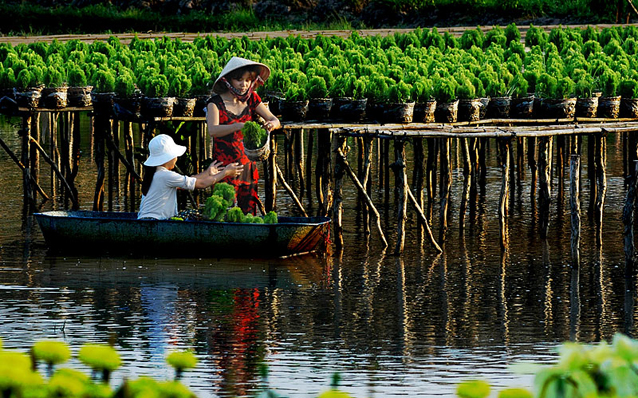 Those seeking tropical hideaways can come ashore on Phu Quoc, a divine forested island fringed with white-sand beaches and crisscrossed with empty dirt roads that simply beg for motorbike exploration.
When to Go
Nov The dry season starts, with Khmer longboat festivals in Tra Vinh and Soc Trang.
Jan While they shiver up north, Phu Quoc's beaches stay temperate and dry.
Mar A March visit avoids the Tet madness, and the summer heat and rain.
Tours:
Mekong Delta tour 1 day price $12
Mekong Delta tour 2 days price $24
Mekong Delta tour 3 days price $69
Off the Beaten Track
» Bang Lang
» Xeo Quyt Forest
Best Places to Stay
» Nam Bo Boutique Hotel
» La Veranda
» Xoai Hotel
» Bamboo Cottages