Phu Quoc National Park is one of the Southern National Park preserved completely a primeval jungle. This is an ideal destination for tourists because it is the convergence of many natural beauties with jungles, sea, streams, waterfalls and mountains.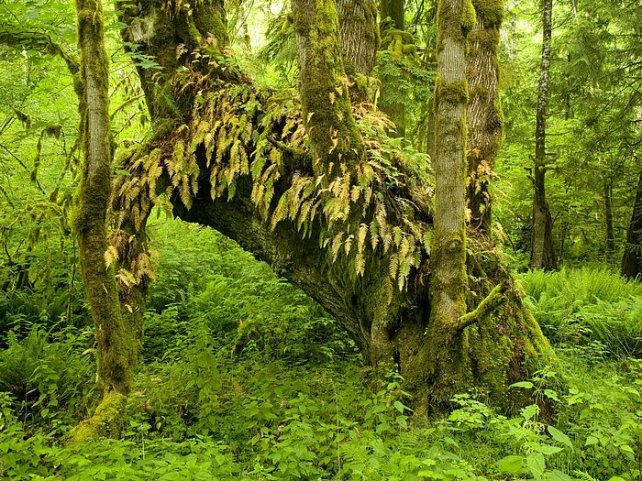 Phu Quoc National Park converges many natural appeals
The National Park is located across the northeast of the island. It is situated within the boundaries of the following communes: Bai Thom, Cua Duong and Ham Ninh of Phu Quoc Island district, Kien Giang province.
Referring to Phu Quoc, tourists will immediately intimate with an island in the northwest of Kien Giang province that has many alluring landscapes, historical sites, including Phu Quoc National Park – an attractive stop that tourists are ineluctable to visit when traveling on Phu Quoc.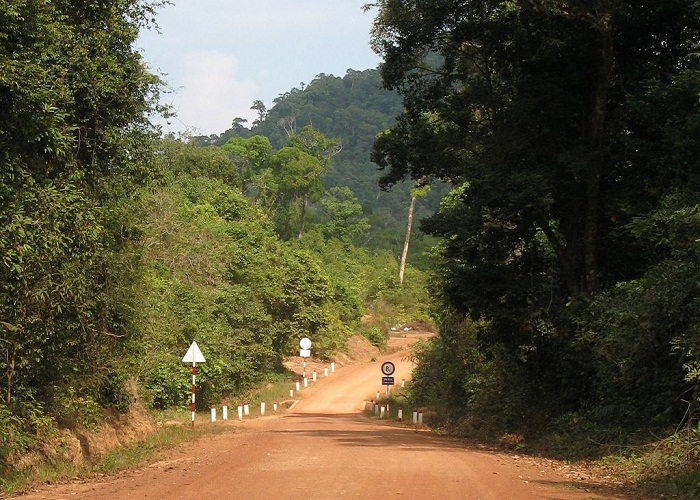 A road guides to Phu Quoc National Park
From Duong Dong (Phu Quoc) town, following Duong Dong-Ham Ninh route to arrive in Ham Ninh. From there, heading to the north of the island about 10 km, tourists can reach Phu Quoc National Park.
The total area of Phu Quoc National Park is more than 31,422 hectares, which includes 8603 hectares of strictly protected area, 22,603 hectares of biological restoration area and 33 hectares for administration – services and scientific research.
Phu Quoc National Park has the rich flora. The flora here is mainly lowland evergreen forest and an ideal environment for up to several hundreds of species, including: upper stratum trees (distinctive formations of Melaleuca, Mersawa, other types genus of family Dipterocarpaceae, Wild almond, brindle berry…), rare and value Orchids family, herbal trees (Tuber fleeceflower, eucommia, Chinese liquorice…) and some other parasitic species (orchids, ferns, vines…).
As regard to the fauna, it is various as well as the flora with: 30 mamal species including 6 species that are listed in the Red Book of Viet Nam (Capped gibbon, forest wolf, white monkey…), 200 bird species with 4 species in the IUCN Red list and 3 in Red Book of Vietnam, 50 species of reptiles including 9 species listed in the IUCN Red list and 18 species listed in the Red Book of the country.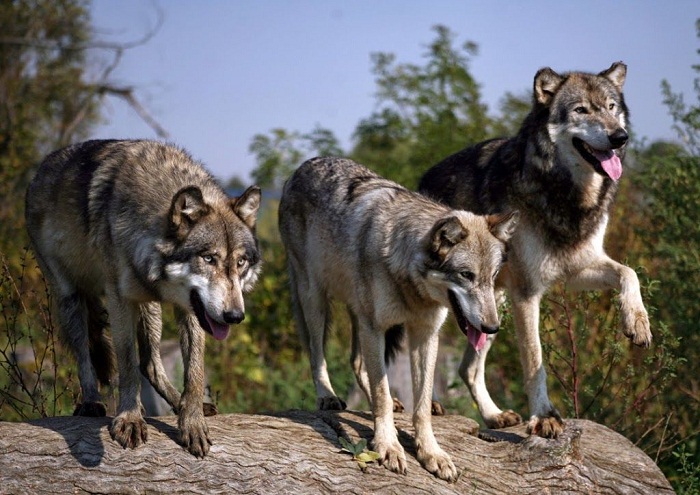 Rare, valuable and diverse fauna
Ocean area is rich as well with the extremely plentiful coral reefs. There are nearly 100 species of stone coral, approximately 62 species of soft coral and 62 species of sea weed. Besides, there are countless fishes belonged to various species, including groupers, butterflyfishes and so on. A part of those fishes belonged to greatly valuable and the most conservation concern, such as dugong, maxima clam, hawksbill sea turtle…
Visiting Phu Quoc National Park, tourists will experience a rich appealing ecosystem. Tourists will have a chance to take part in a 4 –hour tour to conquer and discover the peak of Mount Chua at about 600m, which is considered to be the roof of Phu Quoc, on Ham Ninh sandstone chain of mountains. Standing on the peak of Mount Chua, tourists can feel the joy of victory and visualize a vast and wide space, an idyllic scene and a glamorous nature. Looking down from here, the National Park looks like an ink painting that is colored by the dark green of forest leaves, the turquoise of ocean mingled with fresh pink and violet of flowers, especially the radiant red of Begonia flower-the flower featured on Phu Quoc.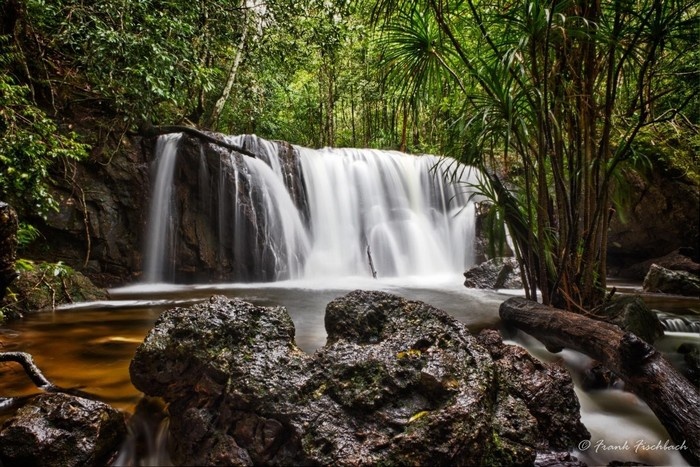 Additionally, Phu Quoc National Park is adorned by the white and full of purity of famous streams streaming from Ham Ninh mountain: Suoi Tranh, Suoi Da Ban, Suoi Da Ngon… The most impressive and attractive stream for tourists is probably the beautiful natural scenery of Suoi Da Ngon stream with 7-floor high waterfall flowed throughout days and nights.
Travelling to Phu Quoc, in addition to watching charming natural scenery, immersing in the turquoise seawaters on famous idyllic beaches, such as: Bai Duong, Bai Thom, or tilting onto flat rocks to listen to the stream gurgling, birds chirping and enjoying the fragrant of wild orchids… tourists can make an excursion, go camping, go fishing, and taste the specialties here, such as: rose myrtle wine, grilled scallop and so on.