Eco-tourism in Mekong Delta is currently flourishing and becoming popular more than ever.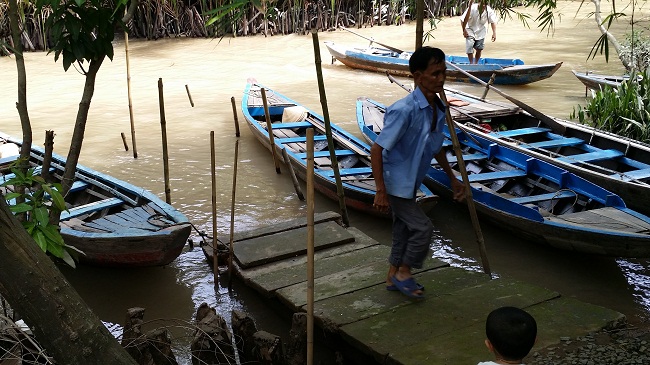 Ben Tre is located downstream the Mekong River. The entire province is crisscrossed with a network of smaller rivers and canals. It is one of the Western provinces that preserves the origin of green ecological environment. Todays, Ben Tre is one of the eco-tourism sites that is growing and luring tourists, who are looking for a rustic pure atmosphere of the countryside.
1.Transportation
Ben Tre is 86 km apart to the west from Ho Chi Minh city. Passing through Tien Giang province and Long An, you can reach Ben Tre. You can either choose to go by automobiles or motorcycles, and it takes 2-3 hours due to your speed to arrive in the center of Ben Tre. Besides, tourists can also go to Ben Tre by guest coaches. There are many lines, transport units that offer tickets at counter number 4 with prices ranging from 50,000 – 100,000 VND in the Mien Tay bus station.
2.Get around
The coconut hometown – Ben Tre has many eco-tourism places, green orchards, monuments, tombs of historical characters (Ben Tre played a significant role in Vietnam War). Spending 2 days and 1 night here, you can explore nearly the entire Ben Tre.
Cai Mon orchard  
Cai Mon orchard located in Vinh Thanh commune (Cho Lach district) and is 54 km apart from Ben Tre center. The orchard is one of the popularities in the South.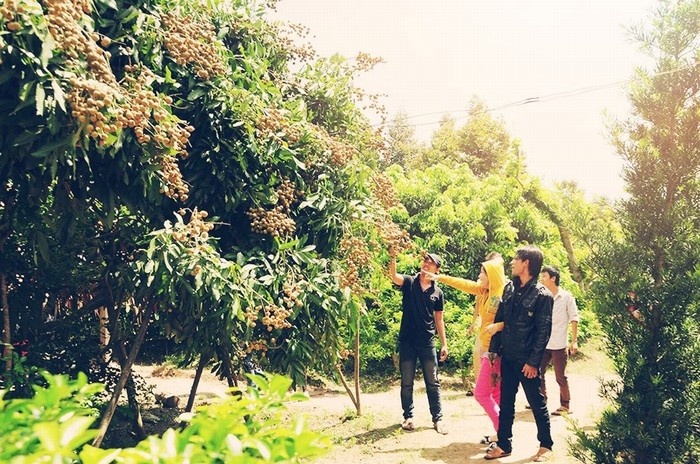 Longan orchard is laden would charm who love sweet taste
The orchard would excite you with the diversity of tropical fruits here, such as: laden longan orchard, red ripe rambutan orchard, green strawberry orchard and so on.
Typical southern fruits such as oranges, tangerines, papayas, mangos, mangosteens, jackfruits, guavas…are also indispensable in Cai Mon orchard. The orchard here is almost full of fruits during four seasons and ready to serve tourists at any time. Additionally, tourist can pick up fruits themselves and enjoy the sweet and delicious taste right in the orchard.
Cai Mon – Cho Lach flower villages
Radiant flower colors
Tourists can admire many flower gardens that are charmingly fragrant and colorful, such as Florists's daisy, daisy, rose, carnation and other ornamental plants. Bonsais are trimmed artistically in Cai Mon flower village. The village is in combination with the orchards.
Besides, Cho Lach ornamental flower village nearby is also a traditional village, where luminous flowers blooming. Tourists will encounter many familiar species such as bougainvillea, poinsettia, lisianthus, begonia,…but were bred in color and petal.
The immense flower layer would fulfil your holiday in Ben Tre with sweetness, love, passion and romance, especially when you go with your love one.
Vam Ho sanctuary is located in Ba Tri district, Tan My commune. The sanctuary is a coastal mangrove land, inhabited by approximately 500,000 birds and 700,000 storks, native herons and other migratory species from other regions.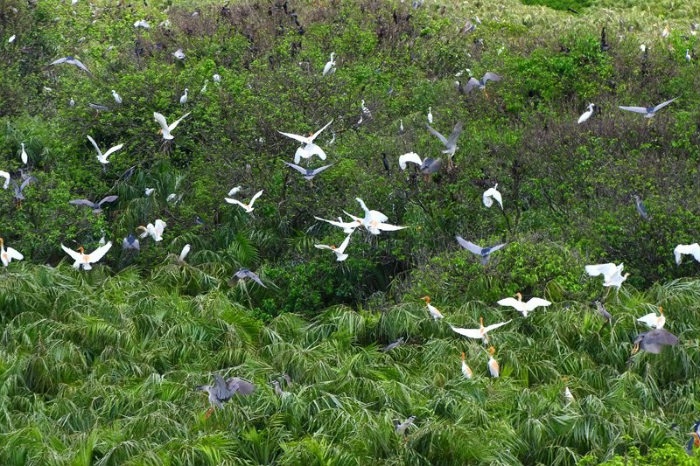 Vam Ho sanctuary-an ideal eco-tourism destination
Tourists can wander around in the ground of Vam Ho sanctuary to visit, experience about many species of birds here, watch them gliding or creeping in the mangroves. Also, you can indulge yourself in a hammock swinging in the fresh and green ambience.
The silent of the forest hidden in the sounds of birds will make tourists forget the time and immerse in the peaceful and fresh surroundings.
Phung Island (Con Phung)
Con Phung is the famous one in the four islands on My Tho river. Tourists should go on large motorboats on the river and on small motorboats when padding on canals to feel clearly the dinghy culture of this land.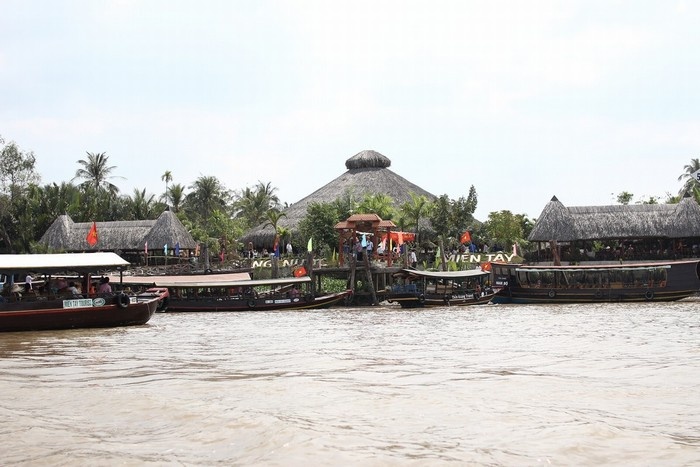 Ecological Park on Con Phung
Tourists will experience entertaining folk activities of Southern village, such as: fishing crocodiles, slapping ditch for fishing, rowing-boat, swimming in the river and so on.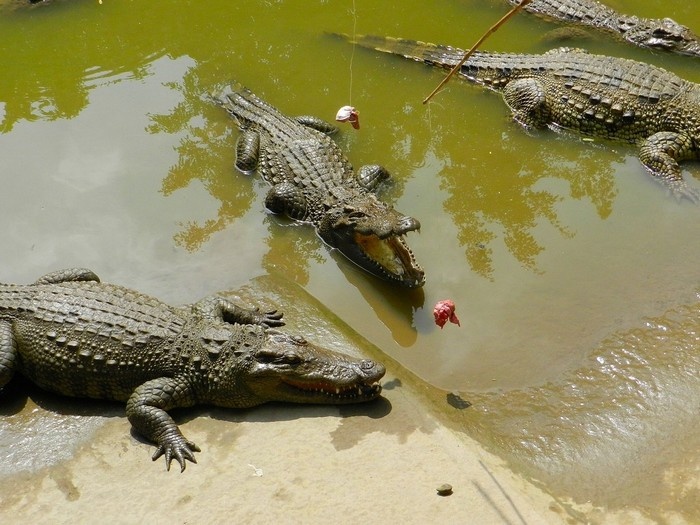 Fishing crocodiles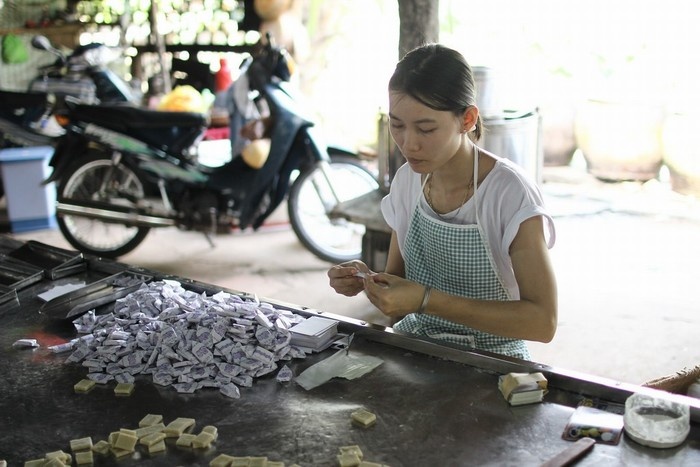 A hard-working female worker is wrapping coconut candies by hands
Tourists can also learn about and visit coconut candy manufacturing, handicraft items made from coconut shell.
Cuisine
Not only enjoying fruits and well-known coconut candies, bars, tourist will also taste some delicious rustic specialties when visiting Ben Tre, such as: grilled fish, steamed clams, boiled snails, field crab soup, bread flour noodle (banh canh), Vietnamese pancake (banh xeo), grilled field mouse with coconut and "duong dua" (a dish made from instars of some species of beetles that live on coconut trees)
Steamed field mouse with coconut, grilled field mouse with coconuts have a tasty coconut smell, chewy meats. Enjoying the dishes with fiery rice wine would definitely wow tourists.
"Duong dua" is a special dish in Ben Tre that should be eaten when they are raw or used with rice porridge or steamed sticky rice. You may not dare to eat at first when seeing "Duong dua". However, once you try, you will be addicted to the greasy taste and good smell of "Duong dua"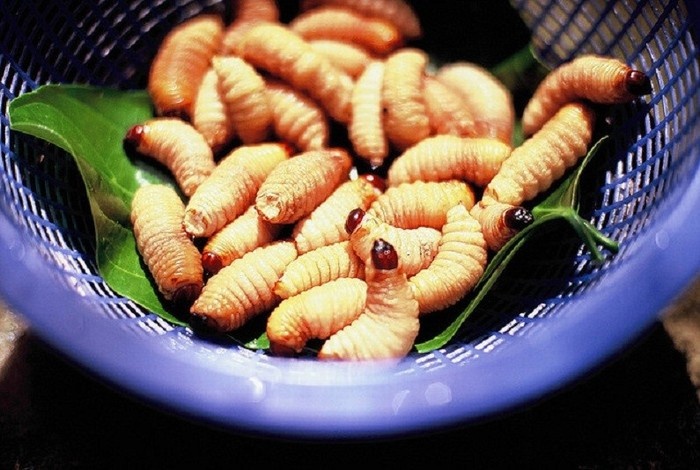 Greasy "Duong dua"
"Chuoi dap" (grilled bananas with coconut milk sauce) is a featured dish of this coconut land. Selected carefully from ripe burro bananas, when the peels have just been turned into yellow, each pieces filled with greasy coconut milk sauce will over satisfy sweet-addicted ones.
Furthermore, tourists can also admire the peaceful sunrise view and watching rustic, simple daily activities of the locals here.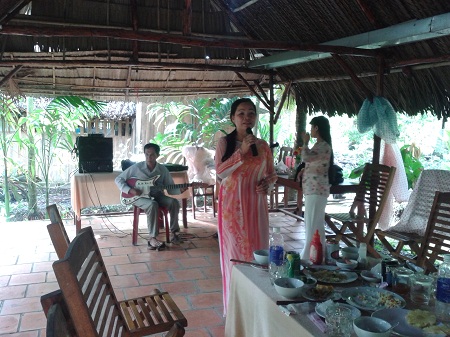 Above all, coming to Mekong region, you definitely cannot miss the opportunity to listen to the lyrical and melodious of lyrics, guitar and other traditional instrument's sounds of the Southern traditional music.