Beyond the resorts lining Long Beach, it's still largely undeveloped, so there's ample room for exploration and escaping. Dive the reefs, kayak in the bays, eat up the back-road miles on a motorbike, or just live the life of a lotus eater by lounging on the beach, indulging in a massage and dining on fresh seafood.
Phu Quoc is not really part of the Mekong Delta and doesn't share the delta's extraordinary ability to produce rice. The most valuable crop is black pepper, but the islanders here have traditionally earned their living from the sea. Phu Quoc is also famed across Vietnam for its production of high-quality fish sauce (nuoc mam).
The island is also well-known for its hunting dogs, which have ridgebacks, curly tails and blue tongues. Muscular and energetic, they are said to be able to pick up their master's scent from over 1km away (the nuoc mam their masters eat probably helps). Unfortunately, the dogs have decimated much of the island's wildlife.
Despite development (a new international airport, a golf course, new roads and a planned 'casino eco-tourism resort project'), much of this island is still protected since becoming a national park in 2001. Phu Quoc National Park covers close to 70% of the island, an area of 314 sq km.
Phu Quoc's rainy season darkens skies from late May to October, when the sea gets rough and a lot of diving stops. The peak season for tourism is midwinter, when the sky is blue and the sea is calm, but it can get pretty damn hot around April and May.
At the time of research, the road leading to Sao Beach in the south of the island was being widened and resurfaced to help improve access.
Phu Quoc Island served as a base for the French missionary Pigneau de Behaine during the 1760s and 1780s. Prince Nguyen Anh, who later became Emperor Gia Long, was sheltered here by Behaine when he was being hunted by the Tay Son rebels.
Being a relatively remote and forested island (and an economically marginal area of Vietnam), Phu Quoc was useful to the French colonial administration as a prison.
The Americans took over where the French left off and housed about 40,000 VC prisoners here. The island's main penal colony, which is still in use today, was known as the Coconut Tree Prison (Nha Lao Cay Dua) and is near An Thoi town. Though it's considered a historic site, plans to open a museum here have stalled.
Duong Dong TOWN
The island's main town and chief fishing port on the central west coast is a tangle of hotels, restaurants, bars and shops. Scenic Long Beach ranges to the south, where most of the beach hotels, resorts and bars cluster. The old bridge in town is a great vantage point to photograph the island's fishing fleet crammed into the narrow channel.
The town itself is not that exciting, though the filthy, bustling market is interesting. In contrast, the excellent night market is scrupulously clean and filled with delicious food stalls.
Cau Castle TAOIST TEMPLE
(Dinh Cau; Ð Bach Dang, Duong Dong)  Less of a castle, more of a combination temple and lighthouse, Dinh Cau was built in 1937 to honour Thien Hau, the Goddess of the Sea, who provides protection for sailors and fishermen. The 'castle' is worth a quick look and gives you a good view of the harbour entrance.
Around sunset, locals stroll along the promenade leading from the castle to Ð Tran Hung Dao.
Fish Sauce Factory FACTORY
(Duong Dong;  8-11am & 1-5pm) The distillery of Nuoc Mam Hung Thanh is the largest of Phu Quoc's fish-sauce makers, a short walk from the market in Duong Dong. At first glance, the giant wooden vats may make you think you've arrived for a wine tasting, but one sniff of the festering nuoc mam essence jolts you back to reality.
Most of the sauce produced is exported to the mainland for domestic consumption, though an impressive amount finds its way abroad to kitchens in Japan, North America and Europe. There's no admission charge to visit, although you'd be best off taking a guide along unless you speak Vietnamese. Keep in mind that although nuoc mam makes a wonderful gift for your distant relatives, you may not be able to take it out of the country. Vietnam Airlines, among other carriers, has banned it from its planes.
Long Beach BEACH
(Bai Truong;) Long Beach is draped invitingly along the west coast from Duong Dong almost to An Thoi port. Development concentrates in the north near Duong Dong, where the recliners and rattan umbrellas of the various resorts rule; like all beaches in Vietnam, these are the only stretches that are kept clean. With its west-facing aspect, sunsets can be stupendous.
There should be no problem for beachcombers to stretch out their towels on the sand, but you may get moved on quickly if you get too close to the paying guests.
Long Beach is easily accessible from Duong Dong on foot, but a motorbike or bicycle is necessary to reach some of the remote stretches flung out towards the southern end of the island. There are several small lanes heading from the main Ð Tran Hung Dao drag down to Long Beach that shelter some of the nicest places to stay and eat. There are a few bamboo huts where you can buy drinks, but bring water if planning a long hike along the beach. Beachside massages are popular, but be clear about what you're paying for: a neck rub can quickly turn into a foot massage, manicure and leg-hair threading – often all simultaneously.
Coi Nguon Museum MUSEUM
(www.coinguonphuquoc.com; 149 Tran Hung Dao; admission 20,000d; 7am-5pm) With displays on Vietnamese medicines, Stone Age tools, local ceramics and a small room devoted to the island prison, this five-floor privately owned museum is an informative introduction to Phu Quoc history and culture.
Sao Beach BEACH
(Bai Sao;) With white sand like powdered ivory, the delightful curve of beautiful Sao Beach bends out alongside a sea of mineral -water clarity just a few kilometres from An Thoi, the main shipping port at the southern tip of the island. There are a couple of beachfront restaurants, where you can settle into a deckchair or partake in water sports. If heading down to Sao Beach by motorbike, fill up with petrol before the trip as there are very few fuel stations on the way back.
Jet skis (450,000d for 10 minutes) can be hired on the beach.
Khem Beach BEACH
(Bai Khem;) Undeveloped Khem Beach is one of the most beautiful beaches on the island, but is also one of the few remaining areas that's under military control. Consequently, it's generally closed to the public.
Vong Beach BEACH
(Bai Vong;) The attractive Vong Beach is where the fast boats from the mainland dock. Other beaches in the vicinity are strewn with rubbish.
Cua Can Beach BEACH
(Bai Cua Can;) The most accessible of the northern beaches, Cua Can is about 11km from Duong Dong. It remains mercifully quiet during the week, but can get busy at weekends. A ride through the villages around Cua Can is interesting, with the road crossing the river several times on rickety wooden bridges.
Ong Lang Beach BEACH
(Bai Ong Lan;) Ong Lang Beach has a series of sandy bays sheltered by rocky headlands. Several midrange resorts in this area service those wanting to get away from it all.
Vung Bau, Dai & Thom Beaches BEACH
(Bai Vung Bau, Bai Dai, Bai Thom) Still retaining their isolated, tropical charm, these northern beaches are rarely peopled, let alone crowded. A newer road follows the coast along Vung Bau (Bai Vung Bau;) and Dai (Bai Dai;) beaches, cutting down on motorbike time and red dust in your face. The road from Dai to Thom (Bai Thom;) via Ganh Dau is very beautiful, passing through dense forest with tantalising glimpses of the coast below.
Phu Quoc National Park NATURE RESERVE
About 90% of Phu Quoc is forested and the trees and adjoining marine environment enjoy official protection. Indeed, this is the last large stand of forest in the south, and in 2010 the park was declared a Unesco Biosphere Reserve.
The forest is most dense in the northern half of the island. The area is a forest reserve (Khu Rung Nguyen Sinh) and you'll need a motorbike or mountain bike to get through it. There are a few primitive dirt roads, but no real hiking trails.
Suoi Tranh & Suoi Da Ban WATERFALL
(admission 3000d, motorbike 1000d) Compared with the waterlogged Mekong Delta, Phu Quoc has very little surface moisture, but there are several springs originating in the hills. The most accessible of these is Suoi Tranh MAP ; look for the entrance sign and concrete tree from the Duong Dong–Vong Beach road. From the ticket counter it's a 10-minute walk through the forest to the falls.
Suoi Da Ban (admission 3000d, motorbike 1000d) is a white-water creek tumbling across some attractive large granite boulders. There are deep pools and it's nice enough for a dip. Bring plenty of mosquito repellent.
For both of these falls, the best months to visit are between May and September – by the end of the dry season there's little more than a trickle.
Nha Tu Phu Quoc MONUMENT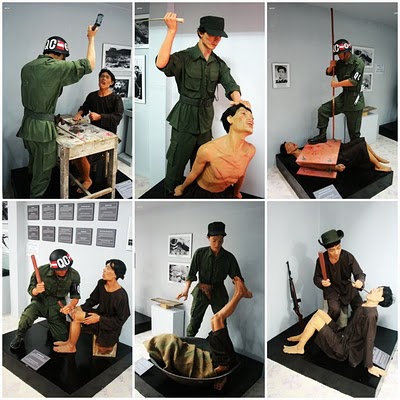 ( 7.30-11am & 1.30-4pm)  Worth a visit when visiting Sao Beach in the south of the island, Phu Quoc's notorious old prison, built by the French in the late 1940s, contains a small museum that narrates the gruesome history of the jail. A war memorial stands south of the prison on the far side of the road.
(Quan Dao An Thoi) Just off the southern tip of Phu Quoc, these 15 islands and islets can be visited by chartered boat. It's a fine area for sightseeing, fishing, swimming and snorkelling. Hon Thom (Pineapple Island) is about 3km in length and is the largest island in the group.
Other islands here include Hon Dua (Coconut Island), Hon Roi (Lamp Island), Hon Vang (Echo Island), Hon May Rut (Cold Cloud Island), the Hon Dams (Shadow Islands), Chan Qui (Yellow Tortoise) and Hon Mong Tay (Short Gun Island). As yet, there is no real development on the islands, but expect some movement in future.
Most boats depart from An Thoi on Phu Quoc, but you can make arrangements through hotels and resorts on Long Beach. Also enquire at the dive operators, as they have boats heading down there regularly for diving. Boat trips are seasonal and generally do not run during the rainy season.
A popular round trip between HCMC and Phu Quoc is to travel overland through the Mekong Delta, take a ferry to the island from Rach Gia or Ha Tien and, tanned and rested, take the short one-hour flight back to HCMC. With the Vietnam–Cambodia border at Xa Xia–Prek Chak, it's also convenient to visit Phu Quoc as part of a loop through the Mekong Delta and the south coast of Cambodia.
Diving & Snorkelling
Although Nha Trang is arguably the best all-round dive destination in Vietnam, there's plenty of underwater action around Phu Quoc, but only during the dry months (from November to May). Two fun dives cost from US$40 to US$80 depending on the location and operator; four-day PADI Open Water courses hover between US$320 and US$360; snorkelling trips are US$20 to US$30.
Rainbow Divers DIVING, SNORKELLING
( 0913 400 964; www.divevietnam.com; 11 Ð Tran Hung Dao;  9am-6pm) This reputable PADI outfit was the first to set up shop on the island and offers a wide range of diving and snorkelling trips. As well as the walk-in office, it's well represented at resorts on Long Beach.
(www.flipperdiving.com; 60 Ɖ Tran Hung Dao;  9am-9pm) Centrally located (by the Coco Bar), multilingual PADI dive centre for everything from novice dive trips to full instructor courses.
( 0126 479 1922; www.searama.com; 98B Ð Tran Hung Dao) French- and English-speaking operators; tends to be a bit cheaper than the competition.
( 077-384 6372; 36 Ð Tran Hung Dao) Well-known outfit, also operating out of Nha Trang.
Kayaking
There are several places to rent kayaks along Sao Beach, and its protected, fairly calm waters make for a smooth ride. In addition to locals who hire out boats, you can ask at the beachside restaurants. The going rate is about 60,000d per hour.
Your best bet for booking tours is through your hotel or resort, as there's no government-run tourist office in Duong Dong. Squid fishing at night is popular, and you'll spot the lights of boats (to lure the cephalopods to the surface) on the evening horizon.
Specialised companies and individuals offering boat excursions and fishing trips include the following:
( 077-399 6009; [email protected]) Snorkelling, squid fishing, island tours, plus motorbike rental.
Jerry's Jungle & Beach Tours BOAT TOUR, HIKING
( 0938 226 021; [email protected]; day trips from US$25) Archipelago explorations by boat, snorkelling, fishing, day and multiday trips to islands, motorbike tours, bouldering, bird-watching, hiking and cultural tours around Phu Quoc.
( 0919 107 086; www.johnsislandtours.com; 4 Ð Tran Hung Dao) Well represented at hotels and resorts; cruises include snorkelling, island-hopping and squid-fishing trips.
Accommodation prices on Phu Quoc yo-yo depending on the season and visitor numbers. Variations are more extreme than anywhere else in Vietnam, but tend to affect budget and midrange places more than the high-end resorts. Some places will treble their prices for the peak season of December and January, when bookings are crucial. Across all of the budget categories, you'll get less for your money than you'd expect for the price.
 Duong Dong
Most travellers prefer to stay at the beach, but Duong Dong has some guesthouses if the beach is bursting at the seams. Prices are more reasonable here.
(Gio Bien;  077-399 4920; www.seabreezephuquoc.com; 62A Ð Tran Hung Dao; r with fan from US$15, r with air-con US$25-40) A curvaceous hotel with clean, modern and attractive rooms. Accommodation road-side is noisier and rooms can get very bright in the morning – fine for early risers, not for late sleepers.
Hiep Phong Hotel GUEST HOUSE $
( 077-384 6057; [email protected]; 17 Ð Nguyen Trai; r US$15-20) A very friendly family-run minihotel in the middle of town. The rooms include satellite TV, fridge and hot water – something you won't find on the beach at this price.
( 077-384 8674; 9 Ð Nguyen Trai; r US$10-15) Just a few doors down from Hiep Phong, this minihotel offers a similar sort of deal, with solid wooden beds and some balconies. English-speaking staff.
 Long Beach
There are now several dozen resorts stretched in a continuous line along the sands of Long Beach. Some hotels provide free transport to and from the airport; enquire when making a booking. Most can be accessed off Ð Tran Hung Dao.
( 0126 471 4249; 170 Ɖ Tran Hung Dao; dm US$6, d US$10-15) This spruce, clean and colourful outfit on the far side of the road has spic-and-span six- and four-bed dorms, and a couple of decent doubles, one sans shower.
Lien Hiep Thanh Hotel RESORT HOTEL $
( 077-384 7583; [email protected]; 118/12 Ɖ Tran Hung Dao; r with fan US$15-20, r with air-con US$30-60) This friendly place has simple rooms and bungalows amid trees and a great strip of beach. Beachfront rooms include air-con and hot water, and there's a small restaurant.
( 077-398 2772; www.a74hotel.com; 74 Ð Tran Hung Dao; r US$10-25) On the main drag near Long Beach, this friendly overspill option has basic and rather musty rooms, some with sea views.
( 077-399 4520; www.moonresort.vn; 82 Ð Tran Hung Dao; bungalows with fan $15-25, with air-con US$25-49) These rustic, woven rattan bungalows, set in a scrappy garden, are excellent value and right on the beach.
( 077-384 7003; [email protected]; 118 Ð Tran Hung Dao; r with fan US$75, r with air-con US$95-240) Dappled with palm shade, Mai House offers one of the most exquisite settings on Long Beach, nailing the whole tropical-paradise vibe with its well-tended gardens, open-sided restaurant and loungers shaded by rattan umbrellas. Scattered on the lawns, the bungalows are lovely and clean, although the back ones are much more tightly spaced than the front couple of rows. The food is excellent and the beach is gorgeous.
Sea Star Resort RESORT HOTEL $$
( 077-398 2161; www.seastarresort.com; r US$36-46, bungalows US$60-85) A fun and friendly place to stay, this extensive compound includes 37 rooms and bungalows, many fronting on to a manicured stretch of sand with sea-view balconies. Cheapest rooms are conjoined in a block and prices drop by about 20% in the low season.
( 077-398 0998; www.beachclubvietnam.com; Ap Cua Lap, Xa Duong To; r US$30-40) Run by an English-Vietnamese couple, this is a great escape from the main-drag bustle, with tightly grouped and well-kept rooms and bungalows on a small plot, plus a breezy beachside restaurant.
( 077-399 4548; www.phuquocparisbeach.com; Cau Ba Phong, Cua Lap, Duong To; r US$32-150) With some lovely rooms facing the sea, this French- Vietnamese run resort hotel is next to Beach Club. It has a brand-new swimming pool and clean and spacious bungalows, with a tiled terrace where delicious food is served by the congenial hosts.
Thanh Kieu Beach Resort RESORT HOTEL $$
( 077-384 8394; www.thanhkieuresort.com; 100C/14 Ð Tran Hung Dao; r US$39-49) On a lovely beachfront, the attractive brick bungalows are set in a leafy garden dotted with swaying palms and clumps of bamboo. Rooms are well furnished and the popular Rainbow Bar is located here on the beach.
Phuong Binh House RESORT HOTEL $$
(http://phuongbinhhouse.com; 118 Ð Tran Hung Dao; r US$30-65) With clean but rather characterless cookie-cutter seaside accommodation, this small 17-room, friendly place is buried away at the end of the road to the beach.
Nhat Lan GUEST HOUSE $$
(077-384 7663; [email protected]; 118/13 Ð Tran Hung Dao; bungalows with fan/air-con US$25/60) The last in a string of affordable beachfront guesthouses, this place has rooms in a shady garden and six new, swish, glass-fronted beach-side bungalows.
( 077-398 2988; www.laverandaresort.com; 118/9 Ð Tran Hung Dao; r US$275-375) With grounds shaded by palms, this is the most elegant place to stay on the island, designed in colonial style and small enough to remain intimate, with just 44 rooms. It has a stunning cobalt-blue pool with a kiddies' area, a stylish spa and all rooms feature large beds and designer bathrooms. The beach is great and for food you can choose between a cafe on the lawn and the Pepper Tree Restaurant upstairs, while drinks at Le Bar round off the day stylishly.
Famiana Resort & Spa RESORT HOTEL $$$
(077-399 3026; www.famiana-resort.com; Ð Tran Hung Dao; r US$215-995) This sedate 60-room resort has lovely accommodation, including stunning seafront villas with mezzanine floors, an inviting pool and a spotless stretch of beach.
Cassia Cottage RESORT HOTEL $$$
( 077-384 8395; www.cassiacottage.com; 100C Ð Tran Hung Dao; r US$120-190) Set in a flourishing garden, this seductive boutique-style resort on Long Beach has a sleepy beachside repose, rooms with handsome furnishings, two pools and a pretty garden restaurant with tables overlooking the sea.
( 077-398 5598; www.edenresort.com.vn; Cua Lap, Duong To; r US$195-425) From the elegant rattan furniture and well-tended greenery and landscaped setting, to the spotless bungalows and idyllic, deluxe sea-view rooms, this place is a good choice. Delightful pool and excellent service.
Saigon-Phu Quoc Resort RESORT HOTEL $$$
( 077-384 6999; www.sgphuquocresort.com; 1 Ð Tran Hung Dao; r US$159-480) This smart resort features 98 rooms in villas or bungalows, most with views over the beach. The sprawling complex includes a disco, karaoke rooms, a spa, minigolf, tennis courts and pétanque courts. Check the website for seasonal deals.
Thien Hai Son Resort RESORT HOTEL $$$
(077-398 3044; www.phuquocthienhaison.com; 68 Ð Tran Hung Dao; r US$90-99, bungalows US$132-161) There's a mixture of hotel blocks and bungalows in this sprawling lemon-and-lime beachfront complex.
 Sao Beach
Lang Toi GUEST HOUSE $$
( 077-397 2123; Sao Beach; r US$35-45) Also known as Gecko Jack's, this simple place on Sao Beach has four fan rooms, each with spacious bathrooms. Two rooms come with sea view and verandah, two with a garden setting. Book ahead.
( 077-629 1339; [email protected]; r US$35-50;  Oct-Mar) Best suited to those with their own (two) wheels, this isolated and hard-to-find B&B is reached by a bumpy dirt road (turn left just before Sao Beach and try to find the signs) away from the beach. Run by a Vietnamese-Canadian, the Western-style, generator-powered B&B is surrounded by gorgeous flower and mango gardens, enclosed by a high fence.
There's motorbike rental, 24-hour solar-powered hot water, fishing and snorkelling trips. Book well ahead.
 Ong Lang Beach
Although it's rockier than Long Beach, Ong Lang, 7km north of Duong Dong, has the advantage of being substantially less crowded and, hence, feels much more like a tropical-island escape. Because of its relative isolation, expect to spend most of your time in and around your resort – although most places can arrange bike or motorbike hire to get you out and about. Definitely book ahead if planning to stay around here.
( 077-398 1693; www.mangobayphuquoc.com; r US$60-100, bungalows US$80-185, house US$235-395; )  Set around a small cove accessed from a dusty road through a mango orchard, this ecofriendly resort uses solar panels and organic and recycled building materials, and has its own butterfly garden. Strung out along the beach, accommodation ranges from rooms through bungalows with delightful open-air bathrooms, to a private house. All in all it's a romantic, if simple, getaway for those who want some privacy. Two buses head into town daily.
( 077-399 4891; www.freedomlandphuquoc.com; 2 Ap Ong Lang, Xa Cua Duong; bungalows US$30-60;  Oct-Jun) With an emphasis on community and socialising – fun communal dinners are a mainstay – Freedomland has 11 basic bungalows (mosquito nets, fans, no hot water) scattered around a shady plot. Guests who can't be bothered with the five-minute walk to the beach slump into the hammocks strung between the trees. It's a popular choice, particularly with solo budget travellers; it's best to call first. Shut in the rainy season.
( 077-398 6142; www.boresort.com; bungalows US$38-117) With variously sized bungalows scattered higgledy-piggledy over a jungle-clad hill stretching down to a rocky beach, this French-run resort offers intimacy and seclusion, plus excellent food.
 Chen Sea Resort & Spa RESORT HOTEL $$$
(077-399 5895; www.centarahotelsresorts.com; bungalow US$234-473) Competing for the title of the most upmarket resort on the island, tranquil and chilled-out 36-room Chen Sea has lovely villas with sunken baths and deep verandahs, designed to resemble terracotta-roofed houses. Almost indistinguishable from the sea, the large azure rectangle of the infinity pool faces the resort's beautiful sandy beach. The isolation is mitigated by plenty of activities on hand: borrow a bike, kayak or catamaran – or settle into the spa or the open-sided restaurant.
 Vung Bau Beach
 Bamboo Cottages & Restaurant RESORT HOTEL $$
( 077-281 0345; www.bamboophuquoc.com; r US$50-95) Run by a friendly family with a coterie of cheeky dogs, Bamboo Cottages has Vung Bau Beach largely to itself. The focal point is a big, open-sided restaurant and bar, with the beach at its doorstep. Set around the lawns, the attractive, lemon-coloured villas have private, open-roofed bathrooms with solar-powered hot water. The family supports an education scholarship for local kids in need.
Many of the recommended resorts have excellent restaurants, often beachside or with a sunset view. Guests staying at more remote resorts such as those at Ong Lang Beach tend to eat in, as it's a long way into town.
Some of the standouts include Bo Resort, Mai House and Pepper Tree Restaurant, each of which offers a combination of Vietnamese and French fare. For something a bit more local, try the seafood restaurants in the fishing village of Ham Ninh; there are several along the pier at the end of the main road, including Kim Cuong I ( 077-384 9978; mains 30,000-300,000d).
 Duong Dong
 Dinh Cao Night Market VIETNAMESE $
(Ð Vo Thi Sau;  5pm-midnight) Hands down the most atmospheric, affordable and excellent place to dine on the island, Duong Dong's night market has around a dozen stalls serving a delicious range of Vietnamese seafood, grills and vegetarian options. Look for a local crowd, as they are a discerning bunch, or try the excellent Thanh Xuan MAP (mains 45,000-100,000d), which offers freshly barbecued fish and seafood.
 Buddy Ice Cream ICE CREAM $
(www.visitphuquoc.info; 26 Ð Nguyen Trai; mains 25,000-130,000d;  8am-10pm) With the coolest music in town, this cafe is excellent for sides of free internet and tourist info with its New Zealand ice-cream combos, toasted sandwiches, fish 'n' chips, thirst-busting fruit juices, shakes, smoothies, all-day breakfasts, comfy sofas and book exchange.
 Long Beach
 The Spice House at Cassia Cottage VIETNAMESE $
(www.cassiacottage.com; 100C Ð Tran Hung Dao; mains from 74,000d; 7-10am & 11am-10pm) Nab a beachside high-table, order a papaya salad, grilled garlic, a cinnamon-infused okra or a delectable fish curry and time dinner to catch the sunset at this excellent restaurant.
Alanis Deli CAFE $
(98 Ð Tran Hung Dao; pancakes from 75,000d;  8am-10pm) Fab caramel pancakes and coffees plus ace breakfasts and friendly service.
(118/5 Ð Tran Hung Dao; mains from 55,000d; 7am-10pm, bar till later) On the lane leading to La Veranda and Rory's Beach Bar, Oasis feeds ravenous travellers with a menu embracing shepherd's pie, shrimp spring rolls, apple pie and winning all-day breakfasts.
(82 Ð Tran Hung Dao; tapas 35,000-105,000d;  7am-10pm Tue-Sun) Serving traditional Spanish tapas and other regional treats (pumpernickel bread, blue cheese and ham pasta) plus all-day Western-style breakfasts, Mondo is a dependable Long Beach slot, with imported beers (Chimay, Duvel).
Le Cap Breton FRENCH $
(143 Ɖ Tran Hung Dao; crêpes from 45,000d) This open, breezy place with dark wooden furniture has a tasty menu of Brittany crêpes and galettes (made with flour from France), backed up by Vietnamese/French and international dishes.
Pepper's Pizza & Grill ITALIAN, GERMAN $
( 077-384 8773; 89 Ð Tran Hung Dao; mains 65,000-190,000d; 10am-11pm) Pepper's does fine pizzas and they'll even deliver to your resort. The rest of the menu is a mixture of Italian, German and Asian dishes, including steaks, ribs and the like.
Restaurant Chez Carole VIETNAMESE, FRENCH $
(88 Ð Tran Hung Dao; mains 50,000-200,000d; 10am-midnight) This place is French in accent, but the menu includes a whole lot of fresh Vietnamese seafood, such as the signature shrimps in cognac or pastis.
Itaca Resto Lounge FUSION $$
(www.itacalounge.com; 125 Ɖ Tran Hung Dao; mains 200,000-300,000d; 4pm-1am) Shut at the time of research for a low-season spruce up, we didn't have the chance to eat at this much-applauded restaurant with a winning Mediterranean-Asian fusion menu (with tapas), much-enjoyed alfresco arrangement and friendly, welcoming hosts. It's not on the beach, so don't go for sea views, but the ambience is still charming.
Pepper Tree Restaurant INTERNATIONAL $$
(www.laverandaresort.com; La Veranda, 118/9 Ð Tran Hung Dao; mains US$6-20;  6.30am-11pm) The Pepper Tree at La Veranda resort offers divine French cuisine, elegant Vietnamese dishes and delectable views of the surf and sunset.