Forming a magnificent sweeping arc, Nha Trang's 6km-long golden sand beach is the city's trump card. Various sections are designated for swimmers, where you won't be bothered by jetskis or boats. The turquoise water is fabulously inviting, and the promenade a delight to stroll.
Two popular lounging spots are the Sailing Club and Louisiane Brewhouse. If you head south of here, the beach gets quieter and it's possible to find a stretch of sand to yourself.
The best beach weather is generally before 1pm, as the afternoon sea breezes can whip up the sand.
During heavy rains, run-off from the rivers at each end of the beach flows into the bay, gradually turning it a murky brown. Most of the year, however, the sea is just like it appears in the brochures.
(Thap Ba, Lady of the City; admission 21,000d; 6am-6pm) Built between the 7th and 12th centuries, these four Cham Towers are still actively used for worship by Cham, ethnic Chinese and Vietnamese Buddhists. Originally the complex had seven or eight towers, but only four towers remain, of which the 28m-high North Tower (Thap Chinh), which dates from AD 817, with its terraced pyramidal roof, vaulted interior masonry and vestibule, is the most magnificent.
The towers stand on a granite knoll 2km north of central Nha Trang on the banks of the Cai River. It's thought this site was first used for worship as early as the 2nd century AD. The original wooden structure was razed to the ground by attacking Javanese in AD 774, but was replaced by a stone-and-brick temple (the first of its kind) in 784.
The towers serve as the Holy See, honouring Yang Ino Po Nagar, the goddess of the Dua (Liu) clan, which ruled over the southern part of the Cham kingdom There are inscribed stone slabs scattered throughout the complex, most of which relate to history or religion and provide insight into the spiritual life and social structure of the Cham.
All of the temples face east, as did the original entrance to the complex, which is to the right as you ascend the hillock. In centuries past, worshippers passed through the pillared meditation hall, 10 pillars of which can still be seen, before proceeding up the steep staircase to the towers.
Above the entrance to the North Tower, two musicians, one of whose feet is on the head of the bull Nandin, flank a dancing four-armed Shiva. The sandstone doorposts are covered with inscriptions, as are parts of the walls of the vestibule. A gong and a drum stand under the pyramid-shaped ceiling of the antechamber. In the 28m-high pyramidal main chamber, there is a black-stone statue of the goddess Uma with 10 arms, two of which are hidden under her vest; she is seated and leaning back against a monstrous beast.
The Central Tower (Thap Nam) was built partly of recycled bricks in the 12th century on the site of a structure dating from the 7th century. It is less finely constructed than the other towers and has little ornamentation; the pyramidal roof lacks terracing or pilasters, although the interior altars were once covered with silver. There is a linga inside the main chamber.
The South Tower (Mieu Dong Nam), at one time dedicated to Sandhaka (Shiva), still shelters a linga, while the richly ornamented Northwest Tower (Thap Tay Bac) was originally dedicated to Ganesh. To the rear of the complex is a less impressive museum with a few examples of Cham stonework.
To get here from central Nha Trang, take Ð Quang Trung (which becomes Ð 2 Thang 4) north across the Ha Ra and Xom Bong Bridges. Po Nagar can also be reached via the Tran Phu Bridge along the beachfront road.
This site has a continuing religious significance, so be sure to remove your shoes before entering.
( 7.30-11.30am & 1.30-5.30pm) This striking pagoda was founded in the late 19th century. The entrance and roofs are decorated with mosaic dragons constructed of glass and ceramic tile, while the main sanctuary is a hall adorned with modern interpretations of traditional motifs.
The platform around the 14m-high Buddha has great views of Nha Trang and nearby rural areas. As you approach the pagoda from the street, the 152 stone steps up the hill to the Buddha begin to the right of the structure. Take some time to explore off to the left, where there's an entrance to another hall of the pagoda.
Beggars congregate within the complex, as do a number of scam artists. There's a persistent scam here, where visitors are approached by children (and occasionally older people) with pre-printed name badges claiming to work for the monks. After showing you around the pagoda, whether invited to or not, they will then demand money 'for the monks' or, if that fails, insist that you buy postcards for 200,000d. The best course of action is to firmly let them know you don't require their services when they first appear. If they persist, tell them you're not going to give them any money. If you do want to make a contribution towards the upkeep of the complex, leave it in the donation boxes as you would in any other pagoda.
The pagoda is located about 400m west of the train station, just off Ð 23 Thang 10.
(cnr Ð Nguyen Trai & Ð Thai Nguyen) Built between 1928 and 1933 in French Gothic style, complete with stained-glass windows, Nha Trang Cathedral stands on a small hill overlooking the train station. It's a surprisingly elegant building given that it was constructed of simple cement blocks. Some particularly colourful Vietnamese touches include the red neon outlining the crucifix, the pink back-lighting on the tabernacle and the blue neon arch and white neon halo over the statue of St Mary.
In 1988 a Catholic cemetery not far from the church was disinterred to make room for a new railway building. The remains were brought to the cathedral and reburied in the cavities behind the wall of plaques that line the ramp up the hill.
( 058-382 2355; 10 Ð Tran Phu; admission 28,000d; 7.30-11am & 2-4.30pm Mon-Fri, 8-11am Sat) Highly popular in Vietnam, Dr Alexandre Yersin (1863–1943) founded Nha Trang's Pasteur Institute in 1895. He learned to speak Vietnamese fluently, introduced rubber and quinine-producing trees to Vietnam, and discovered the rat-borne microbe that causes bubonic plague.
You can see Yersin's library and office at this small, interesting museum; displays include laboratory equipment (such as astronomical instruments) and a fascinating 3-D photo viewer.
Tours are conducted in French, English and Vietnamese, and a short film on Yersin's life is shown.
Yersin travelled throughout the central highlands and recorded his observations. During this period he came upon the site of what is now Dalat and recommended that a hill station be established there.
Today, the Pasteur Institute in Nha Trang coordinates vaccination and hygiene programs for the country's southern coastal region. The institute produces vaccines and carries out medical research and testing to European standards. Physicians at the clinic here offer medical advice to around 70 patients a day.
(admission 11,000d) The narrow granite promontory of Hon Chong offers fine views of the mountainous coastline north of Nha Trang and the nearby islands.
The beach here has a more local flavour than Nha Trang Beach (but the accompanying refuse is unpleasant). Still, it's fun to watch local kids do Acapulco-style swan dives into the ocean.
There is a reconstructed traditional Ruong residence and a cafe; a taxi here from the city centre is around 30,000d.
About 300m south of Hon Chong (towards Nha Trang) and a few dozen metres from the beach is tiny Hon Do (Red Island), which has a Buddhist temple on top. To the northeast is Hon Rua (Tortoise Island), which really does resemble a tortoise. The two islands of Hon Yen (Bird's-Nest Island) are off in the distance to the east.
( 058-359 0037; 1 Cau Da; adult/child 30,000/12,000d; 6am-6pm) Housed in a grand French-colonial building in the port district of Cau Da at the far south end of Nha Trang, this poorly maintained museum has 60,000 or so jars of pickled marine specimens, stuffed birds and sea mammals, and displays of local boats and fishing artefacts. Unfortunately, there are also live seals kept here in small, dirty tanks.
The Nha Trang area is a key diving, surfing, wake-boarding, parascending, white-water rafting and mountain-biking centre. Boat trips around the bay and up the Cai river are also a great day out.
Islands
Island tours are a big part of the Nha Trang experience.
(Bird's-Nest Island) Also known as Salangane Island, this is the two lump-shaped islands visible from Nha Trang Beach. These and other islands off Khanh Hoa province are the source of Vietnam's finest salangane (swiftlet) nests. There is a small, secluded beach here. The 17km trip out to the islands takes three to four hours by small boat from Nha Trang.
This is billed as an outdoor aquarium (Ho Ca Tri Nguyen; admission 50,000d) but it's actually a fish-breeding farm, where over 40 species of fish, crustacean and other marine creatures are raised. Surrounding the tanks are an incredibly kitsch concrete collection of giant shrimps, fang-bearing sharks and so on.
Hon Mieu is included in most island- hopping boat tours. DIY travellers can catch one of the regular ferries that travel here from Cau Da dock.
(Ebony Island) Pretty Hon Mun island is well known as a snorkelling and dive site. The coral is in fair condition and visibility usually good, but it can get very crowded as it's on the main day-tripping agenda. Litter can also be a big issue.
Sandwiched neatly between Ebony Island and Hon Tam, or Silkworm Island, is tiny Hon Mot, a popular place for snorkelling.
(Bamboo Island) This large island is totally dominated by the sprawling Vinpearl Land amusement park – you'll see the Hollywood-style sign from afar. You can access this island by cable car or boat.
(Monkey Island) A tourist trap popular with local tourists, the 1000 or so resident monkeys on this island are accustomed to receiving food handouts (peanuts and potato chips are for sale). However, these are wild animals and should be treated as such. Bear in mind that monkey bites are a possible source of rabies.
Aside from being unwilling to participate in a cuddle, the monkeys are materialistic. They'll grab the sunglasses off your face or snatch a pen from your shirt pocket and run off.
A word of warning: there's also a bear-and-monkey show that you may want to avoid. Travellers have reported seeing the animals being abused.
VINPEARL LAND
Nha Trang's answer to Disneyland (well, sort of), the island resort of Vinpearl Land ( 058-359 0111; www.vinpearlland.com; Hon Tre Island; adult/child 500,000/350,000d; 8am-9pm) has funfair rides, a water park, arcade games, aquarium and plenty of other attractions. Compared to some adventure parks it feels a little dated, but it will keep children amused for a full day, including the world's longest over-the-sea cable car ride and one of the biggest wave pools in Southeast Asia. The leading attraction is undoubtedly the water park, with more than 20 serious slides for adrenalin-seekers.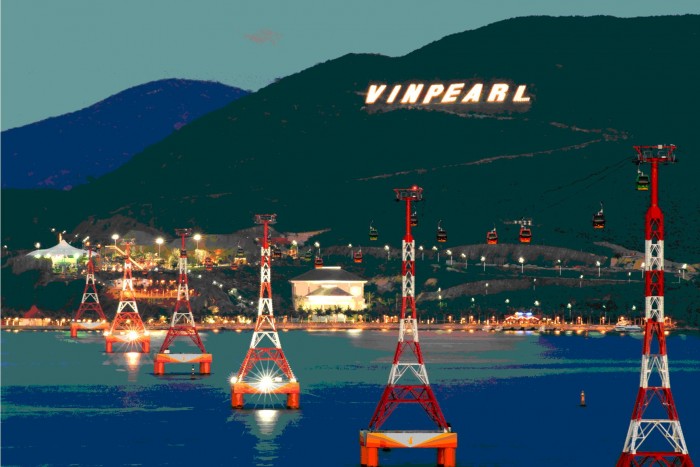 Most visitors arrive by cable car or fast boat, both included in the ticket price. Both depart from the coast just south of Cau Da dock area.
Note that Vinpearl does feature dolphin shows, and animal 'performances' that feature monkeys dressed in costume.
Nha Trang is Vietnam's most popular scuba-diving centre, although not necessarily its best. Visibility averages 15m but can be as much as 30m, depending on the season. February to September is considered the best time to dive, while October to December is the worst time of year.
There are around 25 dive sites in the area. There are no wrecks to visit, but some sites have good drop-offs and there are a few small underwater caves to explore. Frankly, it's not world-class diving, but the waters support a good variety of soft and hard corals, and a reasonable number of small reef fish.
A full-day outing including boat transport, two dives and lunch typically costs between US$60 and US$85 with a professional dive school. Snorkellers can usually tag along for US$15 to US$20.
Most dive operators also offer a range of dive courses, including a 'discover diving' program for uncertified first-time divers to experience the underwater world with the supervision of a qualified dive master. PADI courses start at US$340, SSI are a little less.
There are a dozen or so dive operators with offices in the tourist centre of Nha Trang. We've heard reports about the odd dodgy set-up not following responsible diving practices and even using fake PADI/SSI accreditation. These tend to charge ridiculously cheap prices (as low as US$35 for two dives).
Stick to reputable operators such as the following recommended schools:
( 0122 903 7795; www.divingvietnam.com; 24/4 Ð Hung Vuong) Owned by a larger-than-life Texan, an instructor since 1991, this new school has quickly established an excellent reputation. SSI courses are offered.
( 058-352 2788; www.sailingclubdivers.com; 72-74 Ð Tran Phu) Offers professional instruction, modern equipment and multilingual instructors. This is the underwater arm of the famous Sailing Club.
( 058-352 2461; www.angeldivevietnam.info; 1/33 Ð Tran Quang Khai) Reliable operator with English, French and German instruction, plus the choice of PADI or SSI certification. Snorkelling trips cost US$20 per person.
( 058-352 4351; www.divevietnam.com; 90A Ð Hung Vuong) Large, well- established PADI dive school, part of a nationwide chain. Here at HQ, there is also a popular restaurant and bar.
Adventure Sports
From mountain biking to white-water rafting, Nha Trang offers lots of activities to get the pulse racing.
Vietnam Active ADVENTURE SPORTS
( 058-351 5821; www.vietnamactive.com; 47 B1 Nguyen Thien Thuat) This well- organised new outfit offers a diverse range of excellent activities including mountain-biking trips (from US$45 for four people) to scuba-diving courses. Exact prices depend upon numbers. Stretch those aching limbs afterwards at one of their Hatha or Ashtanga yoga classes.
Shamrock Adventures RAFTING, KAYAKING
( 058-352 7548; www.shamrockadventures.vn; Ð Tran Quang Khai; trips per person incl lunch from US$40) Offers white-water rafting (though it's not that dramatic by international standards) which can be combined with some mountain biking as well as kayak and fishing trips.
A impressive broad estuary, the Cai river just north of central Nha Trang is best explored as day trip by boat.
Nha Trang River Tour BOAT TRIP
( 0914 047 406; www.nhatrangrivertour.com; 24 Luong Dinh Cua; from US$40 per person) Pham is a well-organised, interesting guide and his tours are a worthwhile alternative to the island cruises, concentrating on cultural sights and cottage industries (rice-paper making, mat weavers, embroidery) along the Cai river.
Spas & Thermal Baths
There is a burgeoning spa industry in Nha Trang. However, locals swear that the only way to get really clean is to get deep down and dirty in a natural mud bath, and there are now three places dotted around Nha Trang where you can get stuck in (the mud). Try to avoid weekends, when Vietnamese families descend en masse. The best places include the following:
( 058-383 8838; www.i-resort.vn; 19 Xuan Ngoc, Vinh Ngoc; 7am-8pm) Just the place to really indulge, this new upmarket thermal spa is the most attractive of the three mudfests around Nha Trang, with hot mineral mud baths (250,000d per person for four people), lovely bathing pools and even waterfalls. The rural setting is gorgeous, with distant mountain views, and there's a decent restaurant and spa/massage centre. Budget spending at least half a day here, it's well worth it. Call for a shuttle (20,000d one way) from your hotel.
It's 7km northwest of the centre, a taxi here is about 130,000d
Thap Ba Hot Spring Center THERMAL BATHS
( 058-383 4939; www.thapbahotspring.com.vn; 25 Ngoc Son;  7am-7.30pm) This was the original hot thermal mud centre, and it remains decent value. For 250,000/500,000d you get a single/double wooden bathtub full of gooey mud, or it's 120,000d per person for a communal slop-up. There are also mineral water swimming pools, though the more expensive VIP packages are overpriced. Located 7km northwest of Nha Trang (130,000d in a taxi).
To get here by yourself, follow the signpost on the second road to the left past the Po Nagar Cham Towers and continue along the winding road for 2.5km.
100 Egg Mud Bath THERMAL BATHS
(Tam Bun Tram Trung;  058-371 1733; www.tambuntramtrung.vn; Nguyen Tat Thanh, Phuoc Trung; 8am-7pm) Enjoying a pretty valley location 6km southwest of Nha Trang, this place gets its names from the egg-shaped private pods (300,000d/180,000d per adult/child) where couples or kids can indulge in a little mud play. All kinds of mud plastering (250,000d), wraps and scrubs are offered. You'll also find pools and tubs (that can be filled with herbs and essential oils) scattered around this huge complex, which also has a restaurant.
From the Cau Binh Tan bridge on the southwest side of town head along Ð Nguyen Tat Thanh until you reach the highway at Phuoc Trung, it's just over the road from here and clearly signposted.
( 0128 275 8662; 78B Ð Tue Tinh; 8am-9pm) This is a simple, fine-value place that's not really a 'spa' (more a converted store), but the massages and treatments are superb value and professional. Chose from Vietnamese, Thai or Swedish massages (all around 200,000d per hour) or try a facial (150,000d) or scrub.
( 058-352 3242; www.suspa.vn; 93 Ð Nguyen Thien Thuat; 8am-9.30pm) It's right in the heart of the city, but the relaxed atmosphere and attention should let you banish all those urban blues. One of the most expensive spas in town, it's stylishly designed and offers good scrubs, rubs, tubs and body massages (from US$24).
TRIPPING THE BAY BY BOAT
The 71 offshore islands around Nha Trang are renowned for the remarkably clear water surrounding them. Trips to these islands have been a huge draw for years now, and virtually every hotel and travel company in town books island-hopping boat tours.
Back in the day (well the 1990s) party boat tours involved a bumpy ride out to sea on a leaky fishing boat, copious joints and rice wine shots in a 'floating bar' (a tube in the ocean). Unsurprisingly, local party officials deemed the ganja and drinking games a bit too counter-revolutionary for their tastes.
Today there's more of a choice – with everything from backpacker booze cruises to family-geared outings.
Frankly, most of these trips are extremely touristy, involving whistle-stop visits to the Tri Nguyen Aquarium (admission 50,000d), some snorkelling on a degraded reef and a bit of beach time (beach admissions 30,000d). The booze cruises feature (very) organised entertainment with a DJ on the deck (or a cheesy boy band) and lots of drinking games. If this sounds like your idea of hell, well, you've been warned. The boat trip over, the mayhem often rumbles on to various bars, helping cement Nha Trang's reputation as a party town.
Keep the following tips in mind:
» Choose the right tour. Some are geared towards Asian families, others are booze cruises aimed solely at the backpacker market.
» Remember sunscreen and drink plenty of water.
» Entrance charges to the aquarium and beach are not usually included.
» If you're more interested in snorkelling than drinking, the dive schools' trips will be more appropriate.
Some decent boat-trip operators include the following:
Funky Monkey ( 058-352 2426; www.funkymonkeytour.com.vn; 75A Ð Hung Vuong; cruise incl pick-up 100,000d) This backpacker fun–geared trip includes live entertainment from the Funky Monkey boy band, as well as the usual stops.
Nha Trang Tours ( 058-352 4471; www.nhatrangtour.com.vn; 1/24 Ð Tran Quang Khai) Budget party-themed booze cruises for US$8 or snorkelling trips for around US$15.
Khanh Hoa Tourist Information ( 058-352 8000; [email protected]; Ð Tran Phu; cruise incl lunch 349,000d) For something a little different, consider a far-flung boat trip to beautiful Van Phong Bay. The two-hour trip there puts many off, but the remote, secluded bays certainly help compensate. Contact the tourist office for details and bookings.
( 058-352 1948; www.louisianebrewhouse.com.vn; Louisiane Brewhouse, 29 Ð Tran Phu; tour 200,000d) Learn all about microbrewing and how malt and hops become ale and lager on the informative tours run by the Louisiane.
(www.lanternsvietnam.com; 34/6 Ð Nguyen Thien Thuat; tour US$25) Taking you to the non-touristy town of Ninh Hoa, this day trip run by the non-profit restaurant Lanterns includes visits to local markets, a ride in a bullock cart, lunch with a local family and return transport. A minimum of three people is required.
Nha Trang has hundreds of hotels, from dives to the divine, and most places are within a blocks or two of the beach. Top-end choices line Ð Tran Phu, the waterfront boulevard; budget places tend to be a little inland.
There is a cluster of cheapies on an alley way at 64 Ð Tran Phu, very close to the beach. All offer similar air-conditioned rooms for around US$10 or so, cheaper if you go with the flow of a fan. Most budget places don't include breakfast.
You'll find a group of good new hotels close to where Ð Hung Vuong meets Ð Tran Quang Khai.
Discounts of 20% to 30% are common in midrange and top-end places when business is slow.
( 058-352 5244; http://sunnyhotel.com.vn; 64B/9 Ð Tran Phu; r US$10-15) An exceptional place owned by a welcoming local couple (a doctor and nurse) and Kim, the ever-helpful receptionist. Newly renovated, the rooms boast new mattresses, minibar, modern bathrooms and some have a balcony. The location is great, on a quiet lane just off the beach, and there's a lift.
( 058-352 6412; www.saomainhatranghotel.com; 99 Ð Nguyen Thien Thuat; dm US$6, r US$12-25) Long-standing budget favourite that's moved a little upmarket but remains superb value, with friendly management and 32 immaculately clean, spacious rooms. The five-bed dorm has air-con, en-suite bathroom and lockers.
( 0988 879 069; 120/36 Ð Nguyen Thien Thuat; dm US$7, r US$16-19) The name is more cocktail list than hotel bed, but this funky new hostel gets most things right, with well-designed dorms and a lovely cushion-scattered lounge area.
( 058-352 5988; [email protected]; 6I Quan Tran, Ð Hung Vuong; r US$15-18) A great deal, the spacious, modern rooms (some with balcony) here are in excellent shape and have a real sparkle considering the modest tarrifs. There's a lift.
( 058-352 4286; www.perfume-grass.com; 4A Ð Biet Thu; r US$14-35) This welcoming inn has plenty of character, particularly the pricier rooms with their wooden panelling and floors. Free breakfast, a slim garden and friendly English-speaking management add to the appeal.
( 058-352 1819; http://hatramhotel.weebly.com; 64B/5 Ð Tran Phu; r US$8-14) One of the smarter hotels on budget alley; most rooms here are light and bright, well equipped and include smart bathrooms. The larger ones have two double beds.
( 058-352 7553; maihuyhotel.com; 7H Quan Tran, Ð Hung Vuong; r with fan/air-con from US$8/14; ) Long-standing backpacking base where the family owners take good care of their guests. The rooms vary quite a bit; pay a little more and things smarten up considerably.
( 058-352 2661; www.rosyhotelnhatrang.com; 20 Quan Tran, Ð Hung Vuong; r 220,000-340,000d; ) A well-run modern minihotel on an alley off Ð Hung Vuong, the Rosy offers comfort and cleanliness for very modest rates; you pay a bit more for a breezy balcony.
( 058-352 3884; www.backpackershouse.net; 54G Ð Nguyen Thien Thuat; dm US$7-8, r US$12-24) For those about to party, this hostel could fit the bill as there's a sociable vibe (there's a bar-restaurant downstairs). Dorms are adequate, though the bathrooms could be cleaner; rooms are smart.
( 058-352 4029; www.anhoahotel.com.vn; 64B/6 Ð Tran Phu; r with fan/air-con US$10-12) A reliable option in budget alley, this friendly hostel has small rooms with no windows or air-con, or bigger and better rooms with larger bathrooms and a smarter trim.
( 058-352 2588; www.perfume-grass.com; 64B/8 Tran Phu; s US$6-8, d US$10-12) Certainly worth considering if you're short on dong, this decent no-frills place has functional tiled rooms with low ceilings; you pay a little more for a balcony.
(5 & 6 Quan Tran, Ð Hung Vuong; r 450,000-700,000d) New in 2013, this inviting modern hotel has 50 beautifully presented, light, spacious rooms with pale furniture and white linen that represent excellent value. Prices are flexible to a degree, depending on demand.
( 058-352 6662; www.goldensummerhotel.com.vn; 22-23 Tran Quang Khai; r US$25-50) Modish new hotel, with a super- stylish lobby and inviting, modern rooms all with nice artistic touches such as statement photography on the walls. The location is excellent with myriad restaurants and the beach a short stroll away.
( 058-352 2186; www.thesummerhotel.com.vn; 34C Ð Nguyen Thien Thuat; r US$32-106; ) Smart three-star hotel with affordable prices, and rooms with high comfort levels and appealing trim. The pool is on the rooftop.
( 058-352 4585; www.nhiphihotel.vn; 10A Ð Biet Thu; r US$45-75) Imposing new Sinh Tourist–owned colossus in the heart of the uptown action with an amazing lobby atrium, small rooftop pool and well-furnished rooms (those above the 7th floor have fine city views).
( 058-352 2835; www.greenpeacehotel.com.vn; 102 Ð Nguyen Thien Thuat; r 550,000-750,000d; ) The reception experience (complete with an overload of tour advertising and slightly uninterested staff) is off-putting, but persevere and you'll find the cream-and-white rooms are quite smart and contemporary, with flat-screen TVs and hip bathrooms.
( 058-352 7799; www.goldenrainhotel.com; 142 Ð Hung Vuong; r US$29-58) Conveniently located and rooms are elegant enough; some include large windows. The rooftop pool and gym round things off nicely.
( 058-352 5818; www.kingtownhotel.com.vn; 92 Ð Hung Vuong; r US$23-43) On the popular Hung Vuong strip, King Town has a good range of rooms with silk trim and stylish bathrooms. Tucked away on the top floor is a rooftop swimming pool with city views.
( 058-352 4353; www.lasuissehotel.com; 3/4 Ð Tran Quang Khai; r US$30-35) Switzerland is famous for its hoteliers and there is a touch of la Suisse about the efficient service here. Rooms are spacious, but the decor (think flowery bedspeads) is looking passé.
( 058-352 5454; www.in2vietnam.com; 3/2 Ð Tran Quang Khai; r from US$28) The rooms here are comfortable and spacious enough, but the tired carpets and dated furniture are in need of makeover. However, as staff are well trained and welcoming, travel info is good, and breakfast is included, it's still worth considering.
(058-398 9666; www.mianhatrang.com; Bai Dong, Cam Hai Dong; r/villa US$210/270) First impressions are electric at this exceptional hotel. Oceanic. The sense of occasion as you check in at Mia's al fresco reception is quite something, high above a horizon-filling expanse of big blue. You can relax now.
The sky-high standards continue effortlessly through the resort: simply superb accommodation units (each with sea view) all with outdoor bathrooms, a 40m pool, a stunning waveside restaurant. Oh, and the setting – nestled in a private cove beach – is breathtaking.
Evason Ana Mandara Resort & Spa $$$
( 058-352 2522; www.evasonresorts.com; Ð Tran Phu; villa US$279-537) Exuding taste, this fine hotel consists of a charming cluster of spacious oceanside villas that have a colonial feel thanks to the classic furnishings and four-poster beds. The location, on prime beachfront plot in the south of the city, with two swimming pools (one 30m) is the best in town. Other perks include the Western and Vietnamese restaurants, Six Senses spa and well-stocked library.
( 058-625 6900; www.novotel.com/6033; 50 Ð Tran Phu; r/ste from US$125/249) Stylish and very contemporary, this oceanfront hotel features split-level rooms with sunken bath-tubs – invest in a sea view on the upper floor to see Nha Trang in all its glory. Staff are very well trained and helpful. The gym is well equipped for a workout, though the pool is on the small side.
Sheraton Nha Trang Hotel & Spa $$$
( 058-388 0000; www.sheraton.com/nhatrang; 26-28 Ð Tran Phu; r from US$163, ste from US$291) One of the tallest buildings in Nha Trang, the Sheraton dominates the oceanfront boulevard, and the views from its cocktail lounge are simply staggering. Rooms are spacious and modern with open-plan bathrooms, however wi-fi is not included in the rates. Check the web for specials as low as US$120 a night.
As a resort town, Nha Trang caters to a decidedly international clientele and there's an array of cosmopolitan flavours to savour: from Cretan to Indian. Ð Tran Quang Khai and Ð Biet Thu are popular hunting grounds, but more authentic Vietnamese grub is found further afield. Seafood-lovers are in for a treat with fresh fish, crab, shrimp and an assortment of exotic shells on offer.
For a traditional local experience, try Dam Market (Ð Trang Nu Vuong; 6am-4pm), which has a colourful collection of stalls, including com chay (vegetarian) options, in the 'food court'.
(3/2A Tran Quang Khai; dishes 55,000-120,000d; 7am-9.30pm) Stylish restaurant with a hospitable atmosphere and a winning line-up of flavoursome clay-pot, noodle and rice dishes. Lilting traditional music and waitresses in ao dai add to the vibe.
(www.omarsindianrestaurant.com; 89B Ð Nguyen Thien Thuat; mains 55,000-136,000d, set meal 150,000d;  noon-10pm) For a true taste of the subcontinent, look no further. Dishes include a superb rogan josh (120,000d), delicious butter chicken (79,000d) and authentic naan bread.
(1 Ð Tran Quang Khai; meals 30,000-75,000d; noon-10pm) Casual, inexpensive hole-in-the-wall Greek place run by an extremely welcoming Cretan couple. Only has six tables (all outside, so if it's raining…) but good for mousaka, souvlaki or a salad.
(28C Ð Hoang Hoa Tham; meals 15,000-30,000d;  11am-7pm) Long-running vegan/vegetarian near the corner of Ð Nguyen Chanh. A mixed plate is just about the best value meal you can find in Nha Trang.
(2D Ð Biet Thu; dishes 27,000-110,000d;  7am-9.30pm) A backpacker favourite thanks to cheap eats and plentiful beer, this place has a strong selection of Vietnamese dishes, inexpensive seafood and a pick-and-mix of international dishes.
 Lac Canh Restaurant VIETNAMESE $$
(44 Ð Nguyen Binh Khiem; dishes 30,000-150,000d;  11am-8.45pm) A totally local experience, this bustling, smoky, scruffy and highly enjoyable place is rammed most nights with groups firing up the table-top barbecues (beef is the speciality, but there are other meats and seafood, too). Note that there are a few interesting specialities not on the English menu including spicy stir-fried frog and noodles with crab eggs (65,000d). Closes quite early.
(Thai Thong, Vinh Thai; dishes 52,000-210,000d; 8am-9.30pm) A classic Vietnamese restaurant set in a beautiful old house in the countryside surrounded by rice paddies and a lotus pond, around 7km west of town (100,000d in a taxi). Think a refined menu, beautiful presentation and atmospheric surrounds. Highlights include the Vietnamese salads, five-spice beef and seafood.
( 058-352 5729; www.ohsushibar.com; 17C Ð Hung Vuong; meals 70,000-250,000d; 11am-11pm) Intimate, highly authentic Japanese restaurant where you're greeted with a warm 'irashaimase' (welcome) on arrival. Sit on a stool and watch the chefs slice 'n' dice, then feast on udon, soba or a bento-style set meal on one of the little tables (there are more upstairs).
(www.lanternsvietnam.com; 34/6 Ð Nguyen Thien Thuat; dishes 48,000-158,000d;  7.30am-9.30pm) Now in superb new premises with an expansive terrace, this restaurant supports local orphanages and provides scholarships programs. Flavours are predominantly Vietnamese, such as lemon and chilli pork and tofu curry, with set menus available (from 108,000d), plus a few international offerings. Cooking classes and tours are also offered.
Louisiane Brewhouse INTERNATIONAL $$
(www.louisianebrewhouse.com.vn; 29 Ð Tran Phu; mains 62,000-360,000d;  7am-1am) It's not only the beer that draws a crowd here, as there is an eclectic menu with breakfast classics, superb salads, fish and seafood (red snapper is 140,000d) and Vietnamese, Japanese and Italian dishes. The beachside setting is superb with tables grouped around a pool and giant copper beer vats.
Lang Nuong Phu Dong Hai San SEAFOOD $$
(Ð Tran Phu; dishes 30,000-165,000d; 2pm-3am) The decor is basic (think plastic chairs and strip lights) but the seafood is fresh and delicious. Choose from scallops, crab, prawns and lobster, all at market prices.
(www.refuge-nhatrang.com; 1L Ð Hung Vuong; 7.30am-10pm;  mains 60,000-165,000d) A Swiss-owned log cabin–style restaurant with great crêpes, salads (try the goat's cheese), cheeses and grilled beef and lamb steaks (you choose your own sauce). Wine by the glass costs 40,000d to 65,000d. Unusually around here, the premises are air- conditioned, so it's a real retreat from the tropical heat.
( 058-352 7201; 26D Ð Tran Quang Khai; mains 50,000-250,000d; lunch & dinner) Arguably the most popular of the French restaurants with the French crowd (always a good sign), this is the place for the fromage you have been pining for, some select cold cuts or duck specialities. The wine list is professional for those who like to quaff.
(66 Ð Tran Phu; mains 48,000-172,000d, set menu 255,000d;  7am-10pm) Stylish little promenade-facing restaurant with an international outlook to the menu: vegie curry (48,000d), egg noodles with calamari (62,000d) and beef tenderloin (160,000d). There's an air-conditioned dining room and a terrace.
( 058-352 1089; 21 Ð Biet Thu; dishes 44,000-190,000d;  6am-9.45pm) The Truc Linh empire includes several eateries in the heart of backpackersville. Number 2 has a pretty garden setting and serves dishes from seafood to barbecued meats.
 Sailing Club INTERNATIONAL $$$
( 058-352 4628; www.sailingclubnhatrang.com; 72-74 Ð Tran Phu; meals 180,000-400,000d) A beachfront institution. People -watch from elegant seating by day, sip on a cocktail at sundown, dine on gourmet food under the stars and then burn it all off on the dance floor. There are three separate menus (Vietnamese, Italian and Indian) plus a smattering of other international dishes including wraps for 150,000d – mix 'n' match as you please.
(www.grillhousenhatrang.com; 1/18 Ð Tran Quang Khai; mains 55,000-450,000d;  11am-10pm) This grill restaurant offers meat lovers the chance to sate their appetite. Try the mixed grill, a bust-your-gut burger or a giant T-bone. Seafood is also on offer. There's Chilean wine by the glass (50,000d) and the premises are air-conditioned.
Pay serious attention to your drink (see boxed text below) and possessions (consult Dangers and Annoyances, opposite) if you're in the party bars of Nha Trang.
Many thefts have been reported from the Why Not? bar on Ð Tran Quang Khai.
(www.guava.vn; 17 Ð Biet Thu;  7am-1am) Groovy Guava is the only game in town for quality electronic music – DJs spin house and lounge here on weekends. There's always a friendly vibe, good service and a busy pool table. Choose from sunken sofas inside or a leafy garden patio at the rear. Pub grub here is filling and good value, try the Sunday 'hangover breakfast'.
(www.sailingclubnhatrang.com; 72-74 Ð Tran Phu;  7am-2am) Sailing Club is the definitive Nha Trang night spot with a good mix of locals and foreigners. It's an upmarket venue, with expensive drinks, DJs and bands, and draws the city's beautiful crowd. On Thursdays, Fridays and Saturdays a bonfire is lit on the beach and the action moves to the sand (weather permitting !).
(3 Ð Tran Quang Khai;  7am-2am) Buzzing bar on a corner plot with large garden terrace that's popular for bucket- downing and shisha-puffing. Happy hour runs right through from 4pm to midnight. It's a good choice for big sporting events.
( 058-352 1948; 29 Ð Tran Phu; per glass 40,000d;  7am-midnight) Microbreweries don't get much more sophisticated than this. Louisiane's copper vats sure have a helluva view, gazing over an inviting swimming pool down to a private strip of sand. There are six brews to try, including a red ale and a dark lager, or for 110,000d you can sample the lot.
(http://crazykimvietnam.wordpress.com; 19 Ð Biet Thu;  8am-midnight) With more of a pub atmosphere, this place is home to the commendable 'Hands off the Kids!' campaign, working to prevent paedophilia – part of the profits go towards the cause. Crazy Kim's has regular themed party nights, devilish cocktail buckets, shooters, cheap beer (from 25,000d), good tunes and tasty grub.
(26-28 Ð Tran Phu; noon-midnight) Located on the 28th floor of the Sheraton Nha Trang, this bar has simply out-of-this-world views of the coast – you can pick out every footprint in the sand below (if you eyes are up to it!). The interior is non- smoking. Expect five-star prices; a beer is 93,000d (gulp).
(7G/3 Ð Hung Vuong; 11am-10pm) Drawing a backpacker crowd, this is a popular bia hoi joint. They serve a light lager and a darker brown beer, as well as snacks.
(54H Ð Nguyen Thien Thuat; 7am-midnight) Yes it's a bit of a cliché, but this party-themed backpacker bar sure packs 'em in with cheap beer, flowing shots and regular promotions. Watch out for the beer funnel, as things can get very messy.
DRINK SPIKING
There have been a number of reports of laced cocktail buckets doing the rounds in popular night spots. This might mean staff using homemade moonshine instead of legal spirits or could mean the addition of drugs of some sort by other punters. While buckets are fun and communal, take care in Nha Trang and try and keep an eye on what goes into the bucket. You don't want your night to end in paranoia or robbery.
Nha Trang has some good arts and crafts shops in the blocks around the corner of Ð Tran Quang Khai and Ð Hung Vuong.
Fashion boutiques selling everything from slingbacks to sunglasses are concentrated along Ð Nguyen Thi Minh Khai.
(www.sagadumekong.com; 1/21 Ð Nguyen Dinh Chieu; 9am-6pm) This stylish fashion boutique specialises in linen, silk, bamboo and fine cotton clothing – perfect for the tropical climes. Stocks Western sizes and has its own factory for quality control.
(82A Ð Nguyen Thi Minh Khai; 7.30am-6pm) The sign outside says 'shoes and handbags' and that's certainly true as you'll find lots of innovative, fashionable designs inside, including some fetching stacked footwear. Also stocks purses, belts and sunglasses.
(www.xqhandembroidery.com; 64 Ð Tran Phu;  8am-8pm) At this place, designed to look like a traditional rural village, you are invited to enjoy a complimentary glass of green tea as you wander around. You can watch the artisans at work in the embroidery workshop and gallery.
(37 Ð Nguyen Thi Minh Khai;  8am-6pm) This hip boutique is renowned for its modish ladies' shoe designs but also stocks lingerie, swimwear and dresses.
(www.bamboucompany.com; 15 Ð Biet Thu;  8am-7pm) Specialises in casual clothing for men, women and kids, with Vietnamese motifs, including beachwear. Natural materials including tencel and bamboo are used.
Dangers & Annoyances
The vast vast majority of visitors experience no troubles at all in Nha Trang. While there's no need to be paranoid, you should take a little extra care here as the town certainly has its share of thieves.
There are many ways for you and your valuables to part company. Young travellers are most frequently targeted. We hear many stories about people getting pickpocketed in bars and clubs: packed dance floors are particularly popular hunting ground for thieves. Do you really need to carry a smart phone and credit card on your night out? It's safest to just to carry the cash you'll need for a good time.
We've also heard reports of thefts on the beach (bags are taken when you've dozed off).
Drive-by bag-snatching is an issue, which can be highly dangerous if you fall victim while on the back of a xe om. It's safer to wear bags close to your chest rather than as a backpack.
Keep phones and tablets out of sight, not on restaurant tables. If you're using a map app to find your way around, hold the phone or tablet with two hands.
Some female tourists have reported being photographed by young Vietnamese males when emerging from the water or just lying on the beach. These guys are quite blatant about it and are rather persistent.
At tourist sites unobservant foreigners may be overcharged – check the price on pre-printed tickets, and check your change.
Virtually all hotels and most restaurants and cafes have wi-fi. Many places also have a PC or two.
Pasteur Institute (058-382 2355; 10 Ð Tran Phu; 7am-11am 1pm-4.30pm) Offers medical consultations and vaccinations. Located inside the Alexandre Yersin Museum.
There are ATMs all over Nha Trang.
Vietcombank (17 Ð Quang Trung; 7.30am-4pm Mon-Fri) Changes travellers cheques and has an ATM.
Main Post Office (4 Ð Le Loi;  6.30am-8pm)
Khanh Hoa Tourist Information ( 058-352 8000; [email protected]; Ð Tran Phu) Government-run tourism office on the seafront with various tour programs, including boat trips.
Sinh Tourist (058-352 2982; www.thesinhtourist.vn; 2A Ð Biet Thu) Inexpensive local tours, including a city tour for 200,000d (excluding entrance fees), as well as open-tour buses.
Highland Tours ( 058-352 4477; www.highlandtourstravel.com; 54G Ð Nguyen Thien Thuat) An extensive program of affordable tours in the Nha Trang area, to the central highlands and along the coast. A day trip along the Cai river costs from US$27.
Transport from Nha Trang
| | | | | |
| --- | --- | --- | --- | --- |
| Destination | Air | Bus | Car/Motorbike | Train |
| HCMC | from US$28, 1hr, 6 daily | US$10–14, 11hr, 13 daily | 10hr | US$11–17, 7-9hr, 6 daily |
| | n/a | US$8, 6hr, open buses only | 5hr | n/a |
| Dalat | n/a | US$7, 5hr, 17 daily | 4hr | n/a |
| | n/a | US$6.50, 5hr, hourly | 4hr | US$5.50-8, 4hr, 5 daily |
| | from US$55, 1hr, 1 daily | US$11-14, 12hr, 13-16 daily | 11hr | US$16-26, 9-11hr, 5 daily |
Air
Vietnam Airlines (058-352 6768; www.vietnamairlines.com) connects Nha Trang with Hanoi (three daily) and to HCMC and Danang daily. Vietjet Air usually have the cheapest fares if you book well ahead, flying to both Hanoi and HCMC daily. Jetstar (www.jetstar.com) offer five weekly connections with Hanoi.
Bus
Phia Nam Nha Trang bus station (Ð 23 Thang 10) is Nha Trang's main intercity bus terminal, 500m west of the train station. Very regular daily buses head north to Quy Nhon and Danang. Heading south, there are very frequent connections to Phan Rang (46,000d, two hours) and HCMC, including sleeper buses from 7pm. Buses also head west into the Central Highlands, to Dalat and Buon Ma Thuot (100,000d to 120,000d, five hours, seven daily).
Nha Trang is a major stopping point on all of the open-tour buses. These are the best option for accessing Mui Ne, which is not served by standard buses. These buses usually depart between 6am and 8am, before continuing on to HCMC. There are also regular open-tour buses to Dalat (five hours) and Hoi An (11 hours).
Car & Motorbike
One of the best trips to experience is the mountain pass from Nha Trang to Dalat, as seen on the BBC Top Gear special. It's a stunning journey by car or motorbike. Throw the mountain road back down from Dalat to Mui Ne into the mix and you have a great loop. There are quite a number of Easy Riders based in Nha Trang.
Train
The Nha Trang train station ( 058-382 2113; Ð Thai Nguyen; ticket office 7-11.30am, 1.30-6pm & 7-9pm) is west of the cathedral in the centre of town. It's on the main north-south line with good connections to destinations including Quy Nhon, Danang and HCMC.
To/From the Airport
Cam Ranh international airport is 30km south of the city via a beautiful coastal road. A shuttle bus runs the route (60,000d), leaving from the site of the old airport (near 86 Ð Tran Phu) two hours before scheduled departure times, taking about 40 minutes.
Departing town, taxis are a more convenient option (to avoid waiting around). Nha Trang Taxi ( 058-382 6000), the official maroon-coloured cabs, cost 380,000d from the airport to downtown. It's cheaper in the other direction, 300,000d from town out to the airport. It's best to fix a price ahead rather than use taxi meters, which work out to be more expensive.
Bicycle
Most of Nha Trang is pretty flat so it's easy to get around all the sights, including Thap Ba, by bicycle. Hotels have bikes to rent from 30,000d per day. Watch out for the one-way system around the train station, and the chaotic roundabouts.
Taxi & Xe Om
It's safer to take a metered taxi with a reputable company such as Mai Linh ( 058-382 2266).
Nha Trang has an excessive number of xe om drivers. A motorcycle ride anywhere in the centre shouldn't cost more than 25,000d. Be careful at night, when some less reputable drivers moonlight as pimps and drug dealers.