The coastal drive between Tuy Hoa and Nha Trang on Hwy 1 provides tantalising glimpses of a number of remote and beautiful spots, while others are hidden away in the jungle along promontories or on secluded islands. Leave behind the guidebook for a day or two and go exploring. Money-changing facilities and ATMs are thin on the ground here, so plan ahead in Nha Trang, Tuy Hoa or Quy Nhon.
Dai Lanh Beach
Crescent-shaped Dai Lanh Beach has a split personality: a scruffy fishing village occupies the northern end, but yields to an attractive beach shaded by casuarina trees. The roar of traffic from Hwy 1 does blight the setting, but when a new tunnel currently under construction is finished (scheduled for 2016), peace should return to Dai Lanh.
Accommodation options are grouped together in the fishing village. Binh Lieu ( 058-394 9138; Hwy 1; r 200,000-300,000d) is the best of the minihotels, a new place with smart, well-equipped rooms; you pay more for a sea view (and will suffer less traffic noise). Fresh seafood features prominently at the beachside restaurants (mains from 50,000d to 150,000d).
Dai Lanh is 40km south of Tuy Hoa and 83km north of Nha Trang on Hwy 1.
Whale Island
About a kilometre south of Dai Lanh, a vast sand-dune causeway connects the mainland to Hon Gom, a mountainous peninsula almost 30km in length.
Boats for Whale Island leave from Hom Gom's main village, Dam Mon, set on a sheltered bay. Whale Island is a tiny speck on the map and home to the romantic and secluded Whale Island Resort ( 058-384 0501; www.whaleislandresort.com; s/d from US$33/45), just a 15-minute boat ride from Dam Mon. It's fine place to get away from it all with good snorkelling and kayaking and a pretty beachside setting. Its rustic bamboo and timber (fan-cooled) bungalows are atmospheric, but the compulsory meals (US$28 per person per day) are expensive and meal times are set. Bus-boat transfers from Nha Trang cost US$20.
Rainbow Divers (contact their Nha Trang office) has a permanent base on the island; two dives cost US$85. The scuba season is mid-January to mid-October. Whale sharks pass this way for a krill feed between April and July.
Doc Let Beach
One of Vietnam's best beaches, the chalk-white sands and shallow turquoise waters of Doc Let stretch for almost 18km, lining the shores of a huge bay.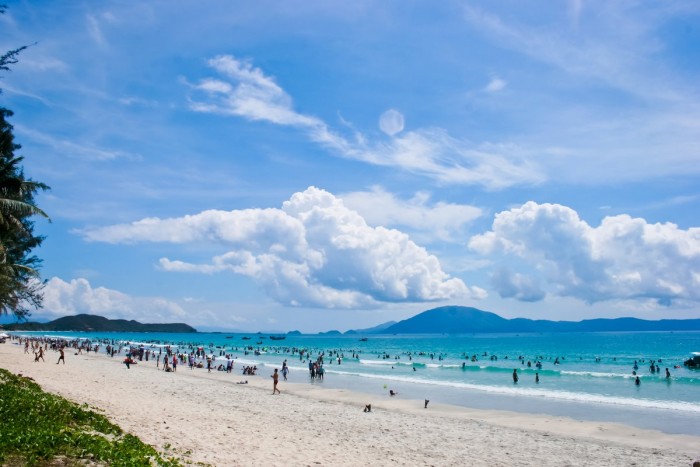 The beach itself is divided into three sections. The northern part of the bay is where most of the tourism action is, with a cluster of beachfront hotels and cheaper guesthouses inland. Looming over the central section is the giant Hyundai shipyard and port, an important local employer but a real blot on the landscape. The isolated southern section is backed by a wooded promontory and is the place to really get away from it all.
There's little or no public transport, but with a rented bike it's easy to find your own piece of beachside paradise for the day.
( 057-384 9152; bungalows 350,000-450,000d) With a stunning beachfront location these aging but spacious bungalows are set in palm-shaded grounds and the restaurant serves up cheap grub. Lacks atmosphere, but worth considering.
( 057-366 2384; www.junglebeachvietnam.com; per person incl meals 500,000-750,000d) Bagging an idyllic slab of beach heaven, this motley collection of basic rattan, bamboo-and-thatch huts and bungalows offers an end-of-the-road feel. There's a sociable vibe (meals are eaten together) and a delightful garden to enjoy. It is very isolated (but that's entirely the point) at the end of lonely road, 7km south of the shipyard.
 Some Days of Silence BOUTIQUE HOTEL $$$
( 057-367 0952; www.somedaysresort.com; r US$110-120, bungalows US$170-180) A simply stunning, artistically designed place that feels more an in-the-know retreat for beautiful people than a mere hotel. Elegant bungalows and rooms are lovingly decorated with works of art and feature four-poster beds, and bathrooms with pebble-detailing. There's a sublime tropical garden and white-sand beach, and the pagoda-style restaurant and adjoining terrace make a great setting for healthy, creative meals.
( 057-367 0480; www.vngold.com/doclet/paradise; per person incl meals US$45-50) This beachside place is a messy assortment of rooms (from many different eras), which are clean and presentable, if not easy on the eye. Aesthetics aside, the elderly French-Croat owner is a jolly soul who looks after his guests well, food is plentiful, beer cheap enough and the oceanic vistas are great.
The turn-off for Doc Let is signposted just south of a toll road section on Hwy 1, around 4km past Ninh Hoa where there's a big sign for Hyundai Vinashin (shipyard). Continue 10km past photogenic salt fields, looking out for the signs to the resorts. Make a left turn through Doc Let village and then a right to the beach. Most of the hotels and resorts also offer some sort of transfer service for a fee.
There's a separate, direct (paved) road to Jungle Beach via the shipyard from the same Hwy 1 turn-off (look out for the signs to 'wild beach').
Ganh Da Dia
A smaller version of Ireland's Giant's Causeway, Ganh Da Dia is a spectacular outcrop of volcanic rock that juts into the ocean south of Quy Nhon. Half the fun is simply getting there, as the scenery in this coastal region is superb.
Ganh Da Dia is signposted from the small town of Chi Thanh, 68km south of Quy Nhon. Heading down Hwy 1, take the turning just past the river bridge on the northern side of town. The route to the coast meanders for 13km through a delightful pastural landscape of rice paddies and farming villages.
Consisting of hundreds of interlocked columns of volcanic rock, Ganh Da Dia was created millions of years ago as fluid molten basalt cooled. Some of the best sections are formed of incredibly regular pentagonal- and hexagonal-sided horizontal rocks. The Vietnamese call this place 'the cliff of stone plates', and it's regularly used by Buddhist monks for ceremonies.
You can bathe in the tiny rocky cove next to Ganh Da Dia, but the drop-dead gorgeous sandy beach on the south side of the bay, a five-minute walk away, is even more inviting. Fresh coconuts and snacks are sold by local villagers at the car park.
Continuing south (and avoiding Hwy 1) you can take a lovely coastal road to Tuy Hoa. Head inland (west) from Ganh Da Dia for 3.5km and then a side (paved) road heads south through sand dunes, past cacti and agave to the fishing village of An Hai, where a row of seafood restaurants faces the O Loan estuary and makes an ideal pit-stop.
From An Hai, it's 27km south to Tuy Hoa. The route has a few twists and turns, but the kilometre waymarks (which indicate the distance to Tuy Hoa) help guide you the right way.
Ninh Van Bay
Welcome to an alternate reality populated by European royalty, film stars and the otherwise rich and secretive. Sadly for the average punter, this place doesn't exist. Occupying a secluded bay with good snorkelling and kayaking abutting a dense jungle-covered peninsula, there are no roads to Six Senses Ninh Van Bay ( 058-372 8222; www.sixsenses.com; villas US$690-1240). The resort even has its own time zone – an hour ahead in an effort to encourage guests to enjoy the sunrise. The traditionally inspired architecture and the winding paths between buildings give the illusion of a jungle village – albeit one where every dwelling is an elegant two-storey villa, each with its own swimming pool. As you would expect for the price, the detail is superb and the setting is simply magical. Facilities include a wonderful Six Senses Spa and restaurants featuring Western and Asian cuisine.