Its only saving grace is coffee: the region grows some of the best in Vietnam, plenty of which is sold and drunk in town. Buon Ma Thuot plays host to an annual Coffee Festival in March that sees gallons of the black nectar drunk and elephant races held in nearby Don village.
Most travellers stop in Buon Ma Thuot en route to the attractions around it: Yok Don National Park, a couple of striking waterfalls and heaps of minority villages. The province is home to 44 ethnic groups, including some who have migrated here from the north. Among indigenous hill tribes, the dominant groups are the Ede, Jarai, M'nong and Lao.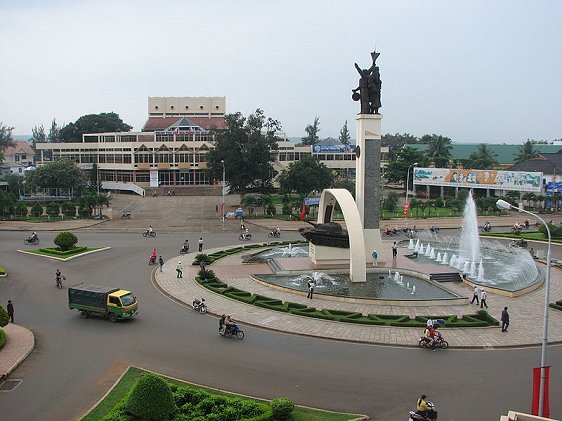 Smack in the centre of town, this monument commemorates the events of 10 March 1975 when VC and North Vietnamese troops liberated the city. It's an interesting piece of socialist realist sculpture, consisting of a column supporting a central group of figures holding a flag, with a modernist arch forming a rainbow over a concrete replica tank.
Dak Lak Water Park SWIMMING POOL
(Ð Nguyen Chi Thanh; adult/child 38,000/25,000d;  8am-5.30pm) Strictly in the 'if you have time to kill' category, the waterslides at Dak Lak Water Park are a passable diversion on a hot afternoon. It's about 4km from town, just before the bus station.
MAP GOOGLE MAP
( 0500-385 8243; [email protected]; 51 Ð Ly Thuong Kiet; r 220,000-400,000d) One of the better places on backpacker-friendly Ɖ Ly Thuong Kiet. It's welcoming enough, with decent rooms (some with bath tubs), and all rates include breakfast.
MAP GOOGLE MAP
( 0500-385 4857; 41 Ð Ly Thuong Kiet; s/d 170,000/250,000d) Nothing fancy, but the owners are welcoming and the rooms – all with fan, air-con and hot-water bathrooms – are quite presentable for the (extremely low) rates.
MAP GOOGLE MAP
( 0500-385 1234; www.damsanhotel.com.vn; 212-214 Ð Nguyen Cong Tru; r US$36-55, ste US$68) An excellent place, which dates from the 1970s but remains in good shape. Rooms at the rear overlook a verdant valley dotted with bamboo, and the pool is huge (30m). It's on a side street, close to an array of cafes, bars and restaurants.
Dakruco Hotel HOTEL $$$
( 0500-397 0888; www.dakrucohotels.com; 30 Ð Nguyen Chi Thanh; r US$65-200) Imposing four-star hotel about 2km east of the centre. Rooms are modern and inviting, though the chintzy, grandiose lobby is a little over the top. Facilities include a (mediocre) rooftop spa and tennis court.
There's a limited choice of places in BMT. You'll find casual inexpensive restaurants dotted around the streets north of the Victory Monument. For a coffee or a beer, Ð Nguyen Cong Tru has scores of atmospheric places.
MAP GOOGLE MAP
(22 Ð Ly Thuong Kiet; meals 30,000d;  10.30am-9pm) There's only one dish here: delicious, roll-your-own, rice-paper rolls, with salad and herbs, fried pork and raw garlic, served with either a meaty broth or fish sauce and chilli.
MAP GOOGLE MAP
(173 Ð Nguyen Cong Tru; meals 30,000d;  9am-10pm) Casual, open-sided, three-storey bar-restaurant with rattan seating and a rooftop bar. There are always five cheap dishes on the menu, including choices like pasta, and beef with noodles.
Black & White Restaurant CAFE, BAR
MAP GOOGLE MAP
(171 Ð Nguyen Cong Tru; 7am-9.30pm) Quite a find, this stylish place has a unique selling point – its awesome hi-fi – which is set up for customers to use. As the CD selection is pretty limited, BYO tunes and let the system rip. Coffees are around 20,000d and cocktails are also offered (but there aren't any meals served, despite the name).
MAP GOOGLE MAP
(Ð Y Nong; 7am-6pm) To the side of the ethnographic museum, this likeable cafe with shady tables that overlook a banyan tree is a great place to escape the city traffic. It's a popular place for students and intellectuals to enjoy a coffee.
Stock up on coffee here, as the price is lower and the quality higher than in HCMC or Hanoi. Browse the coffee shop strip on Ð Ly Thuong Kiet before you buy.
Permits are required to visit minority villages in the area, except for Ako Dhong and Ban Don. Local travel agencies can make the arrangements.
Agribank (37 Ð Phan Boi Chau;  7.30am-2.30pm Mon-Sat) Changes currency and travellers cheques.
Dak Lak General Hospital MAP GOOGLE MAP ( 0500-385 2665; 2 Ð Mai Hac De; 24hr)
DakLak Tourist ( 0500-385 8243; www.daklaktourist.com.vn; 51 Ð Ly Thuong Kiet) On the ground floor of Thanh Cong Hotel; offers tours of villages, waterfalls, Lak Lake and Yok Don National Park.
Vietnam Highland Travel MAP GOOGLE MAP ( 0500-385 5009; [email protected]; Thanh Binh Hotel, 24 Ð Ly Thuong Kiet) Experienced guides, homestays and off-the-beaten-track trekking trips.
This legendary route was not one but many paths that formed the major supply link for the North Vietnamese and VC during the American War. Supplies and troops leaving from the port of Vinh headed inland along mountainous jungle paths, crossing in and out of Laos, and eventually arrived near Saigon. With all the secrecy, propaganda and confusion regarding the trail, it's hard to say how long it was in full; estimates range from over 5500km (said the US military) to more than 13,000km (boasted the North Vietnamese).
While elephants were initially used to cross the Truong Son Mountains into Laos, eventually it was sheer human power that shouldered supplies down the trail, sometimes supplemented by ponies, bicycles or trucks. Travelling from the 17th Parallel to the vicinity of Saigon took about six months in the mid-1960s; years later, with a more complex network of paths, the journey took only six weeks but it was still hard going.
Each person started out with a 36kg pack of supplies, as well as a few personal items (eg a tent, spare uniform and snake antivenom). What lay ahead was a rugged and mountainous route, plagued by flooding, disease and the constant threat of American bombing. At their peak, more than 500 American air strikes hit the trail every day and more ordnance was dropped on it than was used in all the theatres of war in WWII.
Despite these shock-and-awe tactics and the elaborate electronic sensors along the McNamara Line, the trail was never blocked. Most of it has returned to the jungle, but you can still follow sections of the trail today. Note that this is usually the more developed trail from the early 1970s, as the older trail was over the border in Laos. The Ho Chi Minh Highway is the easiest way to get a fix; it's a scenic mountain road running along the spine of the country. Starting near Hanoi, it passes through some popular tourist destinations and former battlefields, including the Phong Nha caves, Khe Sanh, Aluoi, Kon Tum and Buon Ma Thuot on its way to Saigon. The most spectacular sections include the roller-coaster ride through the Phong Nha-Ke Bang National Park, where looming karsts are cloaked in jungle.
Travel this route by car (or 4WD), motorbike or even bicycle if you are training for the King of the Mountains jersey; or arrange a tour through the Easy Riders in Dalat or one of the leading motorbike touring companies in Hanoi. Explore Indochina (www.exploreindochina.com) specialises in trail tours. Hoi An Motorbike Adventures (www.motorbiketours-hoian.com) offers shorter rides along sections between Hoi An and Phong Nha.
Air
There are daily Vietnam Airlines ( 0500-395 4442; 17-19 Ð No Trang Long) flights serving HCMC (from 442,000d) and Hanoi (from 1,230,000d), and services four times a week to Danang (from 720,000d). Vietjet Air connects BMT to HCMC daily (from 320,000d). Jetstar flies to HCMC (from 467,000d) and Vinh (from 594,000d). The airport is 8km east of town; a taxi should cost about 120,000d.
Bus
Buon Ma Thuot is often called 'Dak Lak' (the province it is located in) on bus timetables. The city's bus station (71 Ð Nguyen Chi Thanh) is about 4km northeast of the centre with services to Dalat (120,000d, five hours, five daily), Nha Trang (115,000d, five hours, eight daily) and Pleiku (100,000d, four hours, every 30 minutes).
Car & Motorcycle
Highway 26 links the coast with Buon Ma Thuot, intersecting Hwy 1A at Ninh Hoa (157km), 34km north of Nha Trang. The road is surfaced and in good condition, although fairly steep in places. Highway 14 to Pleiku (199km) is in good shape, while Hwy 27 to Dalat is scenic but was in poor shape at the time of research.
Taxi