The rather forgettable capital of Gia Lai province, Pleiku is better known as a strategic American and South Vietnamese base during the American War than for any postwar accomplishments. It makes an adequate pit stop, but there's little to detain a traveller for more than a few hours. Torched by departing South Vietnamese soldiers in 1975, the city was rebuilt in the 1980s with help from the Soviet Union, which thoroughly explains its lack of appeal today.
In 2001 and 2004 Pleiku was the scene of hill-tribe protests against the government. The surrounding area is perfectly safe for travellers but remains sensitive politically, so you'll need a permit to explore the province.
The Jarai minority of the Pleiku area honour their dead in graveyards set up like miniature villages. These graveyards are located to the west of the village, where the sun sets.
Each grave is marked with a shelter or bamboo stakes. Carved wooden figures are placed along the edge, often pictured in a squatting position with their hands over their faces in an expression of mourning. A jar is placed on the grave that represents the deceased person, and objects that the deceased might need in the next world are buried with them.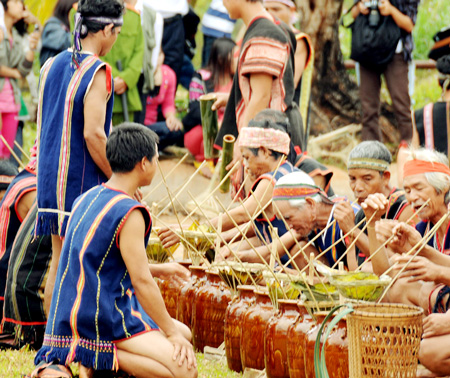 For seven years after the death, relatives bring food to the grave and pass death anniversaries at the grave site, mourning and celebrating the deceased by feasting and drinking rice wine. After the seventh year, the spirit is believed to have moved on from the village and the grave is abandoned.
(1 Phan Dinh Phuong;  8-11am & 1-4.30pm Mon-Fri)  The Ho Chi Minh Museum offers the usual paeans to Uncle Ho, with an emphasis on his affinity for hill-tribe people and their love for him. There are also displays about Bahnar hero Anh Hung Nup (1914–98), who led the hill tribes against the French and Americans. There's a statue (cnr Ð Le Loi & Ð Tran Hung Dao) of him nearby.
Duc Long Gia Lai Hotel HOTEL $
( 059-387 6303; [email protected]; 95-97 Ð Hai Ba Trung; s/d 300,000/350,000d) Spacious, well-presented, pine-trimmed rooms (some with balconies and bath tubs) and an elevator make this a popular choice. There are several other options close by if it's full.
( 059-371 8459; www.haglhotelpleiku.vn; 1 Phu Dong; r US$48-62) An opulent marble-rich lobby sets a luxurious tone and the spacious, very-well-equipped rooms won't disappoint either (those at the rear are quieter). The restaurant is surprisingly reasonably priced, but give the (disappointing) spa a miss. However, note that the parent company, the HAGL group, has been accused by Global Witness of breaching Cambodian laws related to forest clearing.
(73 Ð Hai Ba Trung; meals 30,000-50,000d; 10am-8.30pm) A block from the Duc Long hotel, this busy, simple place serves delicious crispy chicken and rice with a side salad of lettuce, tomato and onion.
A permit (US$10) and guide (US$20) are compulsory to visit villages in Gia Lai province. This puts many travellers off, who usually skip Pleiku and head north to Kon Tum. All tourist agencies in town can arrange the permit.
Gia Lai Tourist ( 059-387 4571; www.gialaitourist.com; 215 Ð Hung Vuong) A variety of well-priced tours lead by English- and French-speaking guides.
Vietin Bank (1 Ð Tran Hung Dao; 7am-3.30pm Mon-Fri, 7am-noon Sat) Foreign exchange and credit-card advances.
Air
Vietnam Airlines ( 059-382 4680; www.vietnamairlines.com; 18 Ð Le Lai) has two daily flights to Hanoi (from 783,000d), five daily to HCMC (from 930,000d) and one daily to Danang (from 417,000d). The airport is about 5km from the town and accessible by taxi (90,000d) or xe om (around 40,000d).
Bus
Pleiku's bus station (45 Ð Ly Nam De) is located about 2.5km southeast of town. Regular buses head to Buon Ma Thuot (100,000d, four hours, every 30 minutes), Kon Tum (20,000d, one hour, every 30 minutes) and Quy Nhon (75,000d, three hours, five daily). It's also possible to catch buses towards the border crossings for Cambodia and Laos.
 GETTING TO CAMBODIA: PLEIKU TO BAN LUNG
Getting to the border Remote and rarely used by foreigners, the Le Thanh/O Yadaw border crossing lies 90km from Pleiku and 64km from Ban Lung, Cambodia. From Pleiku there's a daily Noi Thinh bus at 7.30am (60,000d, two hours) from the main marketplace on Ɖ Tran Phu direct to the Cambodian border at Le Thanh. You can also get to Le Thanh by buses from the main bus terminal, travelling via Moc Den (40,000d, two hours, four daily), from where local buses (20,000d, 15km) head to the border. Get as early a start as you can.
At the border Cambodian visas are issued at the border. Vietnamese visas need to be organised in advance.
Moving on From O Yadaw, on the Cambodia side of the border, local buses (US$8) or motorbikes (around US$25) head to Ban Lung. There are far fewer transport options in the afternoon.