That said, the city itself still has few conventional sightseeing spots, except for a very decent museum. So for most travellers, a day or two off the tourist trail enjoying the city's restaurants and nightlife is probably enough.
Danang also makes a great base for day trips. The city is part of a long thin peninsula, at the northern tip of which is Nui Son Tra (called Monkey Mountain by US soldiers). China Beach and the five Marble Mountains lie southwest of the city.
Known during French colonial rule as Tourane, Danang succeeded Hoi An as the most important port in central Vietnam during the 19th century, a position it retains to this day.
As American involvement in Vietnam escalated, Danang became the recipient of the first American combat troops in South Vietnam – 3500 Marines in March 1965. Memorably they stormed Nam O Beach in full battle gear, only to be greeted by a bevy of ao dai –wearing Vietnamese girls bearing cheerful flower garlands. A decade later, with the Americans and South Vietnamese in full retreat, the scene could not have been more different as desperate civilians fled the city. On 29 March 1975 two truckloads of communist guerrillas, more than half of them women, declared Danang liberated without firing a shot.
Today Danang has one of the most vibrant economies in Vietnam. Indeed it's regularly dubbed 'Silicon City' due to its booming web sector.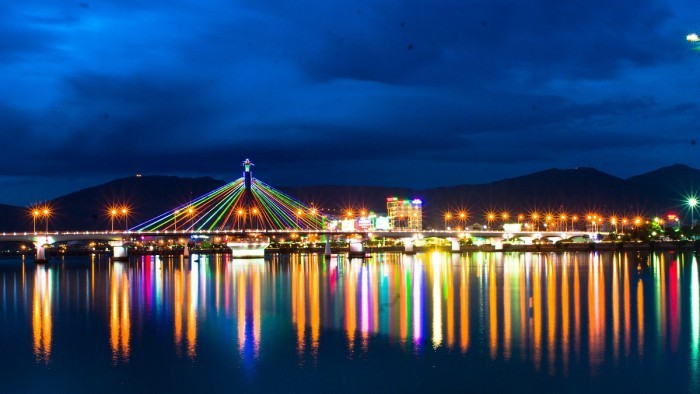 Museum of Cham Sculpture MUSEUM
MAP GOOGLE MAP
(Bao Tang; 1 Ð Trung Nu Vuong; admission 30,000d;  7am-5pm) This fine museum has the world's largest collection of Cham artefacts, housed in buildings that marry French-colonial architecture with Cham elements.
Founded in 1915 by the École Française d'Extrême Orient, it has more than 300 pieces on display including altars, lingas, garudas, apsaras, Ganeshas and images of Shiva, Brahma and Vishnu – all dating from the 5th to 15th centuries.
The treasures come from Dong Duong (Indrapura), Khuong My, My Son, Tra Kieu and other sites.
Note that the museum's organisation and English captions could be better, so it's worth hiring a well-informed guide (or pick up one of the guidebooks at the museum shop).
There are also exhibits focusing on Cham culture today, with a handful of contemporary artefacts and photos of the Kate Festival (the Cham New Year).
Cao Dai Temple BUDDHIST TEMPLE
MAP GOOGLE MAP
(63 Ð Hai Phong)  This is the largest Cao Dai temple in Central Vietnam, serving about 50,000 followers. A sign reading van giao nhat ly (all religions have the same reason) hangs from the ceiling in front of the main altar. Behind the gilded letters is a picture of the founders of five of the world's great religions: Mohammed, Laotse (wearing Eastern Orthodox–style robes), Jesus, a Southeast Asian–looking Buddha and Confucius (looking as Chinese as could be).
Behind the main altar sits an enormous globe with the Cao Dai 'divine eye' symbol on it. As with all Cao Dai temples, prayers are held four times a day, at 5.30am, 11.30am, 5.30pm and 11.30pm.
MAP
(3 Ð Nguyen Van Troi;  7-11am & 1.30-4.30pm)  Despite its huge grounds, this museum is typically unenlightening for a site venerating Ho Chi Minh. At the front is a display of the usual US, Soviet and Chinese weaponry. Hidden behind the Party buildings are a replica of Ho Chi Minh's house in Hanoi and a museum about him.
MAP GOOGLE MAP
(Ð Tran Phu)  Known to locals as Con Ga Church (Rooster Church) because of the weathercock on top of the steeple, the candy-pink Danang Cathedral was built for the city's French residents in 1923. Today it serves a Catholic community of over 4000 – it's standing room only if you arrive late.
Phap Lam Pagoda BUDDHIST TEMPLE
MAP GOOGLE MAP
(574 Ð Ong Ich Khiem;  5-11.30am & 1-9pm)  Recently rebuilt, this pagoda has three giant Buddha statues in the courtyard, and an equally imposing large gold one in the temple.
Trong's Real Easy Riders MOTORBIKE TOURS
MAP GOOGLE MAP
( 0903 597 971; www.easyridervn.com; 12/20 Nguyen Thi Minh Khai) A motorbike collective that operates out of Danang. A four-day trip to the central highlands costs US$280; day trips are also possible.
Danang has a fast-expanding selection of modern hotels along the riverside, though good budget hotels are hard to come by. For information on accommodation just across the river, see My Khe Beach (Click here).
MAP GOOGLE MAP
( 0511-382 8333; http://sion.com.vn; 121/7 Hoang Van Thu; s/d US$15/20-25) There's a scarlet theme running through this new excellent-value hotel from the lobby to the inviting, modern rooms. Boasts a convenient location and staff are eager to please.
MAP GOOGLE MAP
( 0511-381 7711; [email protected]; 48 Ð Phan Chu Trinh; r US$18-22) Spacious, carpeted and comfortable rooms full of solid, dark-wood furniture and some with sofas. The ageing five-storey building also retains a glint of colonial character, with its chocolate-brown French-style shutters.
MAP GOOGLE MAP
( 0511-382 3750; [email protected]; 2 Ð Nguyen Thi Minh Khai; s/d US$14/20) It's never going to win a design award, but this old-fashioned place has functional spacious rooms that represent a reasonable deal.
MAP GOOGLE MAP
( 0511-382 8488; http://newmoonhotel.vn; 126 Ð Bach Dang; r 440,000-1,100,000d) Modern minihotel with a selection of inviting rooms in different price categories, all with flat-screen TV, minibar, wi-fi and en-suite marble bathrooms, while the river-view options enjoy incredible vistas.
MAP GOOGLE MAP
( 0511-382 2216; www.rainbowhotel.com.vn; 220 Ð Bach Dang; r 630,000-1,100,000d) This modern place enjoys a prime riverfront location, and yet rates are backstreet modest. Rooms have contemporary decor and flooring, artwork, modern furniture and all mod cons, but do vary quite a bit; book a river-view for inspirational vistas.
Sun River Hotel HOTEL $$
MAP GOOGLE MAP
( 0511-384 9188; www.sunriverhoteldn.com.vn; 132-134 Ð Bach Dang; r 860,000-1,800,000d) A tempting option, this riverfront hotel offers immaculate rooms with really fancy bathrooms (some with space-age showers). Note the standard-class options do not have windows and only the VIPs have a river view.
MAP GOOGLE MAP
( 0511-381 5599; www.stargazer.net; 77 Ð Tran Phu; r 350,000-600,000d) A welcoming hotel with neat, if smallish, rooms with attractive wood furniture, large TVs and comfy beds with duvets. Number 301 has a balcony and river view.
Novotel Danang Premier Han River HOTEL $$$
MAP GOOGLE MAP
( 0511-392 9999; 36 Bach Dang; r/ste from US$95/164) Towering riverside landmark, which opened in 2013, with hip, commodious rooms and unmatched views over the Han river towards the beach and ocean. Staff are welcoming and well trained, and facilities include a pool, spa and fitness centre. Those that enjoy the high life should check out the 35th-floor sky bar.
MAP GOOGLE MAP
( 0511-384 3863; www.brillianthotel.vn; 162 Bach Dang; r from US$78) New riverside hotel with a contemporary design theme throughout, from the swish lobby to the impressive rooms (all with river views and hip bathrooms). Service is good, and the complimentary breakfast quite a feast. However, the pool is tiny.
Danang's restaurant scene is on the up and becoming more cosmopolitan by the day. Street food is great here, with copious bun cha (barbecued pork), com (rice) and mi quang (noodle soup) stalls.
To really explore the local food scene try Danang Food Tour (http://danangfoodtour.com; per person US$45-90) run by an expat foodie.
Quan Com Hue Ngon VIETNAMESE, BARBECUE $
MAP GOOGLE MAP
(65 Tran Quoc Toan; meals 50,000-80,000d;  3-9pm) Fab new barbecue place, all charcoal smoke and sizzling meats, where you grill your own. There's a street terrace, and the welcoming English-speaking owner will help with the menu.
Com Tay Cam Cung Dinh VIETNAMESE $
MAP GOOGLE MAP
(K254/2 Ð Hoang Dieu; dishes 15,000-40,000d;  11am-8pm) This simple place is good for local dishes including hoanh thanh – a wonton-like combination of minced pork and shrimp. It's down a little alley.
MAP GOOGLE MAP
(25 Ð Yen Bai; dishes 18,000-130,000d;  7.30am-9.30pm) A contemporary restaurant that offers a wide choice of tasty Vietnamese fare, including succulent seafood and the clay-pot rice signature dish.
Mr Duc's VIETNAMESE, INTERNATIONAL $
MAP GOOGLE MAP
(11 Tran Quoc Toan; meals 40,000-80,000d;  11am-9.30pm) A clean, casual place rightly popular for its good-value dishes: beef steak and chips, rice with chicken and roti, noodles, and shrimp hot pots.
 Waterfront INTERNATIONAL, BAR $$
MAP GOOGLE MAP
( 0511-384 3373; www.waterfrontdanang.com; 150-152 Ð Bach Dang; meals 95,000-360,000d; 10am-11pm) Riverfront lounge-cum-restaurant that gets everything right on every level. It works as a stylish bar for a chilled glass of NZ Sauvignon Blanc or an imported beer and also as a destination restaurant for a memorable meal (book the terrace deck for a stunning river vista). The menu is features imported meats, Asian seafood and also terrific 'gourmet' sandwiches.
Le Bambino FRENCH, INTERNATIONAL $$
MAP GOOGLE MAP
( 0511-389 6386; www.lebambino.com; 122/11 Ð Quang Trung; meals 120,000-300,000d;  11.30am-1.30pm & 4.30-10pm Mon-Sat, 4.30-10pm Sun) Atmospheric place run by a couple (French husband, Vietnamese wife) who have crafted a great menu that takes in French classics, pub food, barbecued meat (try the ribs) and a few Vietnamese favourites. Eat inside or around the pool, and don't neglect the wine list or the cheese selections, both of which are superb.
Phi Lu Chinese Restaurant CHINESE, VIETNAMESE $$
MAP
(1-3 Ð 2/9; meals 40,000-300,000d;  11am-9.30pm) This large formal place decked out in Chinese style, including red lanterns at night, always seems to be busy, a good sign. It's excellent for seafood, beef dishes and noodles, but beware the menu with its comical English translations.
Bread of Life INTERNATIONAL $$
MAP GOOGLE MAP
(www.breadoflifedanang.com; 4 Ð Dong Da; meals 65,000-150,000d;  8.30am-9.30pm) Excellent American-style diner-cum-bakery with a good menu of burgers, Mexican food, sandwiches, pizza and pasta. A very good bet for brekkie; the bacon burrito really hits the spot. Run by deaf staff, proceeds go towards training activities for the deaf in Danang.
MAP GOOGLE MAP
(www.madamelan.com; 4 Bach Dang; meals 100,000-220,000d;  10am-10pm) Huge restaurant in a new French colonial-style development where you can eat in an open courtyard or in one of the river-facing dining rooms. The menu has lots of good choices including squid with chilli and salt, and green papaya salad with shrimp and garlic.
MAP GOOGLE MAP
(www.redskydanang.com; Ð 248 Tran Phu; meals 70,000-260,000d;  11am-2pm & 5-11pm Mon-Fri, 11am-11pm Sat & Sun) This casual bar-restaurant scores highly for Western grub, including good-value steaks, generous salads (US$7), chicken wings and Italian food. Happy hour (5pm to 8pm) is very popular. Staff are attentive and welcoming and it's air-conditioned.
Vietnamese Home VIETNAMESE, INTERNATIONAL $$
MAP GOOGLE MAP
(34 Ð Bach Dang; meals 60,000-270,000d;  7am-10pm) Rustic-style restaurant with a huge bougainvillea-fringed courtyard and adjoining dining rooms. The menu is extremely comprehensive, including Western breakfasts, seafood, meat dishes, frog, snail, noodles and soup. There are cheap rice-based dishes for those on a budget.
For a lounge-bar-style drink with a view, also check out Waterfront.
MAP GOOGLE MAP
(www.lunadautunno.vn; 9A Tran Phu;  11.30am-late) Half-bar, half-Italian restaurant, this hot new hang-out is a cool warehouse-sized space with an open frontage, a DJ booth in the cabin of a truck, cool music, an amazing drinks selection and some shisha smoking action. Also popular with the expat crowd for its authentic Italian food (pizza, pasta, salads and more).
MAP GOOGLE MAP
(www.loungememory.com; 7 Ð Bach Dang; drinks from US$5;  10am-midnight Mon-Sat) This landmark bar-restaurant juts over the river right by the Song Han bridge. It works better as a bar, as the restaurant prices are stratospheric and the cooking rarely hits the heights. During the day, it's fine for a coffee, or later on a beer with a view. Note that Vietnamese bands and crooners are often part of the evening entertainment.
MAP
(174 Ð 2/9;  11am-11pm) Huge Czech-style brewery pub (with vats proudly on display) that draws the locals in their hundreds. Lager-style and dark beer on tap, plus a menu of Western (try the German sausages) and Vietnamese dishes. The bar is located quite a way south of the centre.
MAP
(38 An Thuong 5;  7am-11pm) A stone's throw from China Beach, this is a friendly, popular bar-restaurant with pub grub (think burgers or fish 'n' chips). You can rent boards (US$5 per day, deposit required) and get advice here.
MAP GOOGLE MAP
(230 Ð Bach Dang;  10am-midnight) Sociable, but rather predictable expat bar with clientele of boozy regulars, beers for 25,000d and a busy pool table. A good place to catch sports (Aussie Rules, Premier League football).
Virtually all hotels and cafes have wi-fi and you will find plenty of internet cafes in the central zone.
The website www.indanang.com is an excellent source of information, with lots of restaurant reviews and listings.
Agribank (202 Ð Nguyen Chi Thanh;  7.30am-3.30pm Mon-Sat) ATM and exchange service.
Danang Family Medical Practice ( 0511-358 2700; www.vietnammedicalpractice.com; 50-52 Ð Nguyen Van Linh;  7am-6pm) Set up like a minihospital with in-patient facilities, this is an excellent practice run by an Australian doctor.
Hospital C (Benh Vien C;  0511-382 1483; 122 Ð Hai Phong;  24hr) The most advanced of the four hospitals in town.
Main Post Office (64 Ð Bach Dang;  7am-5.30pm) Near the Song Han Bridge.
Sinh Tourist ( 0511-384 3258; www.thesinhtourist.vn; 154 Ð Bach Dang) Books open-tour buses and tours, and offers currency exchange.
| | | | | |
| --- | --- | --- | --- | --- |
| Destination | Air | Bus | Car/ Motorbike | Train |
| Dong Hoi | n/a | US$8–13, 6½hr, 7 daily | 6–7hr | US$10–17, 5½–8½hr, 6 daily |
| Hanoi | from US$36, 1hr 10min, 9 daily | US$24–34, 16–19hr, 7 daily | 19hr | US$28–45, 14½–18hr, 6 daily |
| HCMC | from US$33, 1hr 15min, 18 daily | US$24–39, 19–25hr, 9 daily | 18hr | US$31–50, 17–22hr, 5 daily |
| Hue | n/a | US$3–4, 3hr, every 20min | 2½–4hr | US$3.50–6, 2½–4hr, 6 daily |
| | from US$38, 30min, 2 daily | US$15–22, 10–13hr, 8 daily | 13hr | US$18–29, 9–12hr, 5 daily |
Air
Danang's renovated international airport has Silk Air ( 0511-356 2708; www.silkair.com; HAGL Plaza Hotel, 1 Ð Nguyen Van Linh) flights to Singapore and Siem Riep, Lao Airlines flights to Pakse, Savannakhet and Vientiane, and there are a few connections to China including a Dragon Air flight to Hong Kong. For domestic destinations, Jetstar Pacific ( 0511-358 3538; www.jetstar.com; 307 Ð Phan Chu Trinh) and VietJet ( 1900 1886; www.vietjetair.com) have daily flights from Danang to HCMC and Hanoi, while Vietnam Airlines ( 0511-382 1130; www.vietnamairlines.com; 35 Ð Tran Phu) operates direct flights to Hanoi, HCMC, Dalat, Nha Trang, Haiphong, Buon Ma Thuot, Pleiku and Vinh.
Bus
Danang's intercity bus station ( 0511-382 1265; Ð Dien Bien Phu) is 3km west of the city centre. A metered taxi to the riverside will cost around 60,000d.
Buses leave for all major centres, including Quy Nhon (122,000d, six hours, six daily).
For Laos, there are three weekly buses to Savannakhet at 8pm (340,000d, 14 hours) and a daily service to Pakse at 6.30am (330,000d, 13 hours). Buses to the Lao Bao border alone are 128,000d (six hours); you may have to change buses at Dong Ha.
Yellow public buses to Hoi An (18,000d, one hour, every 30 minutes) travel along Ð Bach Dang. However, foreigners are routinely charged 50,000d on this route, and sometimes extra for luggage.
Sinh Tourist open-tour buses will pick up from the company office twice daily to both Hue (80,000d to 89,000d, 2½ hours) and Hoi An (70,000d, one hour).
Car & Motorcycle
A car to Hoi An costs around 330,000d via your hotel or a local travel agency, while xe om will do it for around 120,000d. Bargain hard if you want to stop at the Marble Mountains or China Beach en route.
Train
Danang's train station (202 Ð Hai Phong) has services to all destinations on the north–south main line.
The train ride to Hue is one of the best in the country – it's worth taking as an excursion in itself.
To/From the Airport
Danang's airport is 2km west of the city centre.
Cyclo & Xe Om
Danang has plenty of motorbike taxis and cyclo drivers; as usual, be prepared to bargain. Trips around town shouldn't cost more than 25,000d.
Taxi