Mine Action Visitor Centre MUSEUM
( 093 521 1281; Ð Ly Thuong Kiet;  8am-5.30pm Mon-Fri, weekends by appointment)  The Quang Tri Province was the most heavily bombed part of Vietnam and it remains the most strewn with ordnance. This very worthwhile, well-organised new museum provides an excellent historical overview, with photographs that include the destruction of the citadel of Quang Tri in 1972 and people attempting to deactivate mines with bamboo sticks.
Information panels (in English and Vietnamese) detail the grim reality for locals: cluster bombs cause 46% of incidents, of which 80% are fatal. More than 7000 people have died in the province since the war ended. Minority people are particularly vulnerable as they seek scrap metal to sell.
Films (from 11 minutes to over an hour) are also available to view.
Call an hour ahead and Phu, the excellent English-speaking manager, will accompany you around the museum. He'll also open up on weekends on request.
(8 Ð Nguyen Hue;  7.30-11am & 1.30-5pm Tue, Thu, Sat & Sun)  A modest museum that documents the history of the Quang Tri Province with a focus on its ethinic minorities.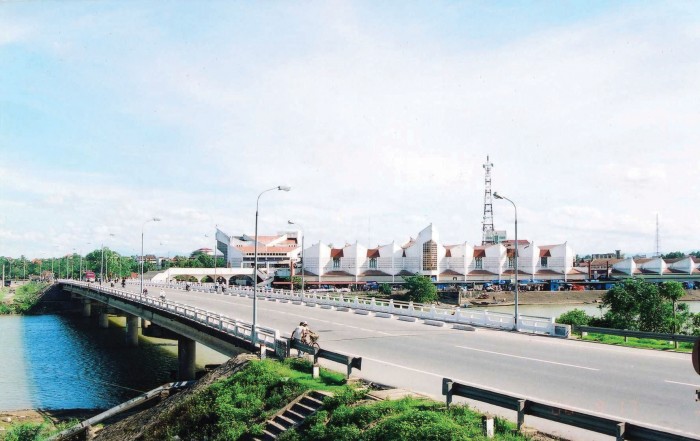 Dong Ha has several excellent guides and agencies offering illuminating tours of the DMZ and beyond.
(0905 140 600; www.annamtour.com; 207B Ð Nguyen Du) Outstanding tailor-made tours, guided by military historian Mr Vu (who speaks excellent English) or his very able assistant Vinh, a war veteran. Using iPads to show photographs and maps, the sights and battlegrounds come to life. Trips cost around US$120 per day, and can be set up from Hue too.
(0905 425 912; http://tamscafe.jimdo.com; 79 Ð Hung Vuong) Excellent backpacker-priced tours taking in the DMZ sights using English-speaking war veterans cost US$22 to US$30 by motorbike (per person per day), or in a car it's US$65 to US$85. Tam also offers an excellent evening food tour (US$20) that includes five local specialities.
(053-356 4056; www.dmztours.net; 260 Ð Le Duan) Itineraries for American veterans, quality DMZ tours and adventure trips including boat trips to Can Co Island. Prices start at US$118 (two people) for a day's touring around the main war sites in a car.
Sepon Travel MILITARY, TRANSPORT
( 053-385 5289; www.sepontour.com; 189 Ð Le Duan) DMZ tours and can book buses to Savannakhet (Laos).
(053-356 0757; http://dmzhotel.jimdo.com; 50 Lý Thường Kiệt; s US$8, đ US$10-13) Excellent new backpackers' HQ with helpful English -speaking staff and well-priced rooms with cable TV and minibar. Breakfast is available and free pick-ups/drop-offs to the bus and train station are offered.
(053-358 2959; Ð Ba Trieu; s 200,000d, tw 250,000-330,000d) Represents outstanding value, with inviting modern rooms all with minibar, TV, fan and air-con; some also have rice-paddy views and a balcony. In a quiet location 1km from the centre.
(053-385 2361; www.huunghihotel.com.vn; 68 Ð Tran Hung Dao; s/d/tr 380,000/440,000/570,000d) Spacious, inviting rooms all with smart furnishings including wardrobe, reading light, bed with comfortable mattress, and flat-screen TV – some also have commanding river views. Breakfast is included.
(053-382 2276; www.sgquangbinhtourist.com.vn; 20 Quach Xuan Ky; r US$60-125) The fanciest place in town. Though it has a great riverside location and rooms are certainly smart, service is a bit spotty considering the official rates (check their website for promotions). The rooftop bar-cafe is great for a beer or coffee, though.
Dong Ha is famous for seafood. Head to the strip of riverside restaurants on Ð Hoang Dieu for wonderful cua rang me (crab in tamarind sauce), vem nuong (grilled clams) and steamed or roasted squid. There's another groups of places by the Violet Hotel for Vietnamese meat and seafood. Tam's Tours also offers an excellent street and local food walking tour.
(http://tamscafe.jimdo.com; 79 Ð Hung Vuong; meals US$2;  7am-6pm) In new premises, but the winning formula remains the same. Tam's offers excellent Vietnamese food and Western snacks such as pizza, as well as smoothies and juices. It's run by the ever-helpful Tam, a switched-on, fluent English speaker who works around the clock to help travellers, offering inexpensive tours and independent travel advice. The cafe employs and supports deaf people.
 GETTING TO LAOS: DONG HA TO SAVANNAKHET
Getting to the border The Lao Bao/Dansavanh border crossing, on the Sepon River (Song Xe Pon), is one of the most popular and least problematic border crossings between Laos and Vietnam. Buses to Savannakhet in Laos run from Hue via Dong Ha and Lao Bao. From Hue, there's a 7am air-con bus (340,000d, 9½ hours), on odd days only, that stops in Dong Ha at the Sepon Travel office around 8.30am to pick up more passengers. It's also easy to cross the border on your own; Dong Ha is the gateway. Buses leave the town to Lao Bao (55,000d, two hours) roughly every 15 minutes. From here xe om charge 12,000d to the border. You can check schedules and book tickets at Tam's Cafe.
At the border The border posts (open 7am to 6pm) are a few hundred metres apart. Lao visas are available on arrival, but Vietnamese visas need to be arranged in advance. There are several serviceable hotels on the Vietnamese side. Try not to change currency in Lao Bao; money-changers offer terrible rates.
Moving on Songthaew head regularly to Sepon, from where you can get a bus or another songthaew to Savannakhet.
For impartial travel and tourist information and a useful city map, head to Tam's Cafe. There's several ATMs in town including Vietcombank (Ð Tran Hung Dao).
Bus
Dong Ha bus station (Ben Xe Khach Dong Ha;  053-385 1488; 68 Ð Le Duan) is near the intersection of Hwys 1 and 9. Buses to Dong Hoi (58,000d, two hours), Hue (46,000d, 1½ hours), Danang (75,000d, 3½ hours), Khe Sanh (30,000d, 1½ hours) and Lao Bao (49,000d, two hours) depart regularly.
It is sometimes necessary to change buses in Khe Sanh for Lao Bao. Buses are also advertised to Savannakhet in Laos, but the station won't book a ticket for foreigners; Sepon Travel and Tam's Cafe will.
There are also three daily minibus connections (120,000d) from Tam's Cafe to Phong Nha Farmstay and Son Trach village at noon, 1pm, and 5pm; on the return leg it heads south via Hue to Danang at 5am and 7.30am.
You can check all transport schedules at Tam's Cafe.
Car & Motorcycle
A one-way car trip to the Lao Bao border will set you back US$45. Motorbikes can be hired from US$5 per day.
Train
Dong Ha's train station (Ga Dong Ha; 2 Ð Le Thanh Ton), 2km south of the Hwy 1 bridge, has trains to destinations including Hanoi (sleeper from 630,000d, 11 to 14 hours, five daily), Dong Hoi (from 66,000d, 1½ to 2½ hours, six daily) and Hue (from 52,000d, 1½ to 2½ hours, six daily).