Yok Don National Park
 The park runs all the way up to the border with Cambodia, with the beautiful Srepok River flowing through it.
Unfortunately, deforestation is a big problem, particularly in the region closest to the entrance.
Yok Don is home to 67 mammal species including wild elephants, tigers, leopards and rare red wolves. However, these exotica are very rare (and virtually never encountered by visitors). More common wildlife includes muntjac deer, monkeys and snakes.
Within the park's boundaries are four minority villages, predominantly M'nong but also with Ede and Lao people. Three villages are accessible while the fourth is deep inside the park.
The delicate balance between ecological conservation and the preservation of local cultures is a challenge, considering the poverty of the region's people and their traditional means of survival, such as hunting.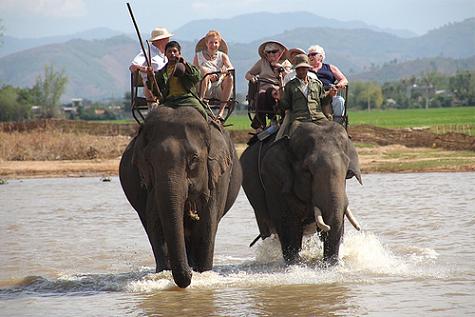 To explore the national park, you'll have to either engage your own guide from Buon Ma Thuot or pick one up at the park entrance. Guides cost 170,000d for basic sightseeing or 280,000d per half day for trekking. Overnight trek prices start at 1,000,000d (including accommodation in a ranger station). There's also a 100,000d boat fee to cross the Srepok River.
Elephant rides (220,000d per hour per person) are available.
Behind the apparently glorious status of the elephant in Vietnam is a tortured history spanning centuries. Prized by kings, these gentle and intelligent creatures were trapped around present-day Yok Don National Park by M'nong hunters. The animals were then tamed through savage beatings before being presented as royal gifts or put to work by the tribe.
And what work it was – elephants were (and still are) used as combination bulldozers, fork-lifts and semitrailers. Now they're more often seen in the lucrative tourist industry, lugging people through the forests or as part of minority festivals.
It's not necessarily a better life. Many elephants were trapped as babies so that they would be easier to train – neglecting the fact that they need their mother's milk up to the age of four in order to develop healthily. It's also easy to overestimate what adult elephants can tolerate. Elephant skin appears to be rough and impermeable, but it's as sensitive as human skin, vulnerable to sunburn, dirt and infections.
Another misconception is that elephants are strong, even indefatigable, but their spines were not designed to carry heavy burdens for extended periods of time. Above all, they need 250kg of food a day – an expensive undertaking, even for the most successful owner.
Before you decide on an elephant ride, take a closer look at the animal and its work environment:
» The elephant should have a shaded area to rest, with clean water and food. There should be enough slack in the chain so that it can move around. Given enough space, elephants don't defecate where they eat (who would want to?).
» The seat placed on the elephant should be made of light bamboo, not heavy wood, and there should be about seven layers of padding between the seat and the skin. There should be rubber hoses to line the binding ropes, or they will abrade the skin horribly.
» The elephant should work for only four or five hours a day, bearing up to only two adults at a time.
» The elephant caretaker should not have to use the bullhook or whip on the elephant with every command.
Though elephant trapping was banned in 1990, it was not strictly enforced. Without alternative employment, these elephants' fate seems grim: a lifetime of tourist rides, illicit employment in logging and construction, or, if the money runs out, abandonment or death.
Vietnam's native elephant species has been listed as endangered since 1976. The government annouced the creation of three conservation areas to help protect wild elephants (in Pu Mat, Cat Tien and Yok Don national parks) in 2013, but as there are only an estimated 100 or so wild elephants remaining in Vietnam, many see the action as too little, too late.
Compiled with assistance from Jin Pyn Lee
At the park entrance, 5km southeast of the main tourist centre Ban Don, Yok Don Guesthouse ( 0500-378 3049; r US$23; ) has rooms with hot water. Minority stilt houses (per person 160,000d) or bungalow (per person 320,000d) accommodation is also available. The bungalows are either beside the lake or out on nearby Aino Island, reached via a rickety series of bamboo suspension bridges.
There's a restaurant (meals from 30,000d) in Ban Don, which sometimes hosts performances of gong music and dancing.
Ban Don Tourist Centre ( 0500-378 3020; [email protected]) is 5km beyond the turn-off into the national park. Be aware that it's a pretty touristy set-up and can get overrun with busloads of visitors. Gong performances and bucket-style drinking games are part of the evening entertainment.
Local buses head from Buon Ma Thuot bus station to Yok Don National Park (20,000d, roughly hourly).
Motorbike taxis in Buon Ma Thuot can take you to the park for around 220,000/350,000d one way/return.
Dray Sap & Dray Nur Falls
Located on the Krong Ana River, these stunning waterfalls ( 0500-321 3194; admission 20,000d) offer good riverside trekking opportunities. From the car park, the first one is the 100m-wide Dray Sap ('smoky falls' in Ede). For a better view, head down the path beside the river to a suspension bridge that crosses the river.
Across the bridge, follow the path through cornfields for another 250m. It leads to another bridge overlooking the 30m-wide Dray Nur waterfall. At the end of this bridge is a dirt path that brings you closer to Dray Nur.
However, bear in mind that due to the many dams located on the Srepok River, these falls have no water during dry season.
The falls are signposted from Hwy 14; the turn-off is about 15km southwest of Buon Ma Thuot. Drive for another 11km through a small industrial zone, then farmland, before you arrive at the entrance to the falls.