(18 Ð Nguyen Cong Tru) This temple is dedicated to Nguyen Trung Truc, a leader of the resistance campaign of the 1860s against the newly arrived French. The first temple structure was a simple building with a thatched roof; over the years it has been enlarged and rebuilt several times. In the centre of the main hall is a portrait of Nguyen Trung Truc on an altar.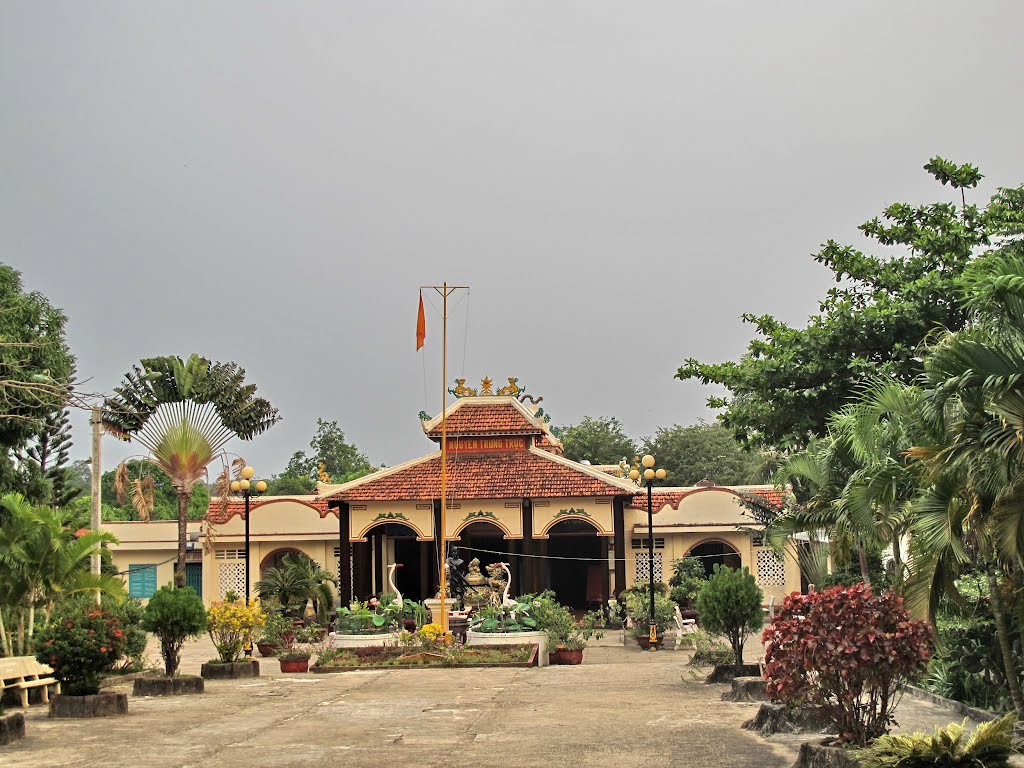 Among other exploits, Nguyen Trung Truc led the raid that resulted in the burning of the French warship Esperance. Despite repeated attempts to capture him, Nguyen Trung Truc continued to fight until 1868, when the French took his mother and a number of civilians hostage and threatened to kill them if he did not surrender. Nguyen Trung Truc turned himself in and was executed by the French in the marketplace of Rach Gia on 27 October 1868.
(Chua Phat Lon; 151 Ð Quang Trung) This large Cambodian Theravada Buddhist pagoda, whose name means Big Buddha, was founded in the 19th century. Though all of the monks who live here are ethnic Khmers, ethnic Vietnamese also frequent the pagoda. Inside the sanctuary (vihara), figures of the Thich Ca Buddha (Sakyamuni, the Historical Buddha) wear pointed hats. Prayers are held here daily from 4am to 6am and 5pm to 7pm.
(21 Ð Nguyen Van Troi;  7.30-11am Mon-Fri & 1.30-5pm Mon-Wed)  Housed in an ornate gem of a French colonial-era building (once a private house), the collection here includes lots of war photos and some Oc-Eo artefacts and pottery.
There are clusters of hotels near the bus station on Ð Le Thanh Ton and near the boat pier on Ð Tu Do.
( 077-387 9610; www.kimcohotel.com; 141 Ð Nguyen Hung Son; r 350,000-400,000d) Centrally located, trim and tidy Kim Co is a masterclass in pastel shade. Bright and cheerful rooms have clean bathrooms, but most face the corridor, so pull the shades for privacy.
( 077-387 9095; 259 Ð Mac Cuu; r 150,000-250,000d) Stretching over four pink floors, Hong Yen is a likeable minihotel with sizeable, clean rooms and friendly owners. There's a lift and some of the rooms have balconies.
Rach Gia is known for its seafood, dried cuttlefish, dried fish slices (ca thieu), fish sauce and black pepper.
Hai Au VIETNAMESE, INTERNATIONAL $
(2 Ð Nguyen Trung Truc; mains 60,000-120,000d; 6am-10pm) A fancy restaurant by local standards, this cavernous eatery with chandeliers has a great location by the Cai Lon River. Seafood is popular, including crayfish and crab, and Western-style dishes also feature.
Quan F28 VIETNAMESE, SEAFOOD $
(28 Ð Le Thanh Thon; mains 25,000-60,000d) Convenient for the bus station hotels, this is lively by night and does inexpensive molluscs – shrimp, snails, blood cockles and the like.
Benh Vien Hospital ( 077-394 9494; 80 Ð Nguyen Trung Truc) One of the better medical facilities in the Mekong Delta; privately operated.
Kien Giang Tourist (Du Lich Lu Hanh Kien Giang;  077-386 2081; [email protected]; 5 Ð Le Loi;  7am-5pm) Provincial tourism authority.
Main Post Office ( 077-387 3008; 2 Ð Mau Than) Has the usual attached internet services.
Air
Vietnam Airlines has daily flights to and from HCMC (from 1,100,000d) and Phu Quoc Island (from 800,000d). The airport is 10km southeast of the centre, along Hwy 80 in the direction of Long Xuyen; a taxi into town will cost around 80,000d.
Boat
Boats to Phu Quoc Island leave from the centrally located ferry terminal at the western end of Ð Nguyen Cong Tru. Approximately three hydrofoils leave daily for Ca Mau (110,000d, three hours) from the Rach Meo ferry terminal ( 077-381 1306; Ð Ngo Quyen), about 2km south of town.
Bus
There are regular services to Ca Mau (50,000d, three hours), Ha Tien (38,000d, two hours) and other cities in the region from the central bus station (260A Ð Nguyen Binh Khiem) north of town. A taxi into town will cost around 20,000d.
Car & Motorbike
Rach Gia is 90km from Ha Tien, 120km from Can Tho and 270km from HCMC.