The town of Ca Mau borders the U-Minh Forest (admission 10,000d; 6am-5pm, closed Mar-May), a vast mangrove forest covering 1000 sq km of Ca Mau and Kien Giang provinces. Local people use certain species of mangrove as a source of timber, charcoal, thatch and tannin.
As well as being an important habitat for waterfowl, the U-Minh Forest – the largest mangrove forest in the world beyond the Amazon basin – was a favourite hideout for the VC during the American War. The Americans responded with chemical de foliation, which caused enormous damage to the forests. The heavy rainfall slowly washed the dioxin out to sea and the forest is returning. Many eucalyptus trees have also been planted here because they have proved to be relatively dioxin-resistant.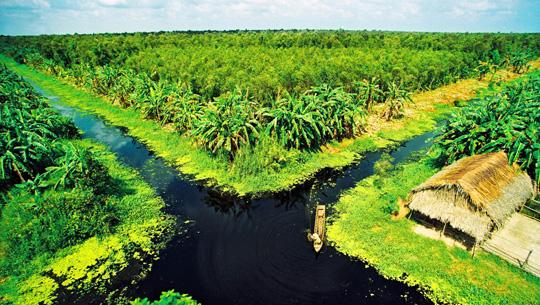 Unfortunately the mangrove forests are being further damaged by clearing for shrimp-farming ponds, charcoal production and woodchipping, although the government has tried to limit these activities. In 2002 an area of 80 sq km was preserved as U Minh Thuong (Upper U-Minh) National Park.
The forest is known for its birdlife, and twitchers will enjoy a boat trip around Ca Mau, although the feathered flocks aren't nearly as ubiquitous as the swarms of mosquitoes. Thirty-minute boat trips around the forest cost 100,000d.
Ca Mau Tourist can arrange a boat tour for around US$140, but try to find better deals with locals down at the ferry pier where you can get a speedboat to Thu Bay (two hours), followed by a motorbike to U-Minh Forest for 70,000d.
Ca Mau Nature Reserve
Sometimes referred to as Ngoc Hien Bird Sanctuary, these 130 hectares form one of the least developed and most protected parts of the Mekong Delta region. Shrimp farming is prohibited here. Access is by boat.