(32 D Hai Ba Trung;  6am-8pm)  In a fantastic location facing the Can Tho River and decorated with huge incense coils, this Chinese temple is set inside the Guangzhou Assembly Hall (Ð Hai Ba Trung) and is the most interesting religious site in town. It was originally built in the late 19th century to worship Kuang Kung, a deity symbolising loyalty, justice, reason, intelligence, honour and courage, among other merits.
Approaching the engraved screen, the right side is dedicated to the Goddess of Fortune and the left side is reserved for the worship of General Ma Tien. In the centre of the temple is Kuang Kung flanked by the God of Earth and the God of Finance.
Can Tho Museum MUSEUM
(1 ƉL Hoa Binh;  8-11am & 2-5pm Tue-Thu, 8-11am & 6.30-9pm Sat & Sun)  The large, well-presented Can Tho Museum brings local history to life with manikins and life-size reproductions of buildings, including a Chinese pagoda and a house interior. Displays (with ample English translations) focus on the Khmer and Chinese communities, plant and fish specimens, rice production and, inevitably, the American War.
Munirensay Pagoda BUDDHIST TEMPLE
(36 ÐL Hoa Binh;  8am-5pm)  This pagoda was originally built in 1946 to serve Can Tho's Khmer community. The ornamentation is typical of Khmer Theravada Buddhist pagodas, with none of the multiple Bodhisattvas and Taoist spirits common in Vietnamese Mahayana pagodas.
The undisputed highlight of any visit to Can Tho is taking a boat ride through the canals to a floating market. The cost is around US$5 per hour for a small boat, which can carry two or three passengers. For boat operators (mostly women), just wander along the riverside near the giant statue of Ho Chi Minh. You can also book through Can Tho Tourist, but this leaves little room for negotiation.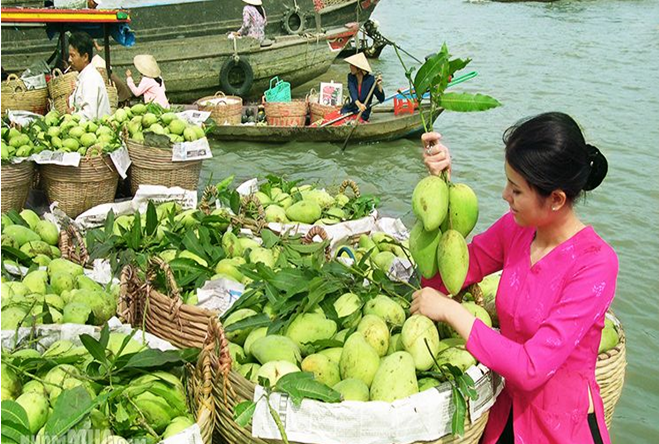 Larger motorboats can go further afield and it's worth hiring one to make a tour of the Mekong River itself. Check the going rates at Can Tho Tourist, then see what's on offer at the pier by the Ninh Kieu hotel. Prices range from 200,000d for a three-hour tour to 350,000d for a five-hour tour. Negotiation is the name of the game.
Can Tho boasts the best range of accommodation in the Mekong Delta, so lie back and enjoy.
 Xoai Hotel HOTEL $
( 0907 652 927; http://hotelxoai.com; 93 Ɖ Mau Than; s US$10, d US$14-26, tw US$19) Fantastic value at this friendly, efficient hotel with bright, mango-coloured (the hotel name means 'Mango Hotel'), airy rooms. Helpful staff speak excellent English and there's a roof terrace with hammocks.
( 071-381 7049; www.kimlancantho.com.vn; 138A Ð Nguyen An Ninh; r US$20-48)  This very clean minihotel has chic rooms with contemporary furnishings and artworks on the wall. Even the small, windowless US$20 standard rooms are perfectly adequate, and deluxe rooms are lovely.
( 071-382 3578; [email protected]; 17 Ð Dien Bien Phu; r US$12) Located down a small lane, this place is popular with budget tour groups thanks to spacious, clean and surprisingly quiet rooms with TVs, fridges and hot showers.
( 071-376 3959; 118/9/39 Ð Tran Van Kheo; r US$20) On the same road as the central market, this smartish hotel (seven storeys, with lift) is closer to the bus station in a bustling part of the central city. Rooms have big bathrooms and wi-fi.
( 071-381 7517; www.kimtho.com; 1A Ð Ngo Gia Tu; r 950,000-1,400,000d) A smart hotel, verging on the boutique, Kim Tho is decked out with attractive fabric furnishings in the foyer. Rooms are stylish throughout and include designer bathrooms. Cheaper rooms are on lower floors, but superior rooms have hardwood flooring and the pricier river-view rooms are still a great deal. There is also a rooftop coffee bar on the 12th floor.
( 071-382 5831; www.saigoncantho.com.vn; 55 Ð Phan Dinh Phung; s 476,000-1,190,000d, 562,000-1,190,000d) This well-kept hotel has a dependable range of good-value rooms. Deluxe rooms are like suites and come with flat-screen TVs and fruit baskets; all rooms have safety deposit boxes.
( 071-625 2377; www.ninhkieuhotel.com; 3 ÐL Hoa Binh; r 777,000-1,097,000d) This large hotel has clean, comfortable rooms with handsome furnishings. The windowless, cheaper rooms are pleasantly furnished with a minute corner bath. Superior rooms may have windows facing the interior coutryard, so check first. The lobby is a study in Vietnamese glam, with big chandeliers, marble tiles and a neon sign over reception.
 Nam Bo Boutique Hotel BOUTIQUE HOTEL $$$
( 071-381 9139; www.nambocantho.com; 1 Ɖ Ngo Quyen; r from US$140) Presiding over a mere seven suites in a colonial-era building, this lovely riverfront hotel revels in traditional presentation and contemporary elegance, although service can be rather flat. Excellent restaurants on the top floor, and at ground level.
 Victoria Can Tho Resort RESORT $$$
( 071-381 0111; www.victoriahotels.asia; Cai Khe Ward; r US$91-230, ste US$277-310) With particularly gracious service, this hotel defines style and sophistication in the Mekong Delta. Designed with a French colonial look, the rooms – along stunning corridors – are set around an inviting pool that looks out over the river. Facilities include an excellent restaurant, an open-air bar and a riverside spa. There are plenty of activities on offer, including cycling tours, cooking classes and cruises on the Lady Hau, a converted rice barge.
Visitors to some Mekong provinces may be surprised to find Khmer towns whose inhabitants speak a different language, follow a different brand of Buddhism and have a vastly different history and culture to their Vietnamese neighbours. Though the Khmer are a minority in the Mekong, they were the first inhabitants here, with an ancestry dating back more than 2000 years.
Kampuchea Krom (meaning 'Lower Cambodia') is the unofficial Khmer name for the Mekong Delta region, whose indigenous inhabitants are the Khmer Krom, an ethnic minority living in southern Vietnam. The Khmer Krom trace their origins back to the 1st century AD, to the founding of Funan, a maritime empire that stretched from the Malay Peninsula to the Mekong. Archaeologists believe Funan was a sophisticated society that built canals, traded in precious metals and had a high level of political organisation as well as agricultural know-how. Following the Funan came the Chenla empire (630–802 AD) and then the Khmer empire, the mightiest in Southeast Asia, which saw the cre ation of Angkor Wat among other great achievements. By the 17th century, however, the empire was in ruins, under pressure from the expansionist Thais and Vietnamese. This was a time of rising power for the Vietnamese empire, which began expanding south, conquering first the Cham empire before setting their sights on Khmer lands in the Mekong Delta.
According to some historians, there were around 40,000 Khmer families living around Prey Nokor when the Vietnamese arrived in the 1600s, following the granting of settlement rights by King Chey Chettha in 1623. Prey Nokor was an important port for the Cambodian kingdom and was renamed Saigon in 1698. Waves of Vietnamese settlers populated the city as other colonists continued south. Prior to their arrival there were 700 Khmer temples scattered around south Vietnam. Over the next century the Khmer Krom fought and won some minor victories in the region, expelling the intruders, only to lose their gains in new rounds of attacks.
When the French subjugated Indochina in the 19th century, the hope of an independent Kampuchea Krom would be forever destroyed. Although the ethnic Khmer were a majority in southern Vietnam at that time, the French didn't incorporate the colony with Cambodia but made it a separate protectorate called Cochinchina. On 4 June 1949, the French formally annexed Kampuchea Krom, a day of sorrow for many Cambodians, although the writing had been on the wall centuries earlier as the area was colonised.
Since independence in 1954, the Vietnamese government has adopted a policy of integration and forced assimilation (the Khmer Krom must take Vietnamese family names and learn the Vietnamese language, among other things). According to the Khmer Kampuchea-Krom Federation (KKF; www.khmerkrom.org), the Khmer Krom continue to suffer persecution. They report difficult access to Vietnamese health services, religious discrimination (Khmer Krom are Theravada Buddhists, unlike Vietnam's Mahayana Buddhists) and racial discrimination.
The Khmer are the poorest segment of the population. Even their numbers remain a contentious topic: Vietnam reports one million Khmer Krom, while KKF claims there are seven million Khmer living in southern Vietnam.
For tasty cheap eats, try the central market food stalls (Ð Tran Quang Khai). They're in their own covered area, two scant blocks north of the main market building. Another favourite, 'Hotpot Alley' is the place for fish and duck hotpots, with restaurants stuffed into an alley (Hem 1) between Ɖ Mau Than and Ɖ Ly Tu Trung east of Xoai Hotel.
Sao Hom VIETNAMESE, INTERNATIONAL $
(50 Ð Hai Ba Trung; mains 45,000-160,000d;  8am-11pm) Set in the (now upmarket) former market and overseen by staff in ao dai (the national dress of Vietnam), Sao Hom has an atmospheric, breezy riverside setting, and is a great spot for lunch or a morning coffee.
Mekong VIETNAMESE, INTERNATIONAL $
(38 Ð Hai Ba Trung; mains from 25,000d;  7am-8pm) Looking onto busy Hai Ba Trung, this travellers' favourite has a good blend of local and international food at reasonable prices. Try the lovely sour soup with fish (40,000d); good veggie selection.
Nam Bo VIETNAMESE, INTERNATIONAL $
( 071-382 3908; http://nambocantho.com; Nam Bo Boutique Hotel, 1 Ɖ Ngo Quyen; mains from 45,000d, set meals 210,000d; 8am-11pm) With a charming, romantic Mediterranean feel, this restaurant on the ground floor of the Nam Bo hotel is more affordable than the restaurant on the top floor, but it doesn't have the views.
New Delhi Indian Food INDIAN $
(128 Ɖ Hai Ba Trung; mains from 40,000d;  10am-11pm) A deficiency in charm at this stark, soulless Indian restaurant (don't bring a date) is balanced out by a surfeit of fine flavours in its scrummy vindaloos, kormas, samosas and naans.
(48 Ð Hai Ba Trung; mains from 40,000d;  10am-10pm) With check tablecloths and a Mediterranean feel, this place has an upstairs terrace for people-watching, although downstairs is slightly more upmarket. Snake is the speciality but vegetarian options get a look-in.
L'Escale VIETNAMESE, INTERNATIONAL $$$
( 071-381 9139; Nam Bo Boutique Hotel, 1 Ɖ Ngo Quyen; mains 70,000-410,000d; 6am-10.30pm) With tantalising river views from the top of the Nam Bo hotel, this romantic choice impresses with its menu and strong wine list.
(50 Ð Hai Ba Trung) Roofed with terracotta tiles edged with ceramic decorations, this atmospheric French-era market building is the centrepiece of the city's attractive river front tourist district. The blood, guts and chaos of the original market have moved north to the central market (and to some of the neighbouring streets), leaving upmarket tourist-orientated stalls selling lacquerware, clothes, pillowslips, postcards and the like.
(Ð Tran Van Kheo) Can Tho's local market sprawls over four buildings and several blocks abutting the Cai Khe Canal, which many local farmers and wholesalers still use to transport their goods. The main market building focuses on produce: a colourful, smelly mess of meat, fish, fruit and vegetables. Across the road is the cloth market.
Food stalls take up the following block and behind that is another large building full of bags, belts and jewellery.
Can Tho Tourist ( 071-382 1852; www.canthotourist.com.vn; 50 Ð Hai Ba Trung) Helpful staff speak both English and French here and decent city maps are available, as well as general information on attractions in the area. There is also a booking desk for Vietnam Airlines and Jetstar.
Hospital (Benh Vien;  071-382 0071; 4 Ð Chau Van Liem)
Main Post Office (2 ÐL Hoa Binh) Postal services and internet access.
Air
Can Tho opened a new international airport in early 2011, but at the time of writing the only services were Vietnam Airlines (www.vietnamairlines.com) and VASCO (www.vasco.com.vn) flights to Phu Quoc Island, the Con Dao Islands, Hanoi and HCMC (with flights to Danang on the cards). The airport is 10km northwest of the city centre, accessed from Ð Le Hong Phong, the continuation of Ð Nguyen Trai. A taxi into town will cost around 180,000d.
Bus
Can Tho has two bus stations. The old bus station (Ben Xe Khach Can Tho; cnr Ð Nguyen Trai & Ð Hung Vuong) is centrally located on the northern edge of the city centre, with regular buses to HCMC's Mien Tay bus station (100,000d to 110,000d), Cao Lanh (60,000d), Ben Tre (70,000d), My Tho (70,000d), Ca Mau (90,000d), Chau Doc (60,000d) and Long Xuyen (40,000d). The new bus station is in the southwest, with buses to HCMC (110,000d), Ca Mau (110,000d) and Dalat (320,000d).
Boat
There are several boat services to other cities in the Mekong Delta, including hydrofoils to Ca Mau (150,000d, three to four hours), passing through Phung Hiep.
The xe loi is the main form of transport around Can Tho; these makeshift vehicles are unique to the Mekong Delta. Essentially a two-wheeled wagon attached to the rear of a motorbike, they resemble a motorised cyclo, but with four wheels touching the ground rather than two. Fares around town should be about 10,000d per person (they can carry two, or sometimes more). From the old bus station to the riverside is a 30,000d ride.