Until 1956 the Hoa Hao had an army and constituted a major military force in this region.
The town's other claim to fame is being the birthplace of Vietnam's second president, Ton Duc Thang.
History
During the 1st to 6th centuries AD, when southern Vietnam and southern Cambodia were under the rule of the Indian-influenced Cambodian kingdom of Funan, Oc-Eo (the scant remains of which lie 37km southwest of Long Xuyen) was a major trading city. Much of what is known about the Funan empire, which reached its height during the 5th century AD, comes from contemporary Chinese sources and the excavations at Oc-Eo and Angkor Borei in neighbouring Cambodia. The excavations have uncovered evidence of contact between Oc-Eo and what is now Thailand, Malaysia and Indonesia, as well as Persia and the Roman Empire.
An elaborate system of canals around Oc-Eo was once used for both irrigation and transportation, prompting Chinese travellers of the time to write about 'sailing across Funan' on their way to the Malay Peninsula. Most of the buildings of Oc-Eo were built on piles and pieces of these structures indicate the high degree of refinement achieved by Funanese civilisation. Artefacts found at Oc-Eo are on display at the History Museum and Fine Arts Museum in HCMC and at the History Museum in Hanoi.
 Sights
Blue Sky Crocodile Land CROCODILE FARM
(Ca Sau Long Xuyen; 076-383 1298; 44/1A Ð Tran Hung Dao; admission 10,000d; 7am-6pm) For a close-up view of the reptile that once ruled the Mekong, head to this farm that's home to thousands of crocodiles ranging in size from 10cm to 4m. The meat and skin of these animals is largely exported, though some Vietnamese drop in to buy fresh or frozen crocodile meat or to eat at the on-site restaurant. A little shop sells crocodile-skin wallets and bags. The farm lies 8km south of town on the road to Can Tho.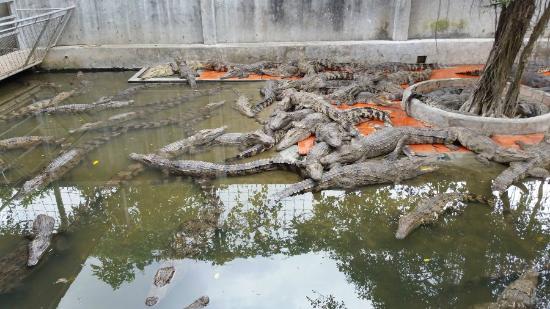 (Ð Tran Hung Dao) One of the largest churches in the Mekong Delta and dominating town, this impressive modern cathedral is topped by a 50m-high bell tower and can seat 1000 worshippers. Constructed between 1966 and 1973 – you can tell – the interior is cavernous and well-ventilated, with a sculptural centrepiece of a giant crucifix resting on a globe supported by two hands.
Across the river from Long Xuyen, Cho Moi district is known for its groves of fruit such as bananas, durians, guava, jackfruit, longans, mangoes, mangosteens and plums. Take a boat from the passenger ferry terminal.
 Sleeping
( 076-394 2260; www.angiangtourimex.com.vn; 9A Ð Luong Van Cu; r 400,000-770,000d, ste 800,000d) The smartest place in town, Dong Xuyen has pleasantly furnished and well-equipped rooms. Staff are friendly and helpful and speak good English.
( 076-384 1927; www.angiangtourimex.com.vn; 19 Ð Nguyen Van Cung; r 300,000-420,000d) An overhaul is badly needed, but prices are reasonable and there's a good restaurant at this affordable hotel. Rooms have some charm and include satellite TV, hot water and shared balconies.
 Eating
(242/4 Ð Luong Van Cu; mains 30,000-80,000d; 9am-9pm) English menus, grilled meats, plenty of seafood, friendly staff and air-con make this a reliable and smart choice.
( 076-384 5573; 245/3 Ð Luong Van Cu; mains 15,000-40,000d) A good stop for cheap, authentic Vietnamese food.
 Getting There & Away
Boat
To get to the Long Xuyen ferry dock from Ð Pham Hong Thai, you'll need to cross Duy Tan Bridge and turn right. Passenger ferries leave from here to Sa Dec and other Delta destinations.
Bus
Buses from HCMC to Long Xuyen leave from the Mien Tay bus station (from 85,000d). Long Xuyen bus station (Ben Xe Khach Long Xuyen;  076-385 2125; opposite 96/3B Ð Tran Hung Dao) is a roadside terminus about 1.5km down Ð Phan Cu Luong, off Ð Tran Hung Dao, at the southern end of town. Buses from Long Xuyen head to Can Tho (62km), Chau Doc (55km), Ha Tien (130km) and Rach Gia (75km).
Car & Motorcycle
To get to Cao Lanh or Sa Dec you'll need to take the car ferry from An Hoa ferry terminal.