Join in the throngs amid the bustling commerce of the floating markets on a boat trip from Can Tho.
Meander along the

canals

between My Tho and Ben Tre, then step ashore a lush river island to feast on fresh fish.
Kick up red dirt on a motorbike ride to the far-flung corners of Phu Quoc Island.
Watch the sun set across the Gulf of Thailand from a Phu Quoc Island

beach

.
Witness a forest of trees entirely full of storks at breathtaking

Bang Lang

.
Get a taste of rural river life at one of the many

homestays

 around Vinh Long.
History
Once part of the Khmer kingdom, the Mekong Delta was the last region of modern-day Vietnam to be annexed and settled by the Vietnamese. Cambodians, mindful that they controlled the area until the 18th century, still call the delta Kampuchea Krom, or 'Lower Cambodia'.
The Khmer Rouge attempted to reclaim the area by raiding Vietnamese villages and killing their inhabitants. This provoked the Vietnamese army to invade Cambodia on 25 December 1978 and oust the Khmer Rouge from power.
Most of today's inhabitants of the Mekong Delta are ethnic Vietnamese, but significant populations of ethnic Chinese and Khmer, as well as a smaller Cham community, also exist.
When the government introduced collective farming to the delta in 1975, production fell significantly and food shortages hit Saigon, although farmers in the delta easily grew enough to feed themselves. The Saigon ese would head down to the delta to buy sacks of black-market rice, but to prevent profiteering the police set up checkpoints and confiscated rice from anyone carrying more than 10kg. All this ended in 1986 and farmers in this region have since transformed Vietnam into one of the world's largest rice exporters.
 Getting There & Around
Most travellers visit the Mekong Delta on cheap and convenient organised tours. Those travelling on their own will have greater access to little-visited areas off the beaten track.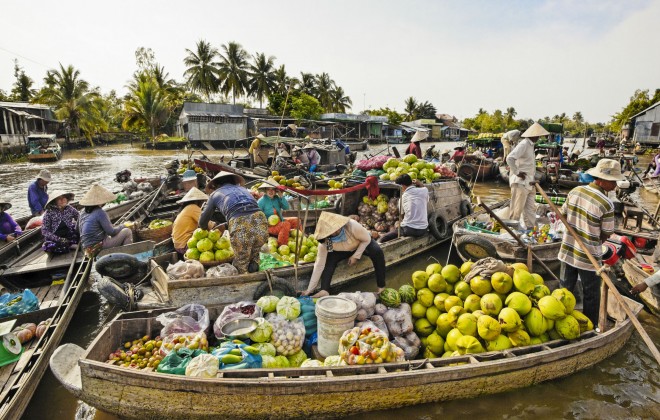 With the opening of several border crossings between Vietnam and Cambodia, including the river border at Vinh Xuong (near Chau Doc) and the land border at Xa Xia (near Ha Tien), many travellers are choosing these delta routes ahead of the original land crossing at Moc Bai–Bavet. Cambodian visas are available on arrival at all border crossings.
Air
Flights head from Hanoi to Can Tho and from Ho Chi Minh City (HCMC) to Rach Gia and Ca Mau. Phu Quoc Island's new international airport welcomes flights from Hanoi, HCMC, Can Tho and Rach Gia.
Boat
Some delta towns have ferry connections between them – a fascinating way to travel. The journey between Ca Mau and Rach Gia is particularly scenic. Boats to Phu Quoc Island leave from Rach Gia and Ha Tien.
Bus
It's surprisingly easy to travel the delta using public transport, and bus connections are excellent. Each urban centre has a bus station for both buses and minibuses – although it's usually located on the edge of town, requiring a short xe om (motorbike taxi) or taxi ride to your hotel. Minibuses tend to be faster, moderately more comfortable and not much more expensive.
Coming from HCMC, delta buses leave from Mien Tay bus station, 10km west of the centre. To avoid the slight inconvenience of reaching Mien Tay, consider booking one of the cheap day tours to My Tho departing from Ð Pham Ngu Lao and abandoning the tour after the boat trip.
Car, Motorcycle & Bicycle
The most flexible transport option is by private car, bicycle or rented motorbike. Two-wheeling around the delta is good fun, especially along the maze of country roads and on Phu Quoc. Be prepared for toll roads and ferry crossings – although these are gradually being replaced with new bridges. Ferries are cheap and frequent.
Tours
Dozens of tours head from HCMC to the Mekong Delta, either as day trips or longer jaunts. This is a great option if you're short on time, but it means abdicating control over your itinerary and choice of hotels.
The cheapest tours are sold around the Pham Ngu Lao area. Shop around before you book, but remember that you usually get what you pay for. This is not to say pricey tours are necessarily better, but sometimes 'rock-bottom' means a brief glance at the region from a packed bus full of other tourists. Rewarding motorbike and scooter tours of the Delta are run by Vietnam Vespa Adventure and Saigon Riders.
LOCAL KNOWLEDGE
LE VAN SINH: TOURISM TRAILBLAZER & CYCLING ENTHUSIAST
Few people have had more of an impact on Vietnam tourism than Le Van Sinh, owner of Sinhbalo Adventures.
What makes the Mekong Delta special? I have always been interested in waterways, as it is such a great way to relax – in a hammock, cruising along the river. The system of canals and floating markets here is incredible and so different that all tourists should see it.
Why cycle? Bicycles are the best way to enjoy the scenery and get off the beaten track. Cycling in the far north or even the central Highlands requires some experience and endurance, but for the pancake-flat Mekong, everyone can manage a few days exploring on two wheels. It doesn't matter whether you're a serious cyclist or a city slicker; there are so many routes in the Mekong to enjoy and explore.
Best routes? My favourite back roads include the small trail under the shade of coconut palms that runs from Ben Tre through Mo Cay and the pretty town of Tra Vinh to Can Tho. Most tourists only experience Hwy 1A on the way to Can Tho, but this is another world.