Ha Tien has mountains, the sea and also fertile plains that stretch far and away to the horizon. All of those views harmonize and make up a charming painting that would blow one's mind. According to the legend of this land, there were many fairies came here and bathed in Giang Thanh river and it was named after this tale. Ha Tien has an inherently lovely beauty. Be ready to step on Daily Travel's boat, sailing to the gentle Southwestern Rivers and traveling around Ha Tien.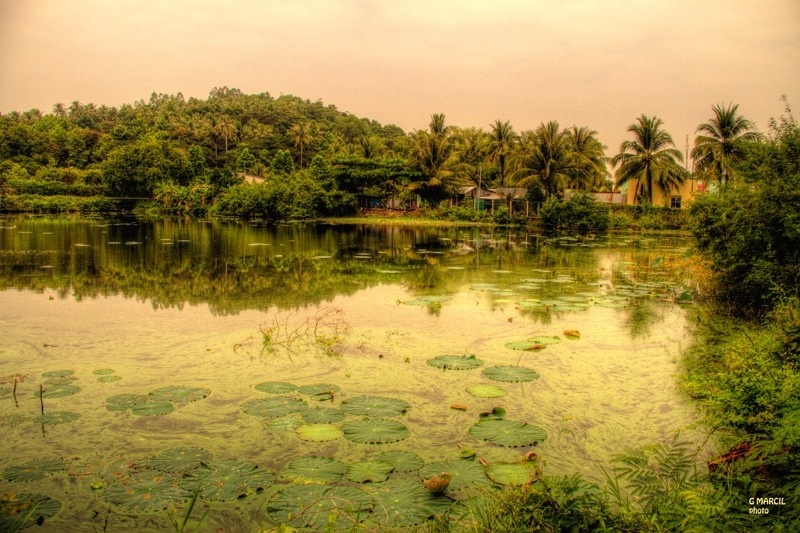 Beautiful like a painting
Thach Dong in Ha Tien
Ha Tien is a town located in the northeast of Kien Giang province, which was mentioned a lot in Vietnamese poetries because of its picturesque beauty. Throughout the years, even many sites have been affected by many factors of time, Ha Tien still remained its appeal in overall. The beauty that could make one's heart go ecstatic. Thach Dong is one of those best destinations that travelers must try when visiting Ha Tien.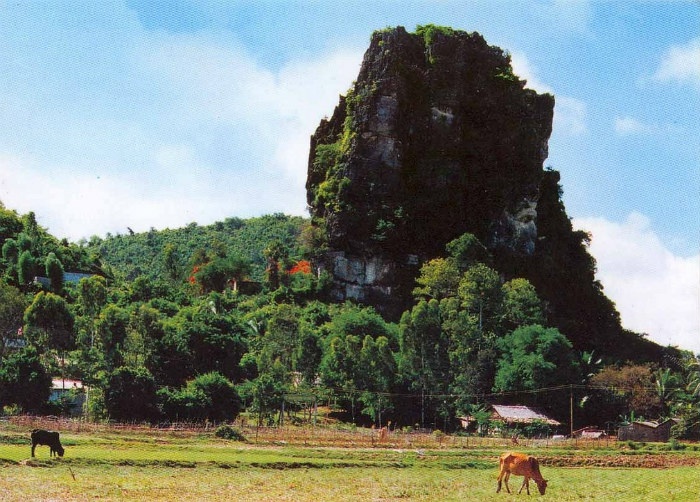 Thach Dong-the place that you ought to visit
Thach Dong is also known by another name – Thach Dong Thon Van, which means the cave swallows clouds (in Vietnamese). No one knows about its history. Thach Dong already existed when people started to come here. It is a giant boulder lied lonely halfway up the mountain. Thach Dong is 80 meters high and has many unique stalagmites inside. Standing on the top of Thach Dong, tourist may feel like the whole tiny Ha Tien town in the eyes can be embraced by both arms.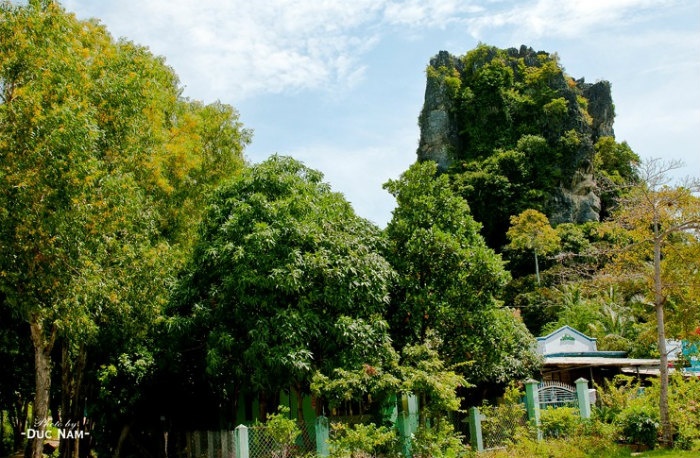 Thach Dong from the outside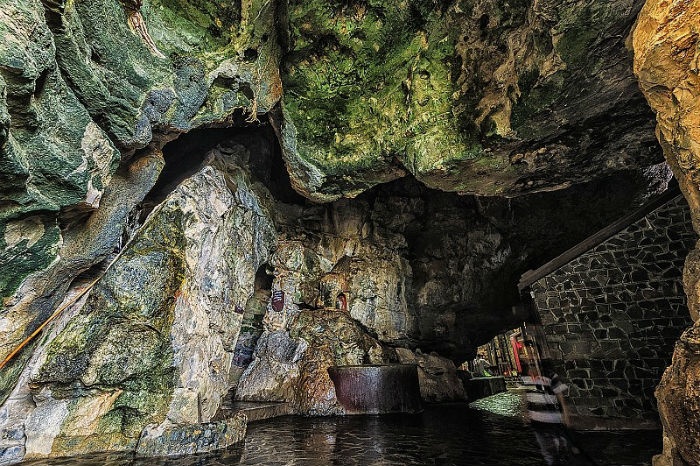 Mysterious scene inside
Ha Tien beach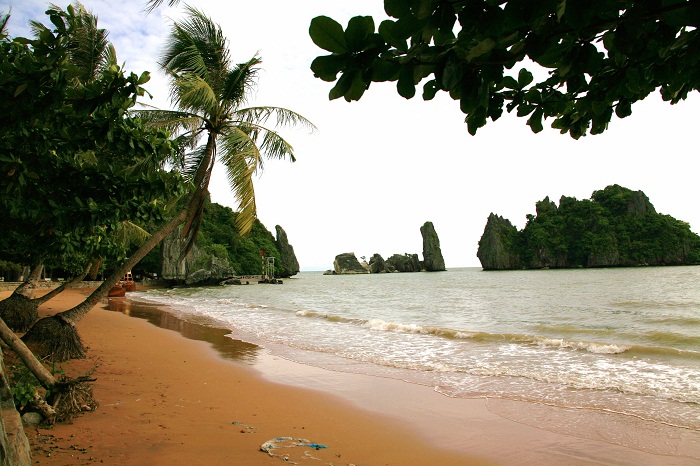 Mui Nai beach is 6km apart from the center of Ha Tien town to the west. It is one of the most beautiful beaches in Ha Tien in particular and in Kien Giang in general. The sea in Mui Nai has a pure blue like the sky above it. A long flat sand stretches along a range of coconut trees would bring a peaceful feeling for tourists while enjoying the frolics and other underwater games. Bai No with poetic beauty of fishing village, which features the typical coastal life, is an ideal place for those who prefer to contemplate the life style associated with the sea.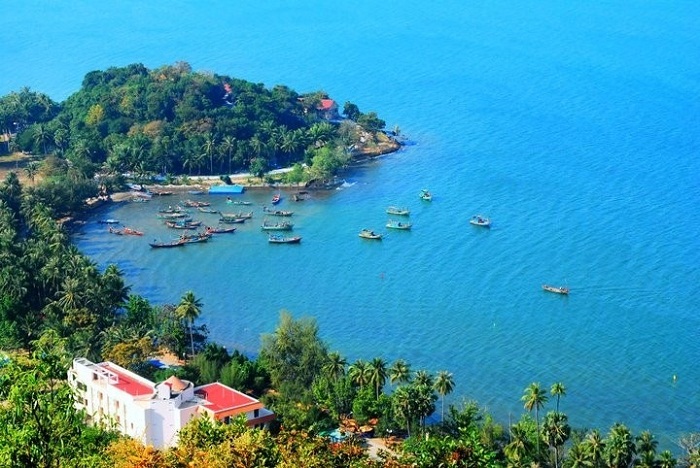 Mui Nai – a landscape that is impossible to miss
Landmark time and spirituality in Ha Tien
What else that Ha Tien has besides stalactite and coasts? The poetic land Ha Tien is associated with the Mac family clan, who exploited and developed Ha Tien and made it become a popular tourist attraction as it is now. Hence, take a moment to visit Mac Cuu mausoleum and listen to Ha Tien's story at the beginnings should be in a to-do list.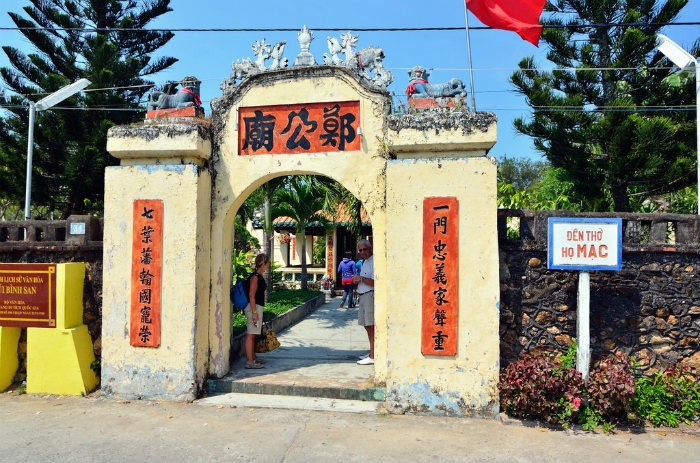 Mac Cuu mausoleum-father of Ha Tien
Ha Tien also has Phu Dung pagoda, Xa Xia pagoda, Tam Bao pagoda… Each pagoda has different architectures. However, you all can find inner peace, relax your souls and pray for good things in those places.
Dong Ho lagoon cannot be ignored
Dong Ho lagoon has a sweet and peaceful atmosphere that would amaze anyone. It looks like a small mirror surrounded by mountains and the sky. The overall view at Dong Ho lagoon is extremely dreamy and romantic. The left side of Dong Ho lagoon is To Chau range, the right side is Ngu Ho mountain. West of Dong Ho is Ha Tien river while in the East is Giang Thanh river with an incessant flow.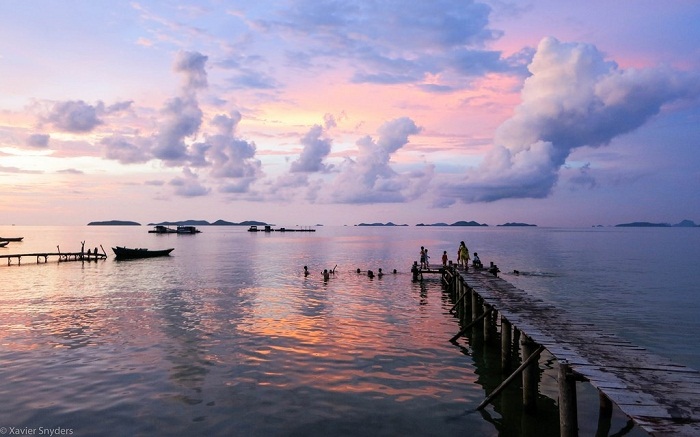 Dreamy Dong Ho
If you still wonder what to do in Dong Ho lagoon, try the feeling of a fisherman is an interesting option. Drifting along the silent flow on a dugout canoes while enjoying the beauty of Dong Ho lagoon. Then, you can try throwing a net and fishing with fishermen. It would be an elegant pleasure. Under the moonlight, sipping few glasses of western rice wine and tasting fresh seafood right on the lagoon would definitely be a cheery feeling.
Night market in Ha Tien
 If you want to mingle in a noisy, exciting atmosphere and find some delicious dishes flavored Ha Tien, night market is that place. At the night market, tourists do not need to worry that there is nothing special. The night market has lots of strange, unique and interesting things that would make you completely enjoyable. From the souvenir booths with many clam shells to stone gifts and also typical nourishment that only Ha Tien has.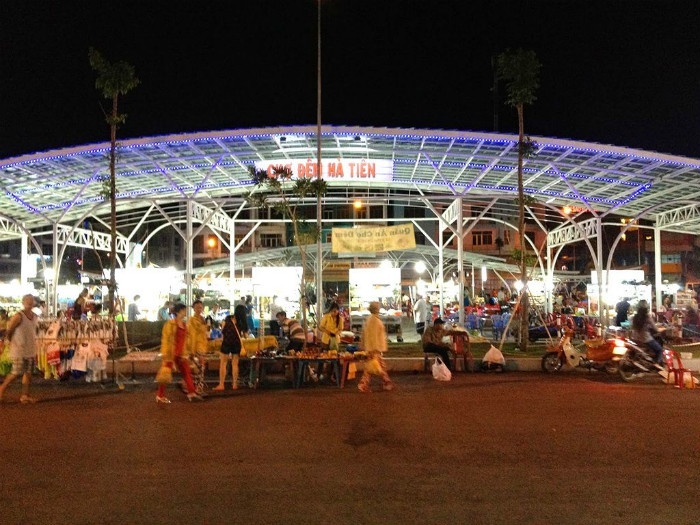 Night market in Ha Tien
Beautiful landscape in Kien Giang are abundant, however, no places can compare to Ha Tien, where mountains, rivers and plains are perfectly combined like that. Places of worship which are full of historical and cultural value of Ha Tien are also appeal. Be hurry to discover Ha Tien.