Going along to the upstream of Banh Lai River, to the Da Den Mountain located in Hoa My Tay Commune, Tay Hoa District, Phu Yen, you will see Vuc Phun appearing in the middle of the imposing forest. It looks beautiful as a painting. Vuc Phun is situated inside the Ba Den Mountain, in the middle of thousands of trees and undulating hills, which creates a perfectly romantic scenery. Especially, from the bottom of the abyss, there are many steep and high cliffs that arouse strong feeling of people when looking down.
, which brings into a romantic scenery ever. The streams from Deo Ca pass form into a confluence of Banh Lai River (the part which flow to the South Sea is called Ban Thach). From the upstream of the Banh Lai River located in the region of Hoa My Tay Commune, Tay Hoa District, the river flows from the 50 meter height (from the sea level), crawls through granite shores and then gushes down to the deep abyss, which the locals call it Vuc Phun.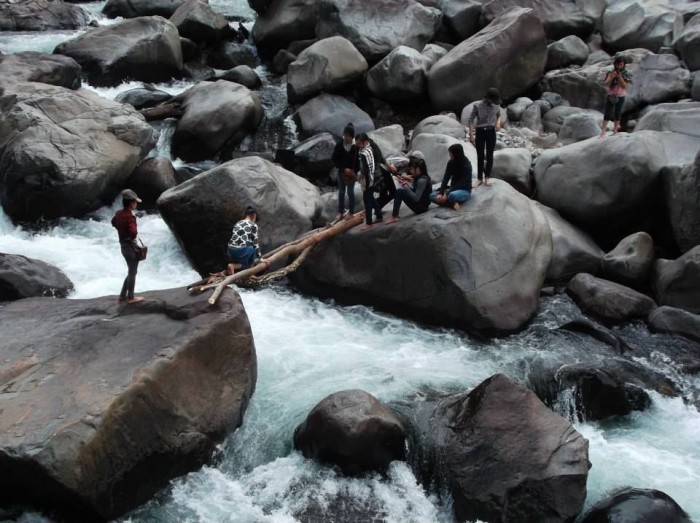 (The monkey bridge in Vuc Phun)
The reason for this name is came from the geological structure. While on the top of the abyss is formed from the solid rocks, the soft rocks at the bottom have been being eroded gradually and that creates an abyss. The flow from the upstream crashes down to the abyss and forms into white foam. Looking from far distance, this looks like a giant monster from the bottom trying to blow water to the sky.
(Vuc Phun is surrounded by the green forest)
On the edge of the abyss, there are many crags and steep cliffs stacked to each other and generates a wall. At some places, there are huge and flat rocks which makes Vuc Phun looks more diverse and grandeur. Surrounding the abyss is the primary forest. Besides the chilling feeling when immersing your bodies in the fresh and cool water of the stream under the waterfall, what interest tourists the most is to explore the mystery of Da Den mountain or to walk along the trail to discover the Banh Lai River's upstream. Coming to Vuc Phun, tourists can enjoy a lyrical scenery with mountain and water harmonized to the sky along with other appealing touristic activities for your summer.