Binh Dai is a rural district of Ben Tre Province. It is located on An Hoa isle and surrounded by the sea. Due to an ideal location, Binh Dai is advantageous for both water traffic and road trafic. Coming to Binh Dai land, tourists cannot only enjoy fresh and cool air of the typical coconut land, but also mingle in many traditional festivals.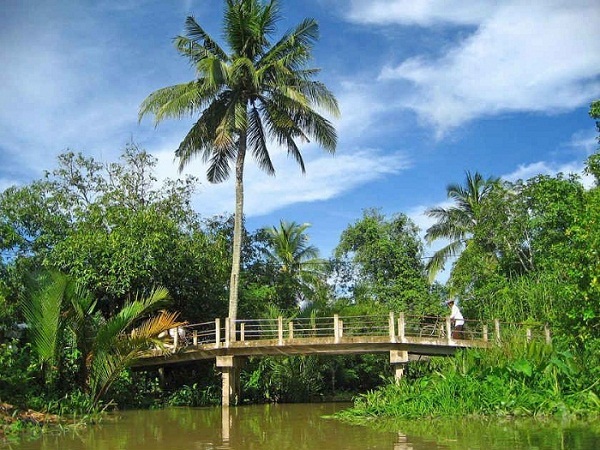 Because Binh Dai is a district belonged to sea land, the locals here depend mainly on fishing and aquafarming for living. This results in a famous clinker boat building job of artisans in Thoi Thuan region. Or many crafts that has a lasting tradition with distintive attributes such as: sardines fishing and other special ways of fishing (câu kiều, lưới sỉ, lưới cào). One craft features Binh Dai beach is "đáy sông cầu", which appeared early in Binh Dai and greatly developed, then spread to estuaries in Ba Tri and Tra Vinh. This is one special way of seafood fishing along areas like large rivers, estuaries, shallow sea near the shore and based on the "rise and fall" principle of the tide. Fishermen drill 10 meter-deep of wooden piles in a horizontal line and use antirust metal string to connect those wooden piles together. Then, they design certain fishing nets in the bottom.
Besides aquafarming and fishing, the locals in Binh Dai also live by gardening, farming, making sea salt, processing sea products and planting seeds. Giong Gieng ̣̣̣̣̣̣(Thanh Phuoc) pumpkin, Thoi Thuan sugar apple are all well-known specialties of the region…However, the most popular specialty is "Cua Dai watermelon", which received many certificates in Vietnamese market fairs.
About tourism, Binh Dai has not had lots of destinations. However, on the way to Thua Duc beach, tourists can visit two historical sites located in Chau Hung village – Tan Hung temple and Huynh Tan Phat pagoda.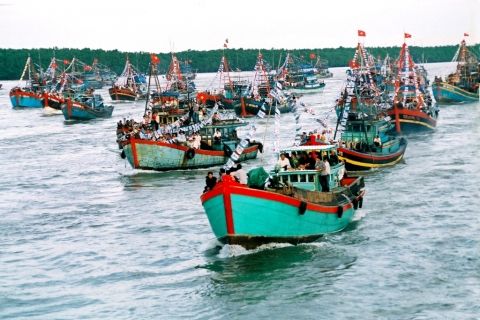 Lots of boats
The temple was built on the large ground of 2,100 meters square wide, including 3 compartments, 2 lean-tos interconnected and its roofs with the shape of yin and yang tiles. The fist compartment is martial place, the second one is a meeting place for the village dignitaries and the third one is the main worship place. Almost things in the house, such as: pillars, lacquered, altar, distiches and so on were made from rare and valuable wood, engraved by various patterns (unicorn, birds, daisies…) and gilded.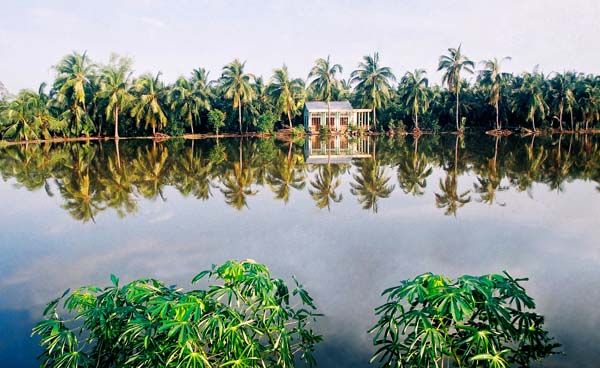 Coconut range along the river bank
Binh Dai land also has a famous Ba Lai culvert-dam construction, located in Thanh Tri village and a part of Binh Thoi village. This is one work of irrigation system. The purpose of this construction is irrigating, keeping sweetness, preventing salinity for 90,000 hectares for agricultural soil. This system separates fresh water and saline water. This will advantage the manufacturing process for saline water region (aquafarming). In the fresh water region, rice planting can be divided into 3 seasons instead of 2 and also facilitating for developing garden economy. Here, tourists can also visit crocodiles farm, see forest pigs and giant snakeheads farming model in Ba Lai riparian.
Nghinh Ong festival is the biggest festival in Vietnamese coastal towns, including Binh Dai-Ben Tre. During the festival, all fishing boats are all gathered to confer, eat, drink and have fun. The biggest festival is held at Ong feretory in Binh Thang village, Binh Dai district, on 16.06 annually according to lunar calendar. At this time, all boats are decorated with lanterns and colorful flowers. In the prow, the owner sets a tray contained typical food for worshipping, such as: fruits, sticky rice and meat, 2 boiled ducks and one pig's head with flowers. Nghinh Ong festival in Binh Thang village has a shorter time in history compared to other villages in the province. However, the festival still has all natural features of a folk festival. It also reflects spiritually both the content and outcome of fishing in Vietnamese folk religiosity.
Traveling to Binh Dai, the most exciting thing is to discover Thua Duc beach. The beach still remains a deserted beauty with a white smooth sand outstretched to the sea. The cottonwood plants contribute a comfortable, cool and relaxed atmosphere to the sight.
Along the beach, there are many thatched houses prolonged. Hammocks are hung up for tourists to rest, relax, enjoy the fresh sea air, listen to the sea waves and pine trees whispering. All those sounds create a clinking and delicate noise, which can comfort you.
Tourists also can taste satisfactorily numerous sea specialties, such as: fish, octopus, prawn, clam, oyster…The most special dish here is Vietnamese pancake (bánh xèo). The pancake of sea land is larger, crunchy and greasy.
Pancakes are eaten with various vegetables and a small bowl of sweet-sour fish sauce. The aroma spread out from pancakes, which are still being fried will make you feel this dish is delicious even you have not tried yet. In the recent year, Vietnamese pancake in Thua Duc beach has become a "brand" and most people come here will try at least one this pancake.
After fulfilling your stomach with seafood and pancakes, tourists can have a rest on the hammocks hung in the thatched houses or under green trees near the beach and enjoy the fresh air of this coconut land.
Even Thua Duc is an alluvial beach, many tourists still gather crowdedly here to swim during holidays. A concrete embankment was built surrounded Thua Duc beach promises an ideal ecological space for resting, a proper sanatoria, especially for the elderly.
On the way to Binh Dai, tourists will excite with the nature scenery from both sides, green or yellow paddle fields and straight coconut ranges by the fields.
Tourists can also easily observe industrial prawn farming model in the villages along both sides. Besides those typical sea products like: fish, prawn, crab, octopus…there are also mangrove forests, date palms. Therefore, there are many date "đuông" (a dish made from mealworms). This is a unique natural product that the locals here has ultilized and made into different dishes. Another specialty here is nereidae, which used to make a unique sauce.
Binh Dai has not had many special destinations yet, but in the heart of the town, there are many more convenient accommodations than other towns in Ben Tre. It can be said that, accommodation here is not so different compared to hotels in Ben Tre city. Hence, tourists can stay overnight here, enjoy all specialties that you like as well as shopping and buying some souvenirs while discovering the land.