People refresh by coconut juice in the north, by a large glass of sugarcane in the south while in Mekong Delta region, icy "thot not" or sometimes called ice-apple drink in British English are sold along the roads.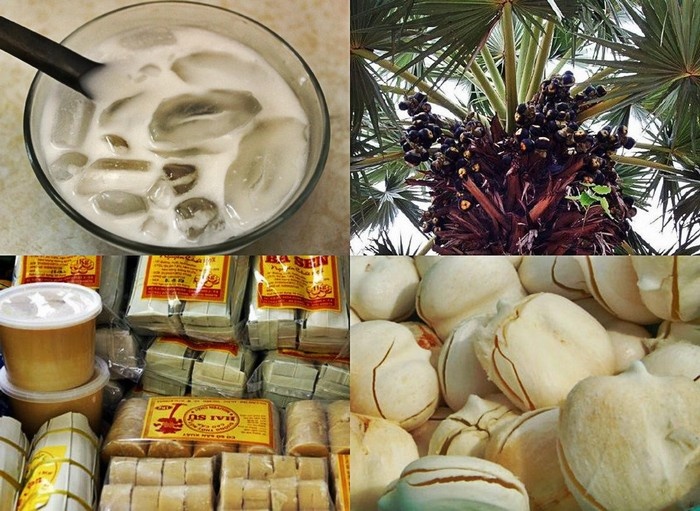 (Toddy palm plants – a kind of tree that has been sticking to the locals in Mekong Delta region for a long time)
Toddy palm is specie of palm trees and native to Southeast Asia, including India, Sri Lanka, Thailand, Vietnam, Malaysia, New Guinea… Toddy palm tree grows straight, the stem of the leaves has thorny edges, leaves open roundly like oil palm leaves. The fruit has a brown or chestnut husk and is born in clusters. When it is cut off, there are many freshly white segments inside with a milder flavor. The fruit is also a kind of snack or beverage preferred.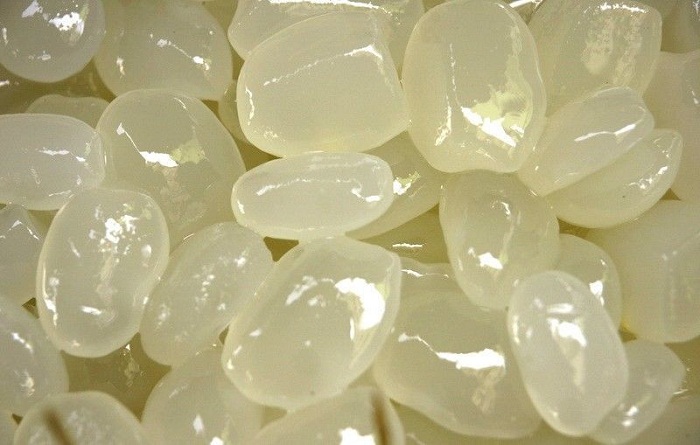 (The translucent white and chewy jelly part of the fruit)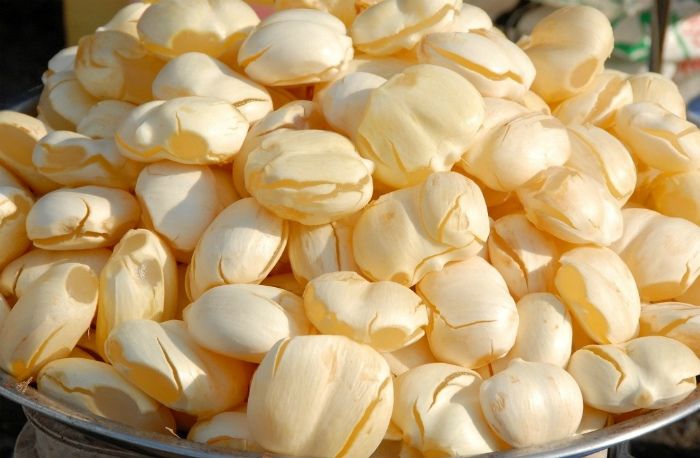 (The jelly part of the fruit is covered with a thin, yellowish-brown skin)
The name "Thot not" came from Tnaot in Khmer. The locals sometimes call it "Thot lot" as the way they pronounce "n" in local accent. The toddy palm tree is a close-knit part of Khmer people like the role of coconut tree to Kinh people…All parts of the toddy palm tree is advantaged from the stem to leaves and the fruit.
The leaves are used for roofing, as biofuels. Old trees are used for making pillars, furniture…Only the fruit that leaves an unforgettable taste for tourists through many kinds of rustic dishes such as: jelly seeds, fresh or fermented  "thot not" drink, jaggery, che tho not (a sweet dessert in Vietnam), banh goi thot not, banh bo ( a chewy sweet sponge cake) thot not…
Toddy palm trees have many uses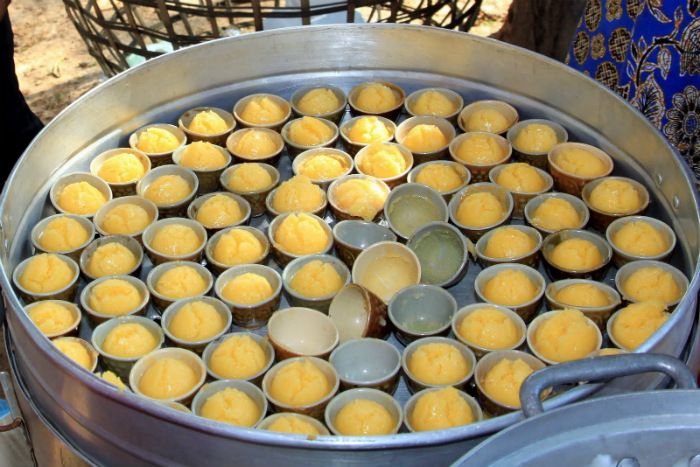 ("Banh bo thot not" always blow any tourists' mind)
Every gift made from "thot not" always bring a unique and delicate flavor. A glass of "thot not" juice that you drink is from the locals' effort to put the bamboo tubes on the tree. The bamboo tubes are kept there from night to the morning after to take enough the aromatic fluid. This juice used with jelly seeds and ices will create an exotic but tasty and distinguishing flavor. The jelly seeds eaten without that fluid would have no distinctive taste. However, a combination of thot not drink and jelly seed becomes a mildly sweet and chewy dish. The juice has a distinctive savor: cool and fresh, sweeter than yellow coconut water, fragrant like wild flowers in the forest. The jelly seeds are crunchy and chewy like coconut meat and tastier than real jelly.
(The scene of putting bamboo tube on a toddy palm tree in the sunset)
Tourists traveling to Mekong Delta easily catch the sight of toddy palm ranges. From a far distance, you can also see there are many fields where storks gilding there, some simple roofs and twisting canals. When it is sunset, the birds fly back to their nets, sunlight slowly recede, the sun gradually goes down behind mountain range and tints a reddish color on the countryside scenery. Those toddy palm ranges appear familiarly in the painting of peaceful countryside of Vietnam.
The fruit becomes an interesting dish to people in the urban. However, people know about toddy palm trees because of a well-known product that have a high economic value: jaggery. Jaggery is made from the fluid of toddy palm tree. The process of making jaggery is quite elaborate and takes much time and efforts. Jaggery makers must be cautious in every step to create the best quality for this product.
In the north, people are familiar with sugar cane while those yellow jaggeries are indispensable gift when you visit Mekong Delta. Especially, you easily get addicted to the intense sweetness and fatty taste when enjoy them.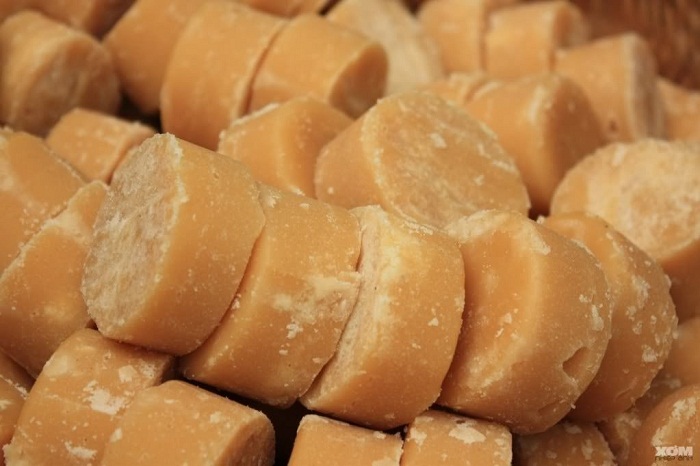 (Jaggery-an addictive dish)
Toddy palm trees are commonly planted in An Giang. Chau Doc in An Giang is a famous place for making jaggery. The image of fleshy fragrant jaggery here has become a sign to advertise for a tree that sticks to the locals in Mekong Delta.
Tourists who visit Mekong Delta always remember to bring jaggery packages or bottles of "thot not" fluid home as a gift. Use jaggery to make "che", for baking or seasoning, we all feel a subtle Mekong flavor that makes us recall about the peaceful scenery of the countryside with the refreshing "thot not"  beverage.
Contributing to the variety of spices in Vietnamese cuisine handbook, jaggery is gradually more familiar to Vietnamese kitchen. The refreshing sweetness likes a "soul spice" brings a sweet and relaxed feeling for eaters when tasting special dishes.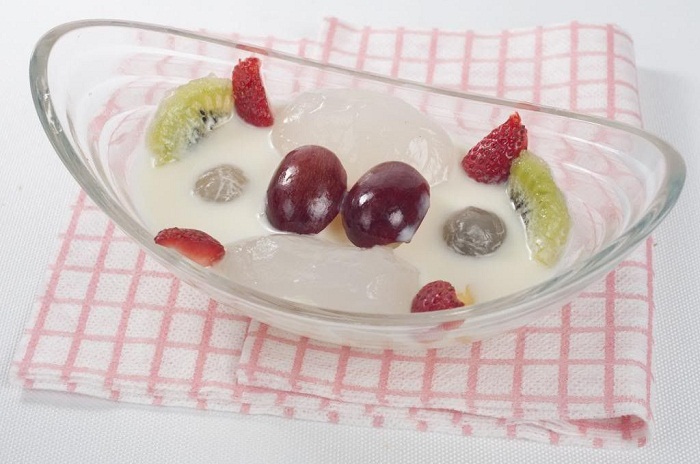 (Vietnamese sweet dessert with jelly seeds and fruits)
Referring to Mekong Delta, an unforgettable impression for tourists is the image of soaring toddy palm trees with agile people climbing to every sprout to take the fluid from there. Visiting jaggery-making bases, witnessing all jaggery-cooking approaches from drops of toddy palm fluid, we will understand the reason why jaggery becomes a rustic but distinctive specialty to both domestic and international tourists.
Visiting jaggery-making bases is an interesting experience
Rustic and simple image of toddy palm just likes the impression of people here leave for tourists