Cat Tien ( 061-366 9228; www.cattiennationalpark.vn; adult/child 50,000/20,000d;  7am-10pm)  comprises an amazingly biodiverse area of lowland tropical rainforest. The 72,000- hectare park is one of the outstanding natural treasures in Vietnam, and the hiking, mountain biking and bird-watching here are the best in the south of the country. Always call ahead for reservations as the park can accommodate only a limited number of visitors. However, a word of caution: visitors rarely see any of the larger mammals resident in the park, so don't come expecting to encounter tigers and elephants (or rhino, now thought to be extinct in Vietnam).
Cat Tien was hit hard by defoliants during the American War, but the large old-growth trees survived and the smaller plants have recovered. In 2001 Unesco added Cat Tien National Park to its list of biosphere reserves. As there are good overnight options, it's worth spending at least two full days here, if possible.
Fauna in the park includes 100 types of mammal including the bison-like guar, 79 types of reptile, 41 amphibian species, plus an incredible array of insects, including 400 or so butterfly species. Of the 350-plus birds, rare species include the orange-necked partridge and Siamese fireback.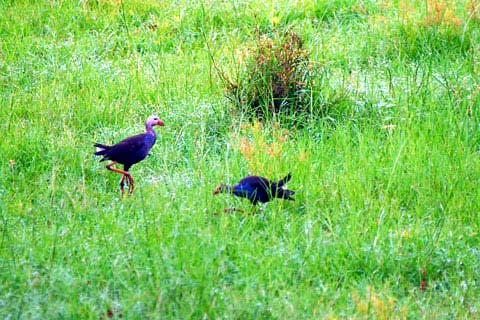 Tragically, it's now believed that the Asian mainland's very last Javan rhinoceros was killed in Cat Tien in 2010 (almost certainly by poachers, as rangers found the animal's remains minus its horn). A small group of a dozen or so rhino survived in isolation in the Cat Tien area until the 1990s, their presence one of the reasons for the establishment of a national park. But by 2008 scientists analysing dung samples found that they all belonged to the same individual, who lived a lonely last few years.
Once found across Asia from Myanmar to southern China, only 50 or so wild Javan rhino remain, in an isolated corner of Java.
The International Union for Conservation of Nature considers that 'the cause of population decline is mainly attributable to the excessive demand for rhino horn and other products for Chinese and allied medicine systems'. See  for more information.
Cat Tien National Park can be explored on foot, by mountain bike, by 4WD and also by boat along the Dong Nai River. There are well-established hiking trails in the park, but these require the services of a guide (from 250,000d), as well as transportation to and from the start of the trail.
Wherever you decide to go, be sure to book a guide in advance and take plenty of insect repellent. Leaches are a big problem; you can rent 'leach socks' at the park HQ for a small fee.
Cat Tien also has a small bear sanctuary where animals rescued from bile farms can roam a forested enclosure complete with pools and climbing towers.
(Bau Sau; admission 140,000d, guide fee 300,000d, boat trip 350,000d) A visit to the Crocodile Swamp is popular. It involves a 9km drive from the park headquarters and a 4km trek to the swamp; the walk takes about three hours return. Night treks are popular, as you've the chance of seeing crocs then, as well as other wildlife.
Dao Tien Endangered Primate Species Centre NATURE RESERVE
(www.go-east.org; adult/child incl boat ride 150,000/50,000d; 8am & 2pm) This centre, located on an island in the Dong Nai River, is a rehabilitation facility which hosts gibbons, black-shanked douc, silvered langur and pygmy loris that have been illegally trafficked. The eventual goal of the centre is to release the primates back into the forest. You can view primates in a semi-wild environment and hear their incredible calls.
A large reforestation project is now underway on the island, with hundreds of native fruit-tree saplings planted to provide the primates with foraging territory, and encourage them to learn the necessary skills to move around the forest canopy.
We've received mixed reviews about budget tours from HCMC. For a reputable customised birding, biking or hiking tour, contact Sinhbalo Adventures.
The national park offers several accommodation options and there are also some good, new, privately run places just outside the park's entrance. Try to avoid weekends and holidays if possible, when locals descend in large numbers.
 Ta Lai Long House GUEST HOUSE $
( 0938 887 105; www.vietadventure.vn/discov erydetail; dm 315,000d) Excellent, new, traditional-style lodge managed by Westerners and locals from the S'Tieng and Ma minorities. Accommodation is in a well- constructed timber long house, with good, screened bedding and modern facilities.
Green Hope Lodge GUEST HOUSE $$
( 061-366 9919; www.greenhopelodge.com; Nam Cat Tien; r US$45-60) A short walk from the park entrance, this fine, friendly, new lodge has attractive modern rooms with screened, comfortable beds and en suites. The riverside location is close to the jungle (you may even hear gibbons call in the morning). Tasty local grub is available. It's efficiently managed by Vung, a fluent English speaker.
Cat Tien National Park GUEST HOUSE $$
( 061-366 9228; [email protected]; small/big tents 220,000/350,000d, bungalows from 580,000d) Rooms at the national park's HQ are fairly basic and overpriced but include a bathroom. Large tents (sleeping up to 12) operate on a communal basis.
 Forest Floor Lodge ECOLODGE $$$
( 061-366 9890; www.vietnamforesthotel.com; luxury tents from US$136, houses/studios from US$136/152) This ecolodge sets the standard for atmospheric accommodation in Vietnam's national parks. There are several lovely safari tents overlooking the Dong Nai River, and a range of rooms set in reclaimed, traditional wooden houses. The lodge and restaurant are located across from the Dao Tien primate centre, so it's often possible to see and hear gibbons on the island.
The Hornbill Bar-Restaurant here serves a wide range of Vietnamese and international food and has a good selection of wines.
Park Restaurants CAFE, RESTAURANT $
(mains from 25,000d;  7am-9pm) There are two small restaurants near the park entrance, including a simple thatch-roof canteen and a fully blown restaurant. Hotpots here hit the spot perfectly.
Golden-cheeked gibbons have been reintroduced into Cat Tien and this experience offers a rare insight into the lives of these charismatic primates. The trek (US$60 per person, maximum four people) runs daily and involves a 4am start to get out to the gibbons in time for their dawn chorus. Relax in a hammock as the forest slowly comes alive with their songs before watching the family go about their everyday business.
In the afternoon the trip includes a fully guided tour of the Dao Tien primate centre. The project is a combined effort between Go East (www.go-east.org) and the national park authorities. All proceeds are ploughed back into the national park and assisting the rangers in their protection efforts. To avoid disappointment, book in advance through [email protected], or call ahead ( 061-366 9228).
Bicycle
Bicycle hire is available in the park, starting from just 20,000d per day.
Boat
One approach to Cat Tien National Park is to take a boat across Langa Lake and then go by foot from there. Phat Tire Ventures  is a reputable ecotour operator in Dalat that can offer this option.
Bus
All buses between Dalat and HCMC (every 30 minutes) pass the junction Vuon Quoc Gia Cat Tien on Hwy 20 for the park. The junction is around four hours' travel (100,000d) from both cities. From this junction, you can hire a motorbike (around 170,000d, but negotiate very hard) to cover the remaining 24km to the park. Lodges can also arrange a transfer from the main road.
Whichever way you come, you'll be dropped off at the park office, 100m before the boat that crosses the Dong Nai River to park headquarters. Buy your entrance ticket here, which includes the price of the boat crossing.
THE NEW BATTLE FOR THE HIGHLANDS
In 2001 and 2004 protests erupted in Buon Ma Thuot, Pleiku and other parts of the highlands, objecting to the government's resettlement and land policies and alleged discrimination against hill tribes. There were more incidents in 2007 and while things have generally quietened down today, tensions remain over religious issues (most hill-tribe people are Protestant) and land rights.
A report commissioned by the United Nations High Commissioner for Refugees (UNHCR), entitled 'The Situation of Indigenous Groups in the Central Highlands' concluded that 'the obvious signs of more personal freedoms and economic reform can be seen in cities all over Vietnam. Yet what happens in the Central Highlands all too often remains behind closed doors, both for most outsiders and international observers, but also for many ordinary Vietnamese'.