Mekong-Delta is famous for its rivers, flows, twisting canals that are wound round the southwest provinces. These rivers, lagoons do not only bring an abundant silt annually or rich fishery resource, but also become a wonderful eco-tourism for visitors who love nature, desire to harmony with the nature. During the Ca Mau-Southwest trip, tourists should not miss the opportunity to wonder at the picture of sky filled with clouds, the peace and mildness at Dam Thi Tuong.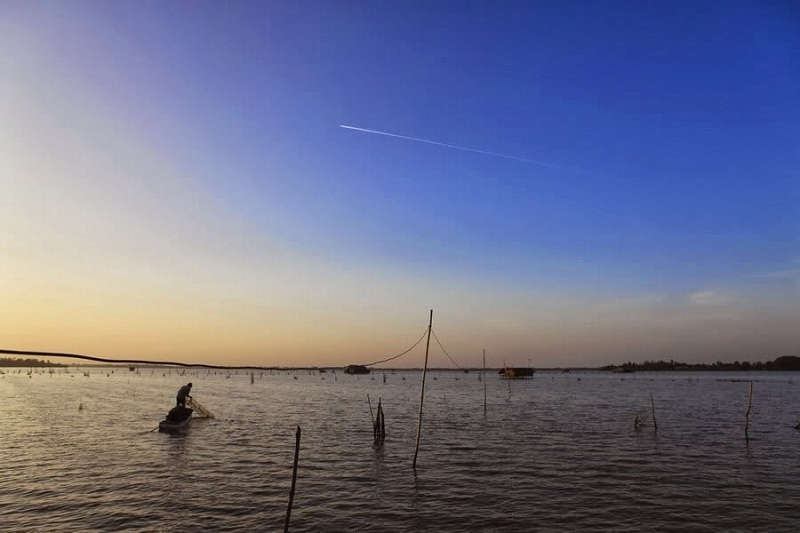 Dam Thi Tuong or also known as Dam Ba Tuong (Mrs. Tuong lagoon-name of the first woman who discovered Ca Mau land) is the largest natural lagoon in Mekong-Delta. The lagoon belongs to Phu Tan and Tran Van Thoi district, Ca Mau province. It was formed from silt of My Binh river, Ong Doc river and other canals that are situated near this region. From the central of Ca Mau city, visitors can go along highway 1A to Nam Can district direction about 2km, you will arrive at Cong Da. From here, turn left into Xeo Duoc base and you can approach Dam Thi Tuong.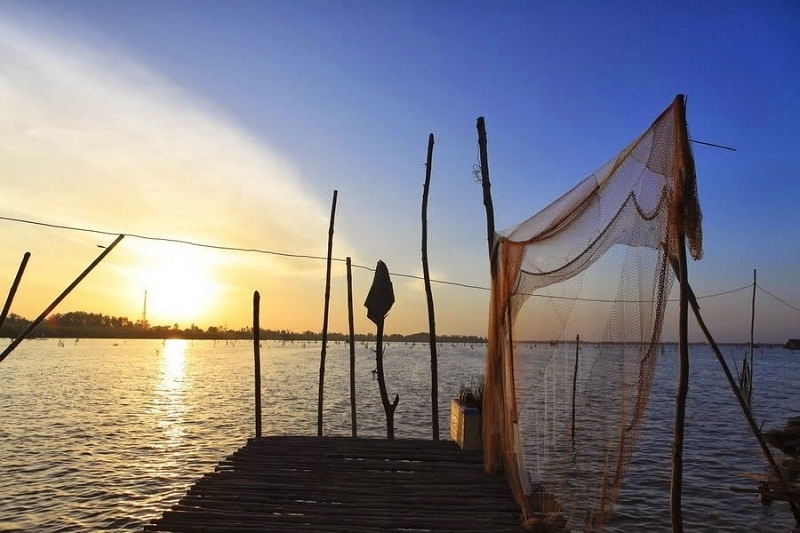 The charmingly simple but appeal of Dam Thi Tuong
Dam Thi Tuong is a beautiful natural landscape in the Mekong river basin. Dam Thi Tuong has a surface tension of 700 hectares. It is about 2km wide, stretches over 10km, with the relative depth about 1-2km. Dam Thi Tuong was formed by three main lagoons called: Dam Trong, Dam Giua and Dam Ngoai. Looking down from above, the lagoon is like a giant balloon that is ballooning and seizes a vast space.
Visitors can experience the feeling of sailing in the middle of the lagoon and discover many unique and interesting things of Mekong river basin once during Ca Mau trip. Visitors can either take motorboat or choose to be drifted nonchalantly on a wooden boat to feel the rustic, homely and slow pace of life here.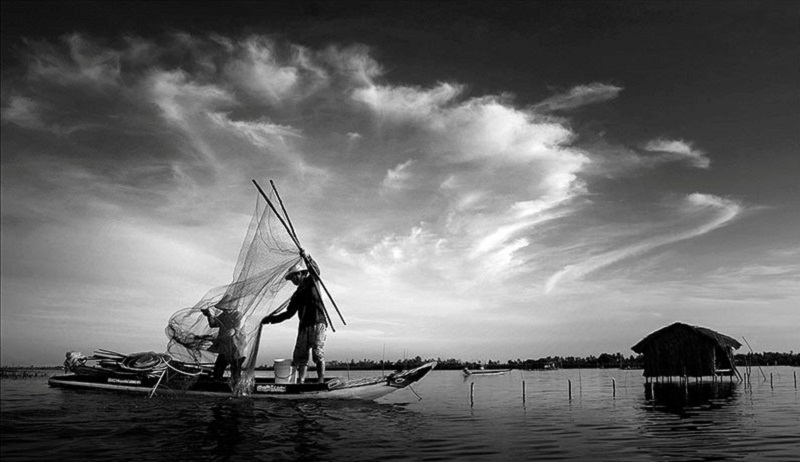 Natives are preparing for fishing from early in the morning
On the small boat drifting to the middle of the lagoon right in the dawn or twilight moment, guests will admire at the charming and beautiful like picture of this landscape. That moment would definitely make you go vibrate. The nature at the lagoon is more fanciful and dreamy if it is filled with thin mist. When sun rises and slowly appears in the sky, the water surface will have sparkling long bright streaks on it.
In the morning, the water surface shines bright like a giant mirror and reflects the sky, clouds, small stilt houses, coastal coconut and peaceful boats silhouetted against the flow.
Visitors can also take a noon rest by visiting stilt houses of fishermen here, talking about their lives on the lagoon, listening to anecdotes, and tales about Dam Thi Tuong.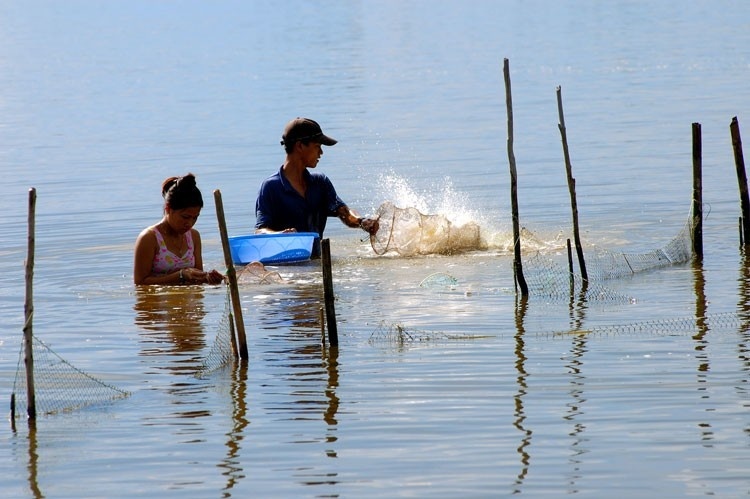 In the afternoon, visitors can go to the lagoon and catch the cool breezes. You will feel much more comfortable and all the tiredness in life is likely to be blown. Above all, it would be extremely exciting if visitors can also go fishing, shrimping and enjoy right on the boat in the windy afternoon, right?
Additionally, you can enjoy the amazing and dazzling of sunset. When the dusk falls, the whole sky is like covered with new paint that can give visitors a new inspiration.
Dam Thi Tuong is compared to an important piece of every natives' life here. It not only bring them a quantity of fertile silt but also an abundant and diverse ecosystem. It is a home to many species of brackish water fishery.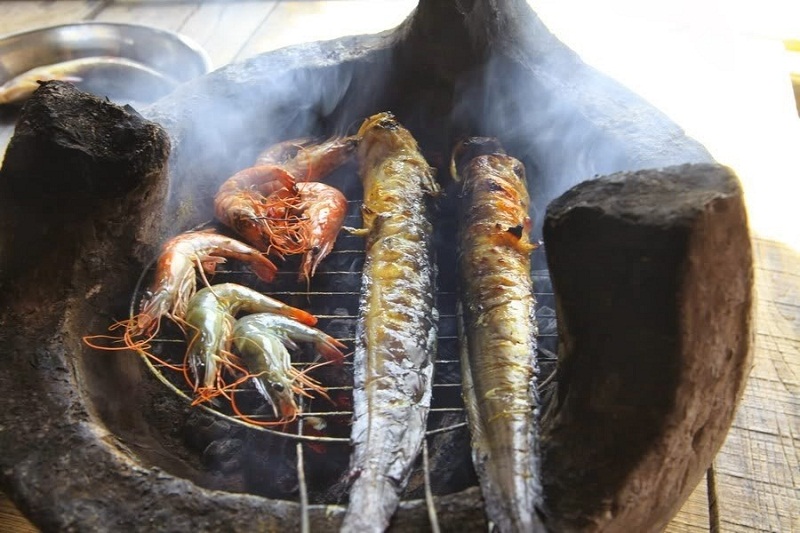 Tasty grilled shrimp at Dam Thi Tuong
With the combination of natural fishing and modern technical aquaculture, Dam Thi Tuong is an abundant aquatic resources such as prawns, fishes, crabs…Tourist traveling to Ca Mau and visit Dam Thi Tuong will have a chance to enjoy fresh and delicious specialties that are prepared from fresh fishery caught in the lagoon.