It has a wonderful appeal to travelers who love green nature destinations. Not only that, Ben Tre also allures tourists with the bucolic typical Southwest cuisine. Let's go through the lists of those flavorful dishes of Ben Tre land below with us in this article for more tips during you Ben Tre journey.
"Gỏi củ hũ dừa"- Vietnamese coconut blade salad
Referring to Ben Tre, people always remember the immense coconut land, a place where various and tasty specialties from coconut came from. Referring to Ben Tre coconut, you cannot ignore the number one luscious "Vietnamese coconut blade salad"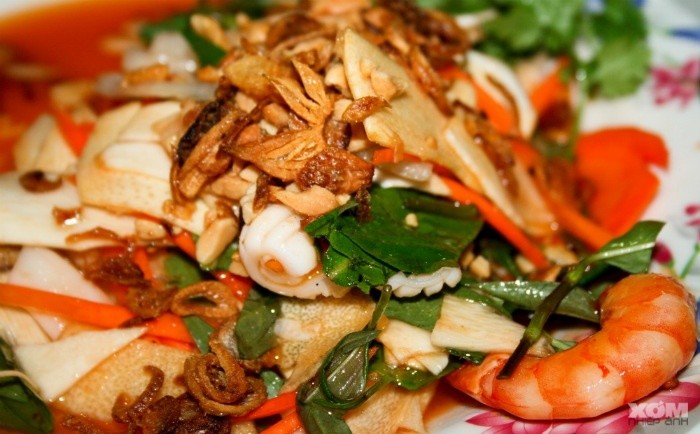 (The coconut blade salad never let diners down)
The coconut blade is located deep inside the coconut trunk on the top, including the bud which has not risen yet and the stem. People somehow call it coconut shoot as well. Hence, the whole coconut tree needs to be cut down to get the coconut blade inside. The coconut blade salad has a sour and sweet taste. It is mellow, aromatic and not fatty. You would feel a "green" flavor in your mouth while digesting the coconut blade. Besides the coconut blade, the salad also includes giant tiger prawn (tôm sú), pork belly, sliced pig's ear, Vietnamese coriander (rau răm), onion and peanuts.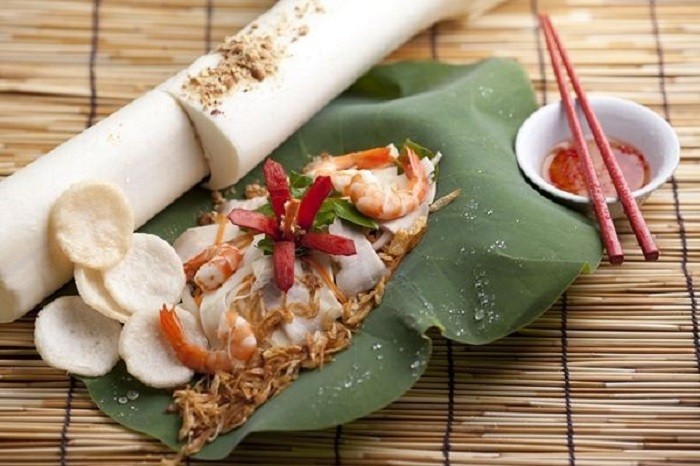 (The coconut blade salad is sweet and fresh, which create a distinctive sensation of Vietnamese salad "gỏi")
Ben Tre people usually make this dish to welcome guests. The coconut blade salad truly becomes a brilliant colorful "cuisine artwork", including: the white of coconut blade, the dark yellow of fried meat, the red and orange of prawns and the green of Vietnamese coriander. This should be the dish that you cannot miss in Ben Tre trip.
"Chuối đập"- Grilled banana with coconut milk
Grilled banana with coconut milk is the simplest way of eating snack but it is delicious and especially cheap that any tourists should try during Ben Tre trip. Banana and coconut milk is a perfect combination which create a rustic dish and full of the Mekong flavor.
(Grilled banana has a bucolic flavor of Ben Tre)
Bananas prepared for this dish must be ripe Thai bananas. Bananas are peeled, halved and grilled both sides on a charcoal grill. When they are nearly cooked, banana are slightly beaten until they become thinner. That's why Vietnamese people call this snack "chuối đập" (literally "beaten bananas"). Then, continue to cook those thin bananas until they turn to dark yellow or a bit brown and have an aromatic fragrance of cooked bananas. To have thick, smooth and fragrant coconut milk, dried coconut meat is squeezed to get coconut milk. Then, coconut milk is boiled with slow heat. A little bit flour is added to the boiling coconut milk to make it thicker. Salt and sugar can be added to make the coconut milk tastier.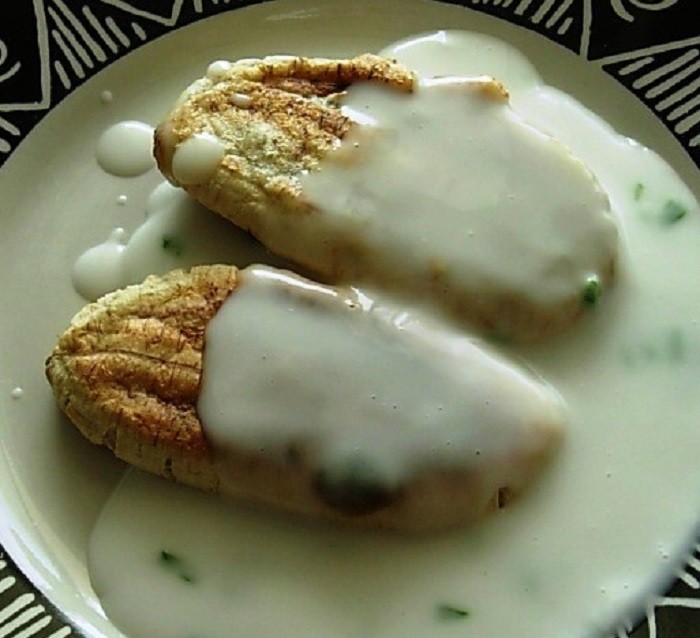 (Grilled bananas eaten with fatty and creamy coconut milk)
Grilled bananas eaten with coconut milk has a coconut aroma, salty flavor harmonized with intense sweetness, which make any dinners cannot resist to try again and again after the first bite. This favorite snack in Ben Tre is also the nostalgia for those who are away from home. The grilled banana street hawkers which are close to Truc Giang river bank, in front of Thi Xa Ben Tre hospital are perfect choices to taste this snack.
"Bì cuốn" – Shredded pork skin rolls
The Mekong Delta is known as a land of rolled food and shredded pork skin roll is a wonderful one of them. In addition to other essential ingredients of typical Vietnamese summer rolls (or fresh spring rolls- "gỏi cuốn"), for example: salad, herbs, rice vermicelli, the shredded pork skin roll do not include prawn or sliced pork. Instead, it has "bì" inside, a mixture of shredded pork skin and shredded pork belly. Especially, what makes shredded pork skin rolls distinct from other rolls and yummy is "thính" (Vietnamese roasted rice powder).
(Shredded pork skin rolls not only look eye-catching but also taste good)
Pork is divided into meat part and skin part. The meat part is fried until it turn to beautiful yellow. After that, let it cool and shred to mix with shredded pork skin part and roasted rice powder. Then, the mixture is divided into smaller part and rolled tightly with other ingredients in rice paper. The shredded pork skin rolls can be eaten with other vegetables and Vietnamese daikon and carrot pickle. The sweetness of roasted rice powder combined with the crunchy and chewy "bi" create a delectable and distinctive roll that you could not forget.
(The crunchy and chewy "bi" is a feature of shredded pork skin rolls)
"Bánh canh bột xắt" – Duck noodle soup (literally "sliced rice flour thick noodle soup")
"Bánh canh" or a thick Vietnamese noodle soup that has many versions depended on each region of Vietnam. It is also known as Vietnamese udon. The Mekong people have their own "bánh canh" as well and the flavorful "bánh canh thịt vịt bột xắt" (duck noodle soup) is best-known "banh canh" of the coconut land Ben Tre.
(A bowl of duck noodle soup with rich flavor appeals to many tourists)
In Vietnamese, people call it "sliced rice flour thick noodle soup" literally because they have to do with the most handmade method while cooking: slice dough made of rice flour by hands. To make a dough for this noodle, rice is soaked in water until it become softer. Then, blend the soaked rice with water and place the mixture in a cloth bag to drain it slowly until the water go out completely. Duck meat is the main component to create the appetizing taste of this noodle soup. The locals here use home raised ducks, which are fed by grain, to make the dish more distinctive.
(The sweet and greasy duck meat combines with the soft and chewy rice noodles)
"Lẩu cháo cua đồng" – Freshwater crab hotspot
The Mekong Delta region is the land for endless fields. These plots are the residence of the specialty "field crab" (cua đồng), which is used to make many intense and delightful dishes. The field crab hotspot is a must-eat among those. The dish not only attracts your sensation of flavor by its bucolic taste but also has lots of nutrition that is good for your health.
(The field crab soup is compared as a natural gift from Ben Tre)
The field crab soup is rich of rustic river flavor that is appealed to tourists from everywhere. Crab-roe is taken from the carapace and mixed with several spices and then kept aside. The rest parts of the crab is blended with cold water, stirred well and drained to take the liquid. The delicious congee is cooked with green beans. Finally, the mixture of crab-roe is stirred with sliced scallion quickly with high heat until it has an aromatic fragrance. The stewed field crab soup is enjoyed with 5 kinds of countryside vegetables: sweet leaf (rau ngót), centella (rau má), Malabar spinach (rau mồng tơi), nalta jute (rau đay), mustard greens (cải xanh), sponge gourd (mướp hương).
(A table of field crab hotspot with beef and prawn)
Besides pepper and chilies, the field crab soup is tastier if we eat with salty nereididae sauce (mắm rươi). Tourists can eat this field crab hotspot on Highway 60, Ben Tre city with only 40,000 VND per hotspot meal.
Coming to the Mekong river region, to the coconut land without trying those bucolic, rich of "green" flavor likes missing an important part of the trip. Let's try these specialties to feel the wonderfulness of this land.