Rach Mieu Bridge is a cable-stayed bridge spanning the Tien River and linking the two provinces of Tien Giang (My Tho) and Ben Tre together. This is the first cable-stayed bridge construction invested, designed and built by Vietnamese.
Rach Mieu Bridge is located on Highway 60 and 1 kilometer apart from a ferry terminal toward the source of the Tien River. This is the third largest cable-stayed bridge constructed in the Mekong Delta and Rach Mieu is the first bridge that was designed and built up by Vietnamese engineers.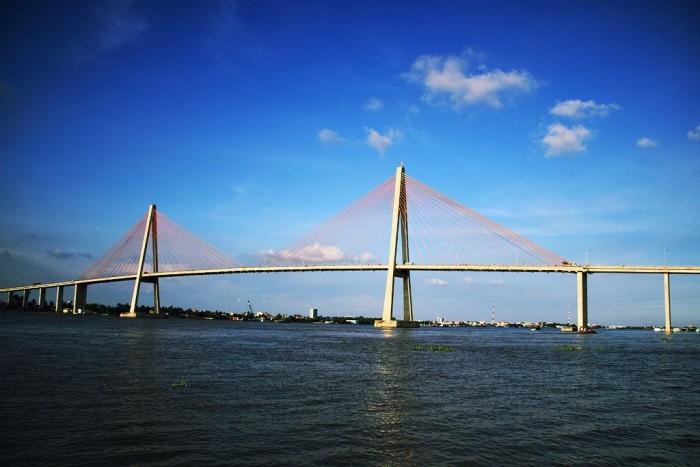 (The first cable-stayed bridge that was set up by Vietnamese)
There is a thing that make this Rach Mieu Bridge distinguishing from each other. When you stand on the bridge and have a panoramic view towards the South Sea, you will recognize that the four islets of Ben Tre: Long (Dragon), Lan (Unicorn), Quy (Turtle), Phung (Phoenix) gather together among the immense river. That view is known as "Tu linh" or The Four Holy Beasts of Vietnam. Each islet has its own features and nuances and all create a remarkable lively scenery.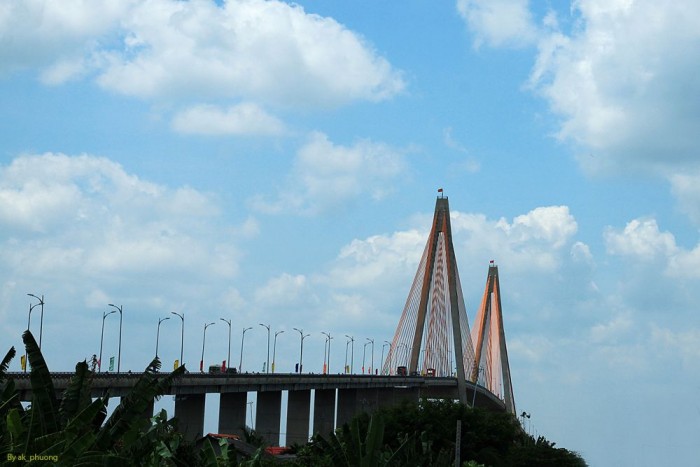 (A view of Rach Mieu Bridge from a cay below)
The total length of Rach Mieu Bridge is 8,331 meters including roads connecting to the bridge. The main bridge has a total length of 2,868 meters and consists of 3 bridges: bridge no.1 is arranged with cable-stayed structure with 3 spans: 117m-270m-117m pace, located in Tien Giang Province, has a vertical clearance of 37,5 meters and span the Thoi Son Islet (Lan Islet). 990m long bridge (no.2 and no.3) consists of two spans up to 90m in length, has a structure of pre-stressed concrete girder constructed by cast-in-situ method. Each span has a total length of 40 meters. It is located in Ben Tre Province.
(The proud of Ben Tre people)
The total width of the bridge is 12 meters but the cable-stayed part is 15 meters, which is enough for 4 traffic lanes: two lanes for cars and two lane for motorcycles. In addition, there is a lane for pedestrians as well. The load of the bridge is about 30 tons. On 30/4/2002, the Ministry of Transport held a groundbreaking ceremony for Rach Mieu Bridge construction. After 6 years with many difficulties and scandals, Rach Mieu Bridge was finally established on 19/01/2009.
(Rach Mieu Bridge after 5 years of operation)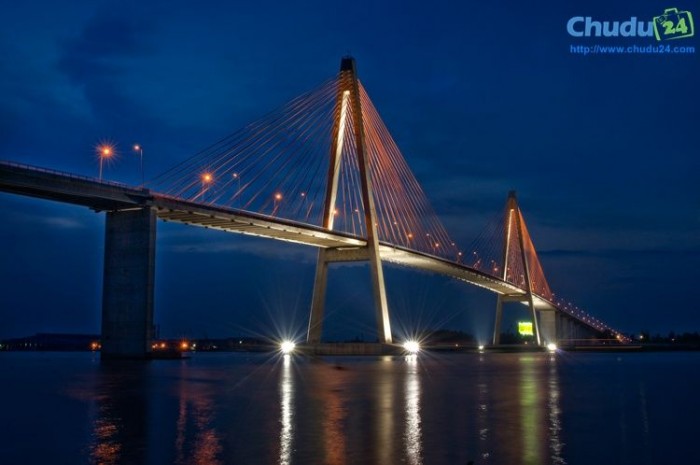 (The base for Ben Tre development)
After passing all the cable-stayed bridge, Rach Mieu Bridge directs to Lan Islet (Unicorn Islet) or also known as Thoi Son Islet. Thoi Son Islet possesses 4 bests: oldest, largest, the most marvelous and harmonious among the Four Holy Beasts. The history of Thoi Son Islet is also the most glorious. It is said that each garden, each canal here are marked with the victory of the Hero Nguyen Hue who defeated 5 thousands Siam soldiers. Then, in the 20th century, this place once again witnessed another famous victory of "the patriots against who defeat American Empire during the Vietnam War.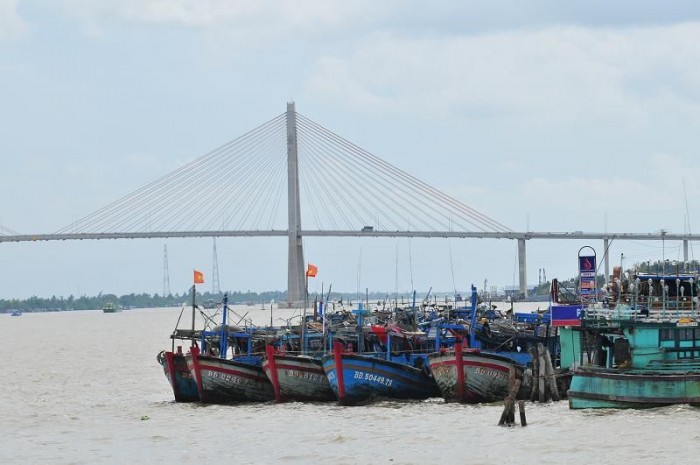 (The Bridge above glorious Thoi Son land)
Close to Lan Islet is Phung Islet (Phoenix Islet), also known as Tan VInh Islet, where there is the Coconut religion found by the coconut monk Nguyen Thanh Nam during the 1960s in the 20th century. Among the Four Holy Beasts, only Lan Islet and Phung Islet that have "Don ca tai tu" performance (an instrumental and vocal traditional Southern music). The two ends of Lan Islet and Phung Islet toward to Rong Islet (Dragon Islet) located on the other side of the Tien River and also known as Tan Long Islet. Tan Long Islet has been formed a long time ago but it was reclaimed just a hundred years ago. To avoid from bombing during the war, Ben Tre people immigrated here. Todays, Tan Long becomes an administrative unit of My Tho city, Tien Giang. The youngest "brother" in the Four Holy Beasts is Quy Islet. It was reclaimed from the 1960s of the 20th century. Hence, the Quy Islet still remains a pristine charisma and appeals to many tourists as well.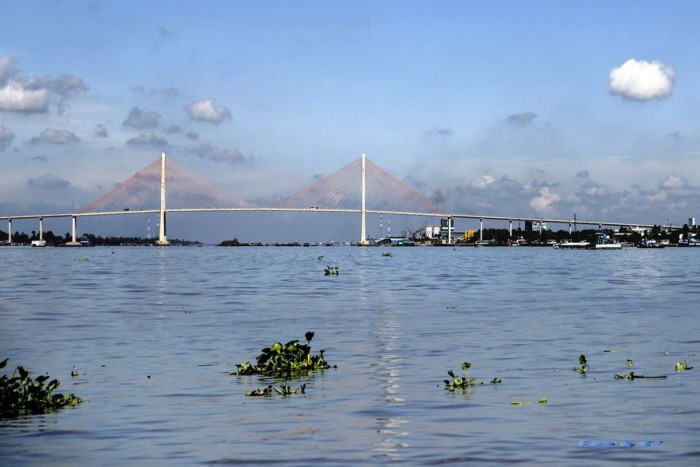 (The serene and peaceful allurement of Rach Mieu Bridge)
Rach Mieu Bridge is officially put in operation which remove the far distance of Ben Tre because of rivers. That is the condition for the advantageous development of Ben Tre. However, only if the highway from Ho Chi Minh city to the Mekong Delta is made to operate as well, Ben Tre will become an ideal city.