(http://worldwidearmsmuseum.wordpress.com; 14 Ð Hai Dong; admission 100,000d;  9am-5pm) An outstanding, and unexpected find in the backstreets of Vung Tau, this is a superb museum, even if you've little interest in warfare. There's a simply stunning collection of military uniforms and weaponry from all over the world: Samuri nobility, crusaders in chain mail, Roman legionaries, Royal horseguards, even African warriors in leopard skins alongside dozens of vintage pistols, muskets, swords and helmuts, all in modern displays with English translations.
There's also a private primate rescue centre with spacious enclosures for gibbons and monkeys rescued from traffickers. It is not a zoo, but the private passion of the museum owner who takes care of the mammals.
(parking 2000d; 7.30-11.30am & 1.30-5pm) Atop Small Mountain with his arms outstretched to embrace the South China Sea, this 32m Giant Jesus is the biggest in the world, or so the locals claim – 6m taller than his illustrious Brazilian cousin. It is possible to ascend to the arms for a panoramic view.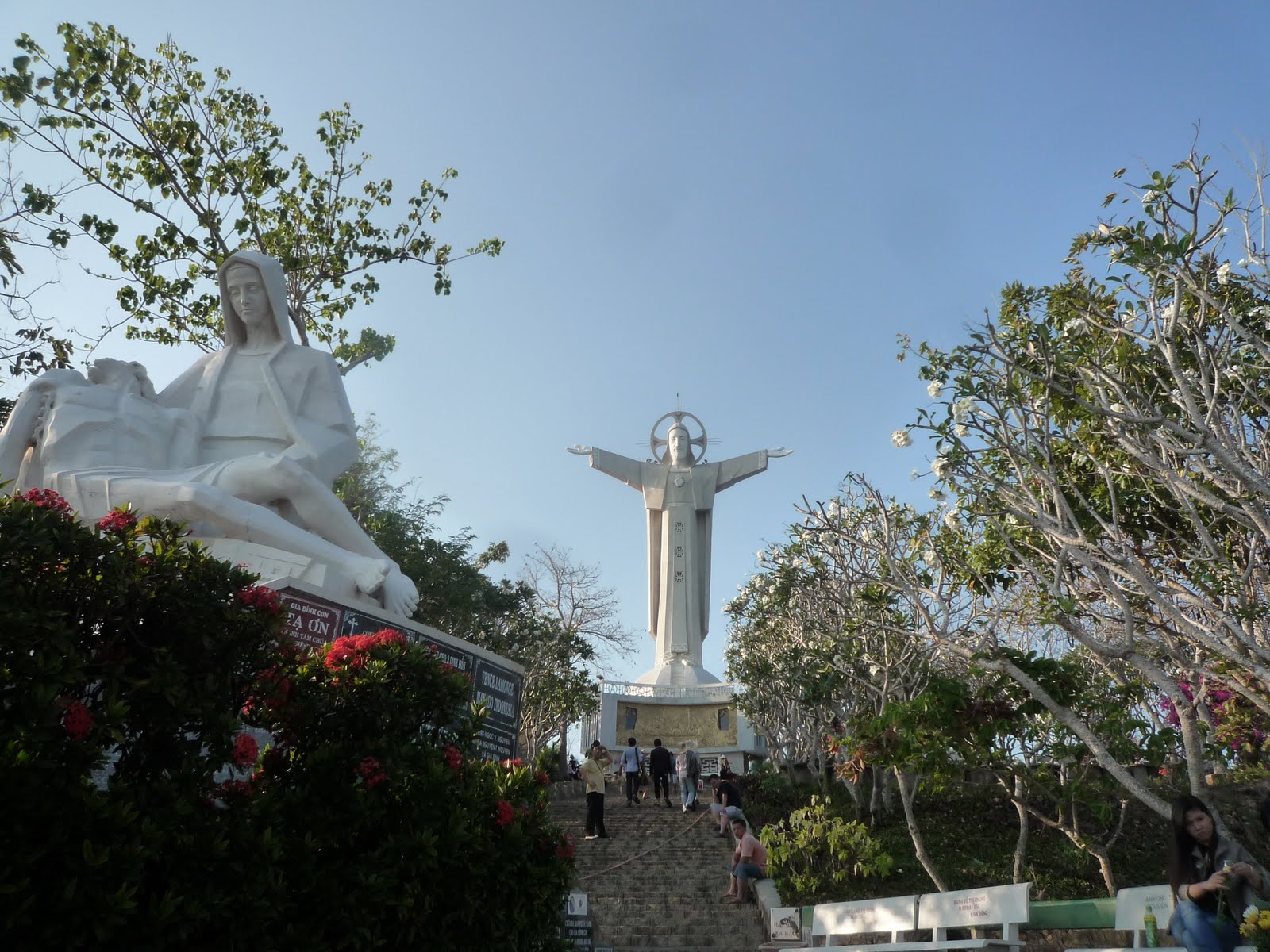 Some 900-odd stairs wind their way up the mountain, a Vietnamese version of stairway to heaven, but it is possible to take a short-cut by motorbike up a bumpy mountain road if you can find a local who knows the way. It starts from Hem 220, off Ð Phan Chu Trinh.
(parking 2000d; 7am-5pm)  Built by the French, this 1910 lighthouse boasts a spectacular 360-degree view of Vung Tau. From Cau Da Pier on Ð Ha Long, take a sharp right on the alley north of the Hai Au Hotel, then roll on up the hill. Although Jesus and the lighthouse look temptingly close, it is not possible to walk or drive directly between them, as there is a military base in the hills here.
(Bach Dinh, Villa Blanche; Ð Tran Phu; admission 15,000d;  7am-4pm) The weekend retreat of French governor Paul Doumer (later French President) this gorgeous, grand colonial-era residence has extensive gardens and an oddly empty interior (besides the odd piece of furniture and some Ming pottery retrieved from shipwrecks off the coast). It sits about 30m above the road, up a winding lane.
 Further along Tran Phu beyond Mulberry Beach, a pretty road winds up the hillside to some old French Field Guns. There are six of these massive cannons, all with support trenches, demonstrating how strategically important Cap St Jacques was to the colonial authorities as it guarded the waterways to Saigon. Look out for Hem 444 in the fishing village, about 8km from Vung Tau, and turn right on a small track.
Vung Tau is not a major water-sports centre, but if the weather gods are smiling, some residents surf and kitesurf.
( 064-385 9697; www.golfparadise.com.vn) On the eastern side of the Vung Tau peninsula this 27-hole course is quite a challenge, with mature trees lining the fairways.
Surf Station SURFING, WINDSURFING
( 064-526 101; www.vungtausurf.com; 8 Ð Thuy Van) Based at the Vung Tau Beach Club, Surf Station offers board rental and kitesurfing and surfing classes.
(Ð Thuy Ban, Back Beach) These pools are almost opposite the Imperial Plaza. Both charge 50,000d for the day.
ANZAC SITES AROUND VUNG TAU
Nearly 60,000 Australian soldiers were involved in the American War throughout the 1960s and 1970s. The Long Tan Memorial Cross commemorates a particularly fierce battle that took place on 18 August 1966 between Australian troops and Viet Cong fighters. Originally erected by Australian survivors of the battle, the current cross is a replica installed by the Vietnamese in 2002. It's located about 18km from Ba Ria town or 55km from Vung Tau, near the town of Nui Dat. Permits are no longer necessary, and can be combined with the seldom-visited Lon Phuoc tunnels, an underground network that is a much smaller version of the more famous Cu Chi.
At Minh Dam, 5km from Long Hai, there are caves with historical connections to the Franco–Viet Minh and American Wars. Although the caves are little more than spaces between the boulders covering the cliff-face, VC soldiers bunked here off and on between 1948 and 1975; you can still see bullet holes in the rocks from the skirmishes that took place. Steps hewn into the rock-face lead up to the caves, with spectacular views over the coastal plains at the top.
Nearby there is a mountain-top temple with more great panoramic views of the coastline.
Tommy's ( 064-351 5181; www.tommysvietnam.com; 3 Ð Ba Cu) operate tours for returning vets that include Long Tan, Long Phuoc and Minh Dam. The cost including transport and guide is US$120 for up to three people.
Otherwise hook up with a xe om driver and expect to pay US$20 or so for a tour around these sights.
During weekends and holidays, Vung Tau's hundred or more hotels can be heavily booked, so it is sensible to make a reservation. Most foreigners prefer to stay on Front Beach where the restaurants and bars are found, while the majority of Vietnamese visitors head for Back Beach.
( 064-385 2356; 17A Ð Thu Khoa Huan; r US$18) One of the few budget options near Front Beach, this family-run minihotel offers a homely welcome. Rooms are in good shape, including satellite TV and a fridge.
( 064-381 8992; 137 Ð Thuy Van; r 300,000-380,000d) For a more Vietnamese take on Vung Tau. This 'motel' has a touch (but only a touch, mind you) more decorative flair than some of the neighbouring places, plus sea views.
( 064-355 1711; 182 Ð Tran Phu; r US$29-49) Right at the end of Mulberry Beach, this is affiliated with the long-running Huong Sen in HCMC. Rates are very reasonable for the standards and it's a nice escape if you want to get away from the honky tonk part of town.
( 064-385 8896; www.lucyssportsbar.com; 138 Ha Long; r 600,000d) These comfortable rooms, above a popular bar, could be just the ticket if you're looking for a place to kip down just steps from the ferry terminal. All have a balcony overlooking the bay, modern bathrooms and staff are friendly.
( 064-352 6010; www.lanrungresort.com; 3-6 Ð Ha Long; 7 from US$71) Lan Rung is also one of the few places with a beachside setting, albeit a rocky one. The rooms are attractive and include heavy wooden furniture and all the facilities you'd expect. There are seafood and Italian restaurants. Service is willing, but expect a few communication issues.
There's great seafood, and lots of international flavours available in Vung Tau.
Bistrot 9 FRENCH, INTERNATIONAL $
(9 Ð Truong Vinh Ky; snacks/meals from 55,000/90,000d;  7.30am-9.30pm; ) An atmospheric bistro on a quiet side street that's perfect for breakfast or brunch, crêpe, panini or a full-on splurge (try the salmon carpaccio or pork with Dijon mustard). They also sell homemade gourmet chocolates and have the best wine selection in town.
(159 Ð Thuy Van; meals from 50,000d;  8am-9pm; ) This shopping centre offers a selection of dining options including a small food court. Perfect (and air-conditioned) for those overheating with indecisiveness: choose from pizza through to pho.
( 064-355 0909; 3 Ð Tran Phu; mains 55,000-210,000d;  11.30am-9pm) Impressive seafood restaurant, with tables positioned on terraces by the ocean, that's always packed with locals, so try to get here as early as possible. The menu is extensive, with delicious fish, lobster, crab, squid and prawn dishes, though wine is expensive. It's huge, and somehow, despite the crowds, it all ticks over efficiently.
( 064-383 8522; 69 Ð Tran Phu; mains 52,000-230,000d;  11am-10pm) A seafood institution with a great location on the water, Cay Bang is set under the shadow of the Virgin Mary and Baby Jesus. At weekends, it draws a huge crowd of the Vung Tau faithful for the shellfish, hot pots and grilled fish.
(www.tommysvietnam.com; 3 Ð Ba Cu; mains 60,000-300,000d;  7am-11pm) Boasts a prime front terrace that draws a mixed crowd of locals, expats and tourists. The food is mainly Western and familiar, with big portions of steaks and burgers, plus local food including tasty noodle dishes.
(130 Ð Ha Long; mains 60,000-200,000d;  11am-10pm) Located on a prime strip overlooking the hydrofoil dock, this is an authentic Italian-run restaurant. The pasta is freshly prepared and the pizzas are the best in town.
Vung Tau nightlife is raucous by Vietnamese standards with lots of hostess bars and the occasional floor show.
(www.lucyssportsbar.com; 138 Ð Ha Long;  7am-midnight; ) Non-sleazy, non-hostess bar with a busy pool table, great sea-facing terrace and sociable vibe. As the name indicates there's a viewing diet of sports events – from test cricket to Aussie Rules. Also serves pub grub.
(6 Ð Le Quy Don; noon-midnight; ) One of the late-night spots that picks up as the evening wears on, this is Vung Tau at its most decadent, complete with war veterans, oil workers, alcoholics and working girls. Check out the vintage Vespas.
Consult www.vungtau-city.com for relatively up-to-date information on the city of Vung Tau.
International SOS ( 064-385 8776; www.internationalsos.com; 1 Ð Le Ngoc Han;  24hr) A well-respected clinic with international standards and international prices.
Main Post Office (8 Ð Hoang Dieu;  7am-5.30pm) Located at the ground level of the Petrovietnam Towers building.
OSC Vietnam Travel ( 064-385 2008; www.oscvietnamtravel.com.vn; 2 Ð Le Loi;  7am-4.30pm) Government-run travel agency that offers transport booking and a host of local trips.
Vietcombank (27-29 Ð Tran Hung Dao;  7.30am-3.30pm) Exchanges cash, travellers cheques and offers credit-card advances.
Bus
From Mien Dong bus station in HCMC, air-con minibuses (50,000d, 2½ hours, frequent) leave for Vung Tau between 6am and 7pm. From Vung Tau's bus station (192A Ð Nam Ky Khoi Nghia) to Mulberry Beach or Back Beach, a xe om will cost around 30,000d.
Boat
It's much more enjoyable to catch a hydrofoil. There are three boat operators to HCMC (200,000d to 250,000d, 90 minutes), all using the same terminals. The best boats are run by Vina Express ( HCMC 08-3825 3333, Vung Tau 064-385 6530) and Petro Express ( HCMC 08-3821 0650, Vung Tau 064-3351 5151); those operated by Greenlines are in poor condition. Services leave every 30 minutes until 4.45pm and there are additional boats at weekends, when it's important to book ahead. In Vung Tau the boat leaves from Cau Da pier.
Two ferries connect Con Son Island with Vung Tau, with sailings approximately every second day. Boats do not leave when seas are rough (and conditions aboard the boats are pretty rough too). Tickets can be purchased from the office at 1007/36 Ð 30/4 which reads BQL Cang Ben Dam Huyen Con Dao (bunk bed 270,000d;  7.30-11.30am & 1.30-4.30pm Mon-Fri). The ferry departs at 5pm from Vung Tau port, which lies about 15km west of the city, the journey takes 12 hours.
Vung Tau is easily traversed on two wheels or four. Guesthouses and restaurants can arrange bicycle hire (per day US$2) and motorbike hire (from US$6 to US$9 per day). Metered taxis will likely work out cheaper than trying to negotiate with ruthless cyclo or xe om drivers. Mai Linh ( 064-356 5656) is a reliable operator and has plenty of taxis cruising the streets.