Long Hai can be a peaceful place to visit during the week, but it loses its local character on the weekends when Vietnamese tourists pack the sands. Most of the resort hotels are on the northeast of town, on the road that heads to Ho Tram.
The western end of Long Hai's beach is where fishing boats moor and is not so clean. However, the eastern end is pretty, with white sand and swaying palms. For an even prettier beach, keep heading east.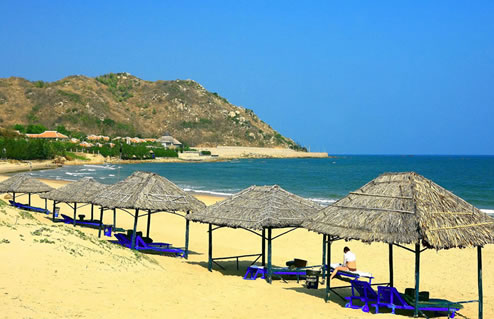 After the Tet holiday, Long Hai hosts an annual major fishermen's pilgrimage festival, where hundreds of boats come from afar to worship at Mo Co Temple.
( 064-366 3567; Rte 19; r 250,000-450,000d) About 150m from the beach this small guesthouse has light, airy rooms with modern bathrooms and firm beds, some with balconies. Some English spoken.
( 064-386 8227; www.anoasisresort.com.vn; Provincial Rd 44; r from US$80-320) Emperor Bao Dai's former residence has plenty of charm – the bungalows, cottages and villas, some with private pools, are set in stunning gardens fronting a private beach. Service standards are OK, though staff only speak limited English. There's a plush spa and tennis courts.
There's a rustic cluster of thatch-roof beachside restaurants called Can Tin 1 (mains around 30,000-100,000d;  7am-9pm), 2, 3 and 4 (all with the same opening hours and prices) near Military Guesthouse 298. These serve reliable Vietnamese cuisine, including fresh seafood dishes.
Long Hai takes about three hours to reach by road from Ho Chi Minh city. It is more relaxing to arrive by a combination of hydrofoil and road via Vung Tau. The 15km road between Vung Tau and Long Hai will cost about 100,000d by xe om or about 220,000d by metered taxi.
From Mui Ne, follow the road less travelled along coastal Rte 55. It is very scenic, passing a series of stunning beaches and the Ke Ga lighthouse, and traffic is mercifully light for Vietnam.