A beautiful road parallels the coast between Phan Thiet and Long Hai, passing some memorable scenery, and traffic is light. There are pockets of tourism development, but for now most this coastline is a beguiling mix of giant sand dunes, fishing villages, wide ocean views and some near-deserted beaches. This region makes a great day trip from Vung Tau or Long Hai, or a rewarding scenic road to enjoy. The most impressive sight is the majestic Ke Ga lighthouse.
There's very limited public transport so a motorbike or car is the way to go. Savvy travellers are now using this road to avoid tackling the nightmarish Hwy 1, and then taking the hydrofoil from Vung Tau to HCMC.
Immediately south of Phan Thiet, the first section of the road is beautiful, with a casuarina-lined shoreline and the ocean to the east, while the inland scenery is dominated by rust-red sand dunes.
Ke Ga Lighthouse
Around 30km south of Phan Thiet, the spectacular Ke Ga lighthouse (admission 20,000d;  7am-4.30pm) dates from the French era. Constructed in 1899, it sits on a rocky islet some 300m from the shore, towering almost 40m above the ocean.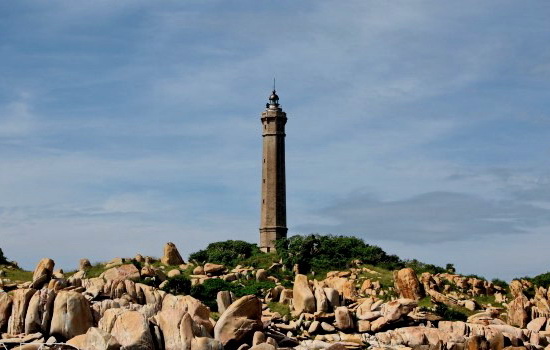 It's possible to swim (or even wade) across if the tide is low, but most visitors hire a boatman (250,000d return) to get across. A staircase winds up to the top, from where there are magnificent vistas over the ocean and inland hills.
Ke Ga to Ho Coc
F rom Ke Ga the coastal road pushes southwest, passing fields bursting with dragon fruit (the main crop), reaching La Gi, 22km down the road. There's no reason to hang around La Gi, an isolated market town, but it does have hourly bus connections (37,000d, two hours) to Long Hai.
Continuing southwest of La Gi, the coastal road keeps snaking along the shoreline, with towering sand dunes on the inland side. Chunks of the near-virgin coastline have been parceled off here and there, awaiting hotel resorts and mass tourism, but it's not hard to find a beach for a revitalising dip. The section around 7km north of Ho Coc is particularly scenic and worth investigating the lonely (for now) road hugging an undeveloped shore.
Ho Coc Beach
With golden sands, rolling inland dunes and clear waters, this beach makes a tempting place to stop. The giant Saigon-Ho Coc Beach Resort ( 064-387 8175; r 800,000-3,500,000d), very much geared at the local market, has grabbed a large chunk of the shoreline, but on weekdays it's still peaceful here and you should have the beach largely to yourself.
About 300m inland from the beach Hotel Ven Ven ( 064-379 1121; http://venvenhotel.com; r 600,000-1,000,000d) is very tasteful, with classy, well-appointed rooms in lush gardens. The restaurant here is good, if quite pricey, and strong on seafood (meals 60,000d upwards), including an excellent fish curry.
Ho Tram Beach
South of Ho Coc, the coastal road soon unexpectedly becomes a four-lane highway, which is designed to facilitate access to the gargantuan Grand Ho Tram Strip, a casino resort complex, plus restaurants and shops. A concrete blot on the landscape, this isolated Vegas-style development was originally constructed by the MGM group, but after an on-off saga lasting years they finally abandoned the project, and a local business took over and opened the resort in July 2013.
Casino aside, Ho Tram consists of nothing more than a tiny fishing village, scruffy open-air market and a fine beach (though the central section is strewn with rubbish) and a handful of places to stay.
Local villagers steam, fry and grill delicious fresh seafood right on the beach in Ho Tram. Make sure you try the delicious steamed clams or mussels served with a topping of peanuts, spring onion, lime and chilli; a portion of six costs around 30,000d.
( 064-378 2279; http://nhanghihoabien.com; r 350,000-600,000d) An excellent deal, the spacious rooms with modern facilities and bathrooms are well presented at this small hotel, 100m from the beach. The helpful owners speak some English.
Ho Tram Beach Resort & Spa BOUTIQUE HOTEL $$$
( 064-378 1525; www.hotramresort.com; r/bungalow from US$80/130) This beautifully landscaped complex is dotted with attractive bungalows in Hoi An-meets-Bali style, each with high ceilings and stylish decor and outdoor bathrooms. There's also a spa, salt-water infinity pool and an open-plan restaurant that's open to nonguests for a memorable lunch stop.
( 064-78 1631; www.sanctuary.com.vn; villas US$565-999) Home to state-of-the-art contemporary villas, this is the ultimate getaway for those wanting to really indulge. Three-bedroom villas include open-plan kitchens, private pools and flat-screen TVs. No detail is missed but this sybaritic experience certainly does have a premium price.