Can Tho possesses a bucolic and mild elegance of a river land with far-reaching green fields, laden fruit orchards, sweet lullabies, flickering "bà ba" shirt (a traditional shirt for women in the South) on twisting canals and thousands of bird wings eclipsed a part of the sky in Bang Lang stork sanctuary – a fascinating tourist destination in Thot Not, Can Tho.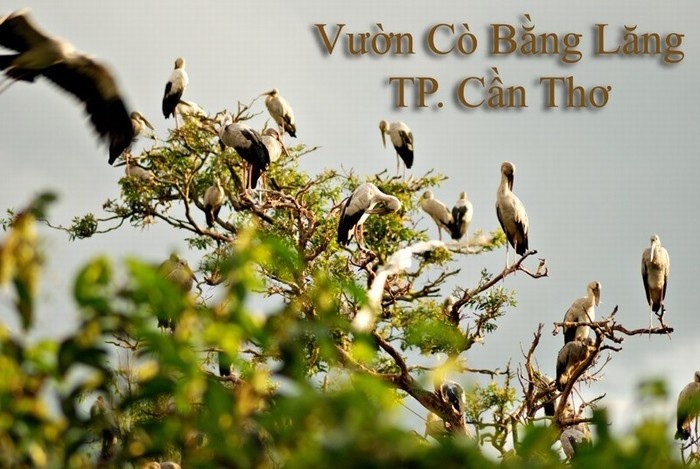 Bang Lang stork sanctuary – a fascinating eco-tourist attraction
1. A flat road directs to Bang Lang stork sanctuary
Bang Lang stork sanctuary is located in Thot Not District and 60 kilometers apart from Can Tho city. There are various choices to get here from Ho Chi Minh City. Tourists can take airplanes, buses, motorbikes to Can Tho city and then join a tour, take a "xe om" (motorbike service, like taxi) or a bus to the sanctuary through Highway 91 routine. From Bang Lang bridge, there is a small road leaded to the sanctuary, tourists can walk about 2 kilometers to the destination (or rent a bike or motorbike). If you go there during the floating season, you can have a chance to experience the feeling of sitting on a small boat to get in the sanctuary.
Highway 91 directs to Bang Lang stork sanctuary
Along the path, there are purple "Pride of India" plants with leaning old bamboo range shading for pedestrians, which creates a sense of peace and calmness.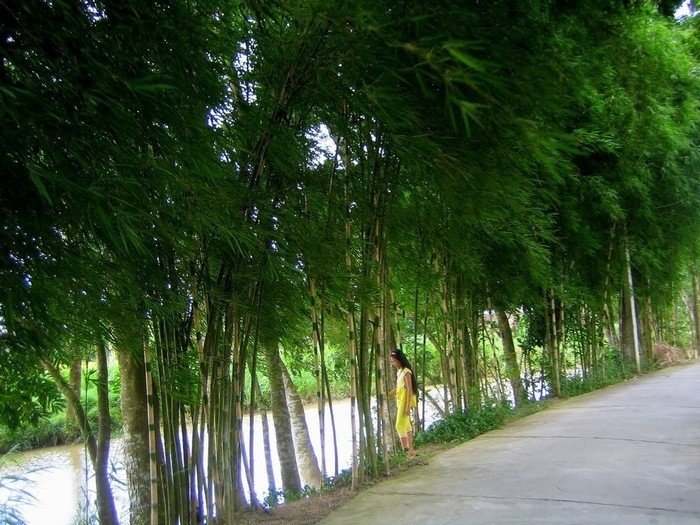 A path is shadowed by the green bamboo trees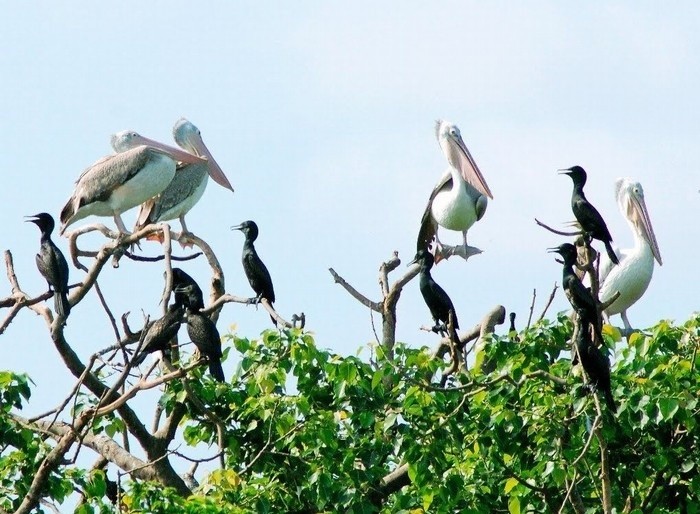 Bang Lang stork sanctuary appears like a lively painting
2. A sky filled with voluminous stork wings during the spawning season
Can Tho is an ideal place to attract birds. Bang Lang stork sanctuary has formed a wonderful area to attract birds from everywhere to fly here. To perceive the vibrant rhythm of the distinguishing syrinx in Bang Lang stork sanctuary, tourists should visit there during the spawning season: the period between November and February and from March to May if you want to see the cattle egret.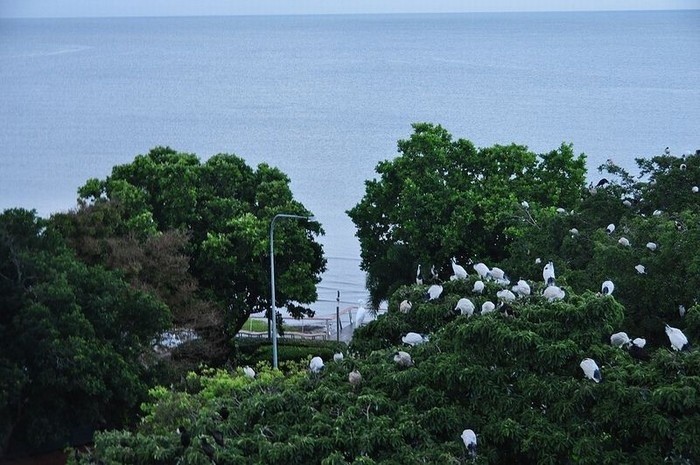 During the spawning season, flocks of birds gather here and build nests
Like bees work hard for the honey, the storks start their long journey early in the morning, from about 5 or 6 a.m, for food and only get home when the sun goes down. Hence, there are only two times of the day that you can witness the whole natural beauty that Bang Lang stork sanctuary: the time of dawn and twilight.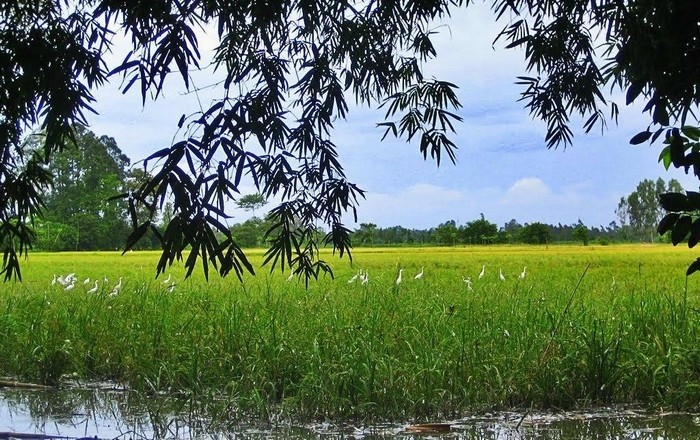 Storks start looking for food early in the morning
 3.An intense amusement with Bang Lang stork sanctuary scenery
Bang Lang stork sanctuary depicts the tranquil atmosphere of a river countryside in the Mekong Delta, from a road shadowed with green bamboo trees to 15-hectare forest with trees twining together and thousands of different birds make songs in the Southern sky.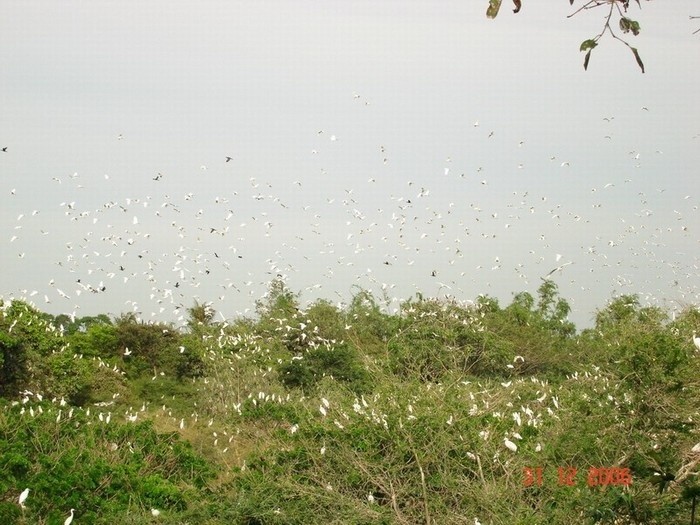 Loads of stork build nests on the giant crape-myrtle's canopies
With more than 300,000 diverse species: white-stork, cattle egret, striated heron, ibis, tit, heron, pelican, oriental darter, coucal and so on. Bang Lang sanctuary is a great home for those species living close-knit and together make their own songs, which would bewitch any tourists during their trip.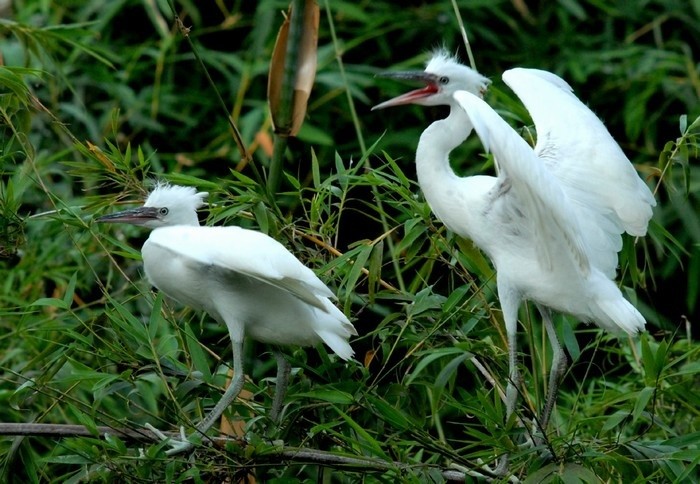 A close-up beauty of the storks in Bang Lang stork sanctuary
In the fuzzy slight mist or calm glowing sunset, the appearance of flocks of flamingoes flapping and gilding in the sky looks like a soft, lustrous silk flexibly streams in the wind. They show up a lively and spirited melody to awake the whole area. And then, when these sounds gradually sink and hide under the canopies, Bang Lang stork sanctuary returns to the taciturn, calm and peaceful look of a countryside.
4. Bang Lang stork sanctuary-a culture of the river life
The Southern Vietnamese people consider the stork as a symbol for their lives. During years by years, they are always busy for working, earning for living on the river all day long and then return to their home, their father's land after that. Storks usually forage in flock like in order to protect each other in any circumstances. According to the ancient Vietnamese notion, storks are faithful, hard-working and able to withstand any difficulties, just like the characteristics of the locals in the Mekong Delta. Hence, stork image is an indispensable feature if we want to describe the beauty of the Mekong Delta natives. This is also the reason that the eco-tourist destination-Bang Lang stork sanctuary is considered to be a fascinating attraction of vast green river land.
Stork-a typical symbol of Southern Vietnamese-a beauty of Vietnamese culture
However, at the present, Bang Lang stork sanctuary is at risk because of hunting problem of unaware people. This not only damage the ecosystem but also strongly alarm about the extinction of some endangered species. Thus, Bang Lang stork sanctuary is in a great need of support from authorities during the development process to minimize the risks and damages, let the birds freely fly in the sky and increase more in order to bring back a beautiful culture of the Mekong region.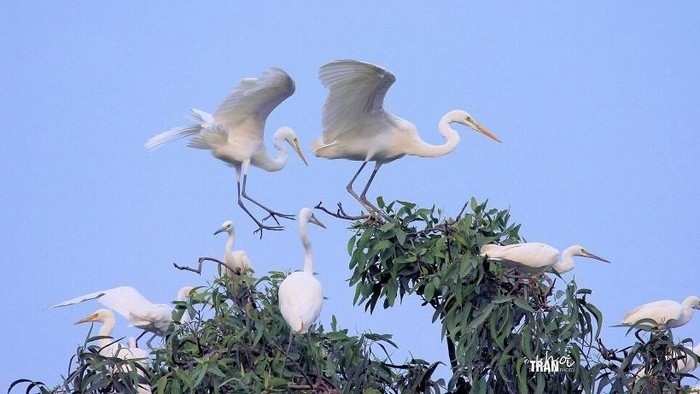 Bang Lang stork sanctuary is needed to be protected due to the unaware hunting problem
5. Basic accommodation for tourists
Visiting Can Tho, Bang Lang stork sanctuary is not the only destination for tourists. There are more exciting attractions awaiting you. Therefore, staying in the central of the city is the most reasonable choice for easy transports. Being a dynamic city of the Mekong Delta region, Can Tho has many high standard hotels for your solution, such as: Golf Can Tho hotel, Sai Gon-Can Tho hotel, International hotel, Tay Do hotel…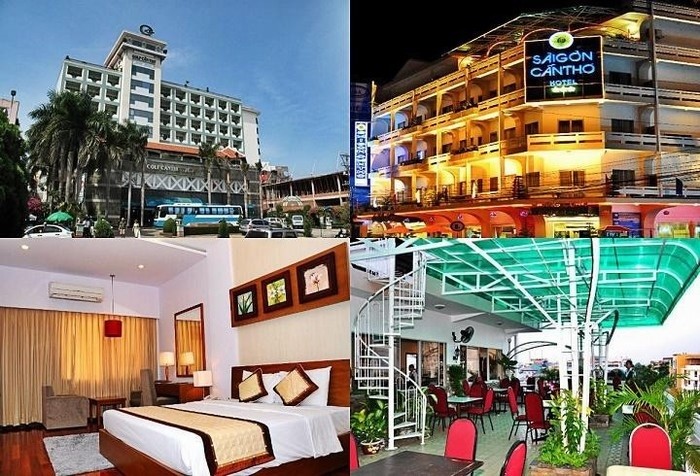 High standard and convenient hotels for tourists
Besides, there are a lot hostels with a reasonable price.
6. Revel in diverse specialties
Come to Bang Lang stork sanctuary, tourists cannot miss the opportunity to taste delicious dishes made from "thot not" fruit (toddy palm) such as: thot not juice, thot not jelly, "che" thot not (Vietnamese sweet dessert), banh bo thot not (chewy sweet sponge cake), jaggery… Tourists will perceive the mild sweetness melting in the tongue.
Specialties from thot not is a highlight
Besides, tourists should try other specialties from Can Tho, for example: grilled snakehead, "banh cong", Mekong Delta "banh xeo" (Vietnamese pancake), "che buoi" Can Tho,…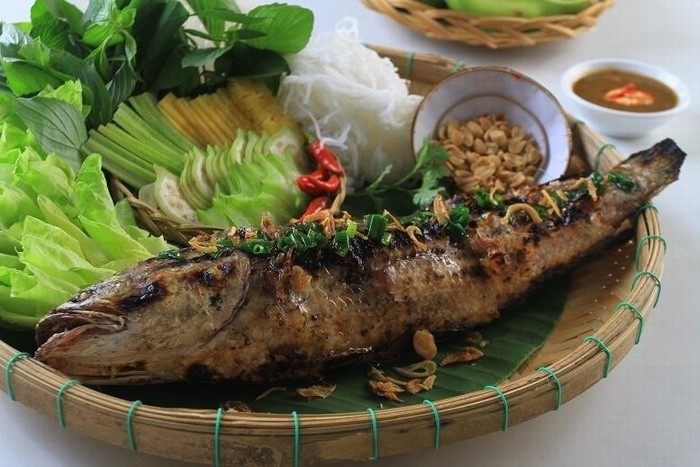 Grilled snakehead-one of the specialty here
7. Souvenir to memorize the trip
The Mekong culture is a distinct and multifarious culture and it also expresses through cuisine and souvenir. There are many choices for tourists due to the variety of products, for instance: ao dai ba ba, embroidery arts, jaggery, statues of famous landscape, khan ran (Vietnamese striped craft) and so on. You can easily find those products in the supermarkets in the city: Maximark Can Tho, Vinatex Plaza Can Tho, CitiMart Can Tho. However, you cannot forget fruit orchards-the best souvenir from the Mekong Delta.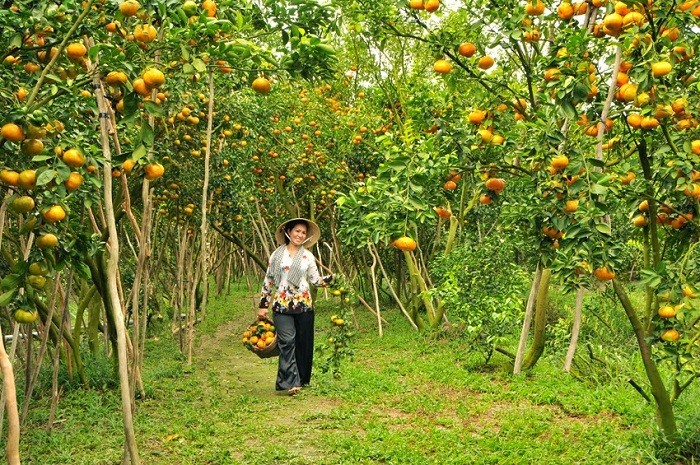 Fruits are the high spot among the Mekong specialty, including Can Tho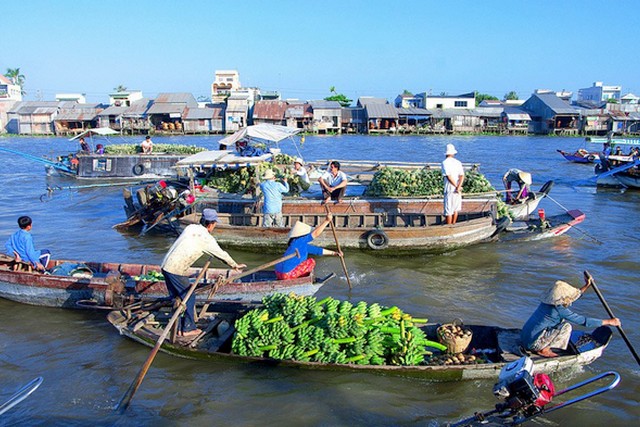 Cai Rang floating market is an advisable place for tourists to experience trading on the river
8. Cautions while visiting Bang Lang stork sanctuary
There are many overgrown plants crammed paths in Bang Lang stork sanctuary. Hence, tourists should wear long-sleeved shirt, pants, boots to avoid insects that may do harm to your health. Besides, take enough personal belonging, general medicine as well as treatment is never redundant because any accidents may happen at any time.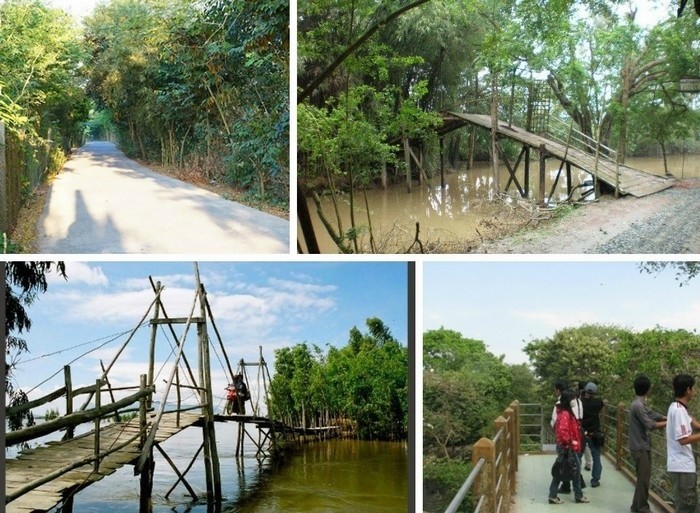 A journey to Bang Lang stork sanctuary
A bottle of water is also suggested to compensate for water loss and regulate body temperature during the trip.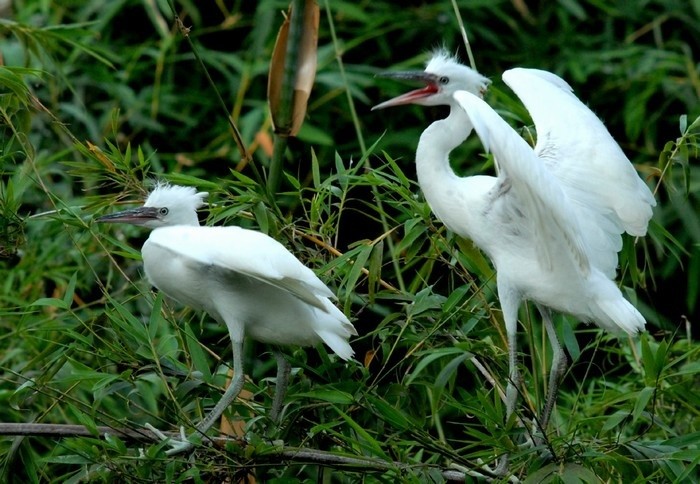 Capture the best moments in Bang Lang stork sanctuary
Bang Lang stork sanctuary with unsophisticated and peaceful beauty of Southern feature has become an astonishing green ecotourism. The destination is really suitable for those who love the poetic natural scenery of a serene countryside.