Kuy teav – an appetizing cuisine in the Mekong region
Immeasurable rivers, lush greenness of flourishing gardens, endless rice fields, delectable cuisine and 4-season fruits are all unforgettable impressions that the Mekong region leaves for everyone. The Mekong cuisine is well-known for its diversity and savory flavors.
Dishes such as "bánh cống" (Vietnamese deep fired cake), "bánh xèo" (Vietnamese pancake), "bún mắm" (rice noodles and fermented fish soup), "bún cá" (vermicelli and fish soup) and so on are all familiar dishes in the Mekong region and they have been commonly known and really enjoyed by other regions as well, especially Saigon.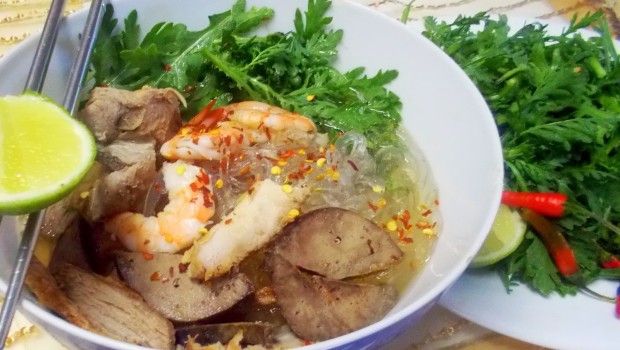 (An appetizing bowl of kuy teav)
Kuy Teav or Ka Tieu and also "hủ tiếu" in Vietnamese basically is a noodle soup of rice noodles with pork stock and toppings. This tasty food is generally used for breakfast in the Mekong region. Steamed Kuy Teav is thought to have originated from Phnom Penh (Cambodia). However, when it was introduced and interfered in the Southwest Vietnam, Kuy teav was transformed into "hủ tiếu", which has a typical flavor of Vietnamese cuisine, diverse toppings and ways to eat.
(Dried "hủ tiếu"with spicy taste is a great combination)
Steamed "hủ tiếu"is prepared with partially dry thin squarish rice noodles, which are fresh and chewy. The rice noodles are cooked by steaming in a stemmer, however, the noodles are only cooked just enough for one meal only per each time. If all noodles are cooked at once, the later meals will lose its taste. The dish is most suitable to use for breakfast.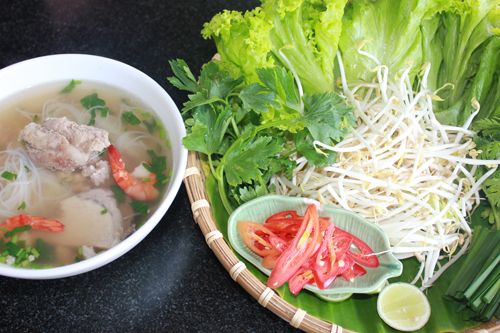 ("Hủ tiếu" looks more distinctively with a combination of sliced pork, boiled quail eggs, fried shallot, chilies, green onion)
Steamed "hủ tiếu" is usually eaten with boiled pork skin mixed with roasted rice, shredded pork, spring rolls or grilled pork, shumai (pork dumplings) or sometimes maybe grilled chicken for the variety. Besides, the dish cannot be completed without sliced cucumbers, herbs, bean sprouts, Vietnamese scallion garnish oil, and finely chopped chilies. For Vietnamese cuisine, fish sauce is an indispensable part for most of the foods and so does "hủ tiếu". The basic best recipe for Vietnamese fish sauce consists of fish sauce, sugar mixed with finely chopped garlic and chili, few drops of lemon juice and water. All of the ingredients are mixed in suitable ratios to create a harmonious and aromatic taste.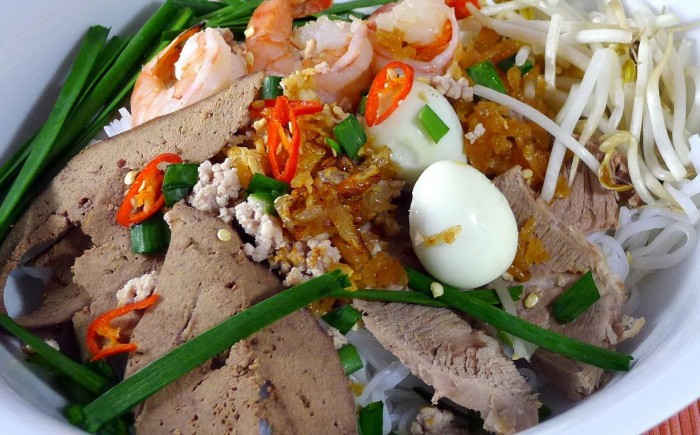 (Eat with vegetables)
Steamed "hủ tiếu" is usually presented on a plate. Pork skin with roasted rice, grilled pork with vegetables are put on the noodle, add some fish sauce and sprinkle a few roasted peanuts. Fish sauce can be added according to your flavor. Then, you just finely mix all the ingredients and enjoy. This special and delicious dish will delight you day.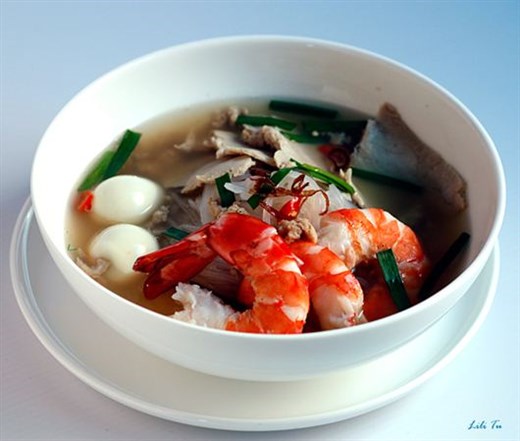 (A great breakfast)
Steamed "hủ tiếu" is sold a lot in Ha Tien Commune (address 41, Phuong Thanh street, Ha Tien Commune), Kien Giang Province, Thot Not market in Can Tho Province or Chau Doc market in An Giang and so on. However, you can hardly find steamed "hủ tiếu" in restaurants or some places like that.