Mekong Delta region always has an extraordinary appeal to wanderlusts, especially who loves to harmonize with immense rivers and orchards. Not only for international travelers, even Vietnamese from other regions who have ever taken a trip to Mekong Delta, the most superb thing to do here is visiting floating markets known for ages. A distinguishing activity only in Mekong Delta will definitely bring you a completely new and exciting moment ever. Let's take a tour with Daily Travel to feel that enjoyable experience on those floating markets.
Cai Rang floating market
None are bigger and more popular than Cai Rang floating market, which will fill you with wonder. The Cai Rang floating market is the largest wholesales floating market that sells typical specialties of the Mekong Delta. Located 6 km apart from Can Tho city, Cai Rang floating market is traded on Cai Rang river, near Cai Rang bridge. It takes at least 30 minutes from Ninh Kieu Wharf by boat to get there.
Can Rang floating market starts around 5 a.m and runs until around midday, which means that you will have to get an early start of the day if you want to observe most of the locals' life on the river.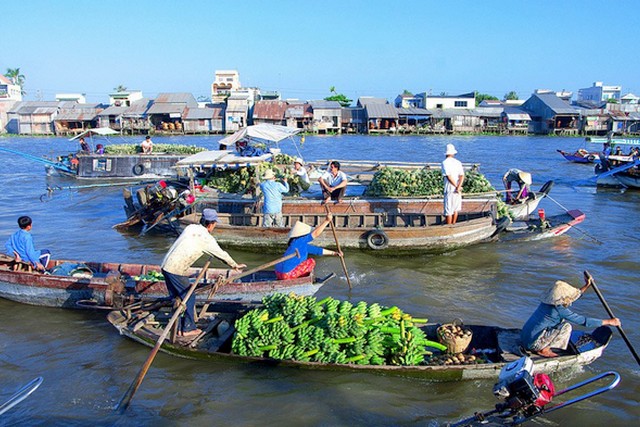 A stretch of boats selling all variety of goods lines the river is the site you will see when you reach there. Colorful flowers, fresh and plump fruits set on the boat look like welcoming buyers. You will get an idea of what water commerce in the Mekong Delta region looks like. The locals' life here is really busy and dynamic.
Cai Be floating market
Cai Be floating market is also one of the three largest floating markets in the Mekong Delta region, after Cai Rang floating market. The floating market belongs to Tien Giang land.
Different from Cai Rang floating market, Cai Be floating market is traded whole day. The busiest time is from midnight to early in the morning. One thing that not only make foreigners curious about but also amaze Vietnamese is how the boats identify what they are selling. By hanging a sample off the top of a long pole (Cay beo) is how the merchants do it.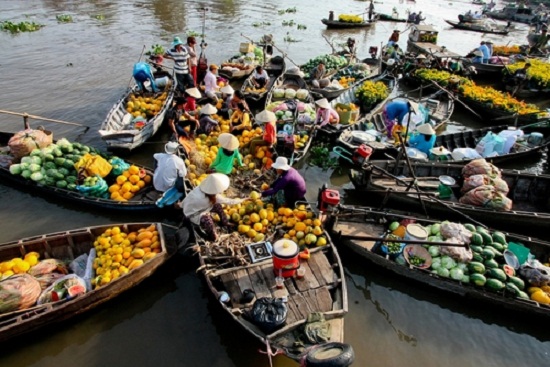 If you want to buy anything, simply scan the horizon for a hanging stuff you need. Sitting on the boat and floating down the river to observe Cai Be floating market, tourists can feel the fresh air above the river, a whispering wind while enjoy the exciting feeling when a wave comes.
Nga Nam floating market
In Vietnamese, "nga nam" means a place where 5 lines intersect. The name reveals the floating market's location. Nga Nam floating market is situated at the intersection of 5 rivers which flow towards 5 directions: Ca Mau, Vinh Quoi, Long My, Thanh Tri, Phung Hiep.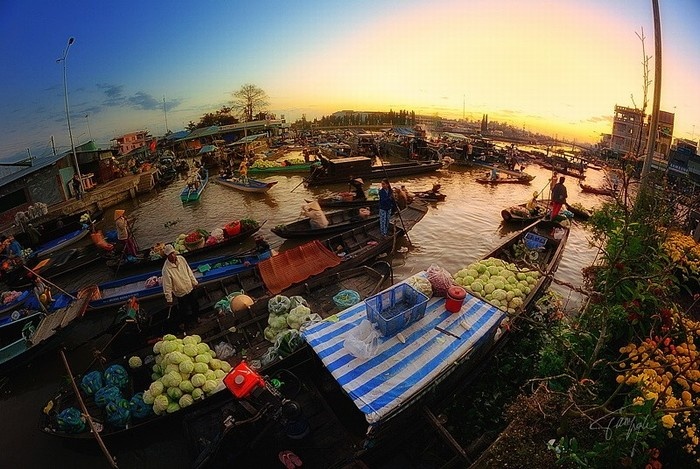 Nga Nam floating market is considered to be a highlight of Soc Trang province. The market still remains its original beauty after years. However, because of the difficulty in traffic, Nga Nam floating market is not able to welcome much travelers as other markets.
Phung Hiep floating market
Phung Hiep floating market belongs to Phung Hiep commune and it is 30 km apart to the south from Can Tho city. Most of floating markets start really early in the morning and Phung Hiep floating market is not an exception. At around 5 a.m, hundreds of boats gather here and trade in a bustle and dynamic atmosphere.
The floating market is also known for another name, "Nga Bay" floating market. The market is a general market. Numerous and all kinds of different typical Southern goods are available for both wholesale and retail. Tourists coming here will be enchanted by endless colors of fruits, vegetables and other domestic appliances for river life.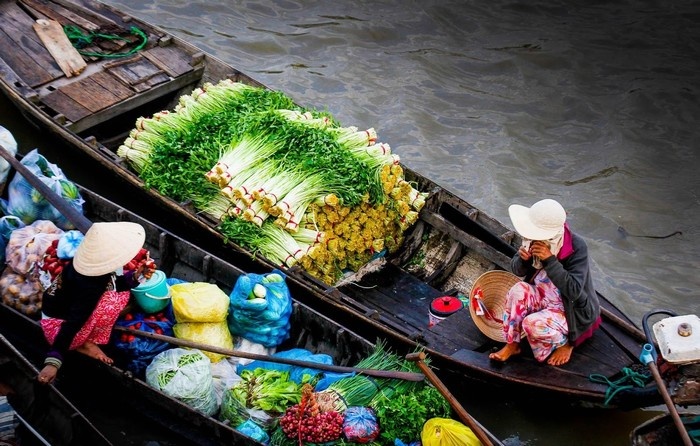 The floating market has been moved away 3km from the previous location due to the traffic. Besides visiting Phung Hiep floating market, tourists can also paddle down to small canals and observe the country side. You can easily see some kids smile and wave to welcome you in a hospital manner.
Each floating market has a distinguish feature. However, a general impression that they leave for tourists is the simplicity and hospitality of the locals. The floating markets – the distinctive beauty has been a unique sign of the Mekong Delta region. Hopefully, some suggestions above from Daily Travel could help you find more ideal destinations when visiting Mekong Delta.