Southwest is really rich with a lot of attractive villages near Tien River and Hau River. Recently, we spent three days on visiting some provinces in this place, visiting orchards and had a lot of fun.
Departing from Hochiminh city, after two hours, we went to the town of Cai Be (TienGiang). From here, the group started the voyages on ships. Boats skim the simple wooden house, friendly children with cheerful smiles waving to the guests. Friendliness and sociality are characteristics of the Westerner.
The cake factory of Mrs Nguyen Thi Moi was the first place we had visited. She scooped flour from plastic wash-tub and pouredthem into two pans "Banh giay", yellow sphere cakes, round golden brown potato cakes, flecked sesamelooked very attractive. Sheinvited guests to taste the cake. Cakes were hot, crispy rum, quickly dissolves in the mouth, leaving asweet taste of sugar, fat taste of coconut water and aroma of vanilla, of sesame.
When visiting the grilled rice factory of Mr Pham Van Ho, we had the opportunity to see Mr Ba working. With only two cans of sticky rice, after roasting with hot sand, grain explodes into a white basket of rice crispies. After sieving sand and rice husk, they are added coconut milk and then molded, cut into pieces of rectangles.
Coconut candy factory of Mr Tran Van Minh lies on a small branch of Tien River. In order to make coconut candy, we have to have coconut milk. Firstly, coconut milk is heated in the pan until it thickens and then pouring itinto a tray to dry, cutting into pieces, wrapping and bagging.
At each facility, guests are invited to use the products, listen to homeowners tell things or the stage they have passed. That's how simple marketing to any body also can buy some bags of candy or grilled rice
In the afternoon, we went to "banh trang" villages near Hau river. We have eaten them many times before but perhaps this is the first time we see the beautiful girl seat near the oven. I want to try to do, the young girl named Utsmiled: "It is not really easy to make. Make sure the cake just cooked, not pitting and smooth".
Middle of the day, taking a rest at An Binh Island. Meals are served under the shade of the treewith a lot of fruits. After lunch, guests can lie back on the hammock in the garden, just swinging just hear birds singing. Others are cycling (free) to go around. Because of durian season, both space is fragrant. Durian is ripe, yellow, and sweet. Our group are really excited when enjoying them.
The village of fish-cage and the village of Cham brocade are also attractive destinations. We have never seen so many fishes and such a beautiful brocade. The graceful girl sitting near the loom and the sound of murmur and immense river scenes in the sunset were unforgettable memories.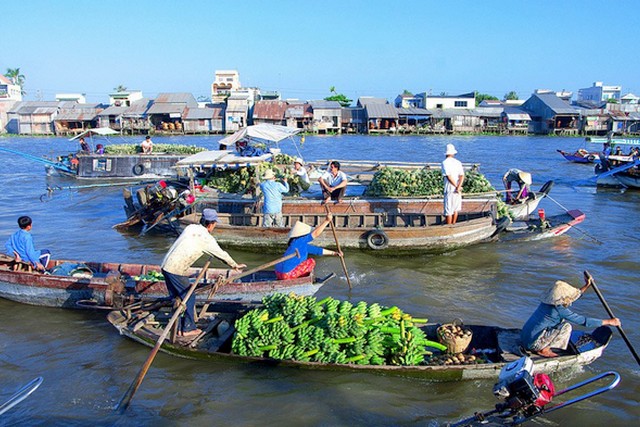 Cai Rang Floating Market is around 5km away from Can Tho. The boats are full of multicolored fruits, green vegetables beans on the river, forming market. How to introduce the products here are quite attractive: a pole, plugged at the first boat and hang product onto it. Looking at this you will know what the boat sell: gourd, cucumber, onions, cassava, sweet potatoes.
Besides, going for a walk in the streets under the orchards or having lunch on the canoe, watching dense forests. The riverside could bring a sense of enjoyment and peace for travellers.