Lang Co is an attractive island-like stretch of palm-shaded white sand, with a crystal-clear, turquoise lagoon on one side and 10km of beachfront on the other. As a beach resort it's more geared to Vietnamese day trippers than Western travellers, but if the weather's nice the ocean is certainly inviting (if you stay away from the central section, which could be cleaner).
High season is April to July. From late August till November rains are frequent, and from December to March it can get chilly.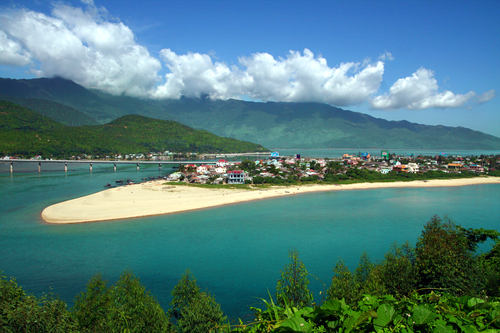 Most of the accommodation is north of the town along the highway.
Chi Na Guesthouse GUEST HOUSE $
( 054-387 4597; s/d 170,000/200,000d) One of several clean, basic guesthouses north of the centre, but here the family speaks a little English. Rooms are ageing but serviceable.
( 054-381 9397; www.vedanalagoon.com; Phu Loc; bungalows/villas from US$125/175) Combining contemporary chic with natural materials, this remote but commodious spa hotel has gorgeous villas and bungalows that boast thatched roofs, modish furnishings and outdoor bathrooms. Some have private pools, others jut over the lagoon to maximise the views. The complex includes a wonderful wellness centre (for t'ai chi and yoga classes). Vedana is 15km north of Lang Co.
(meals 50,000-100,000d;  7am-9pm) The best seafood restaurant on the north side of Lang Co, and has a lagoon (instead of highway and rumbling trucks) view. Try the lemon pepper squid or spicy clams with lemongrass.
Lang Co is on the north side of the Hai Van Tunnel and Danang.
Lang Co's train station ( 054-387 4423) is 3km from the beach, in the direction of the lagoon. Getting a xe om to the beach shouldn't be difficult. The train journey from here to Danang (41,000d, 1½ to two hours, five daily) is one of the most spectacular in Vietnam. Services also connect to Hue (53,000d, 1½ to two hours, four daily).