Preparing the plan to visit Ben Tre
Ben Tre is a province in the Mekong Delta so it has many canals and vast coconut groves. Departing from Hochiminh City, travelling about 85 km, crossing My Tho and Rach Mieu bridge, visitors will come to Ben Tre. Due to its location near Hochiminh City, Ben Tre is a surprise choice for the travel for 2 days and 1 night on the occasion of the upcoming 2/9.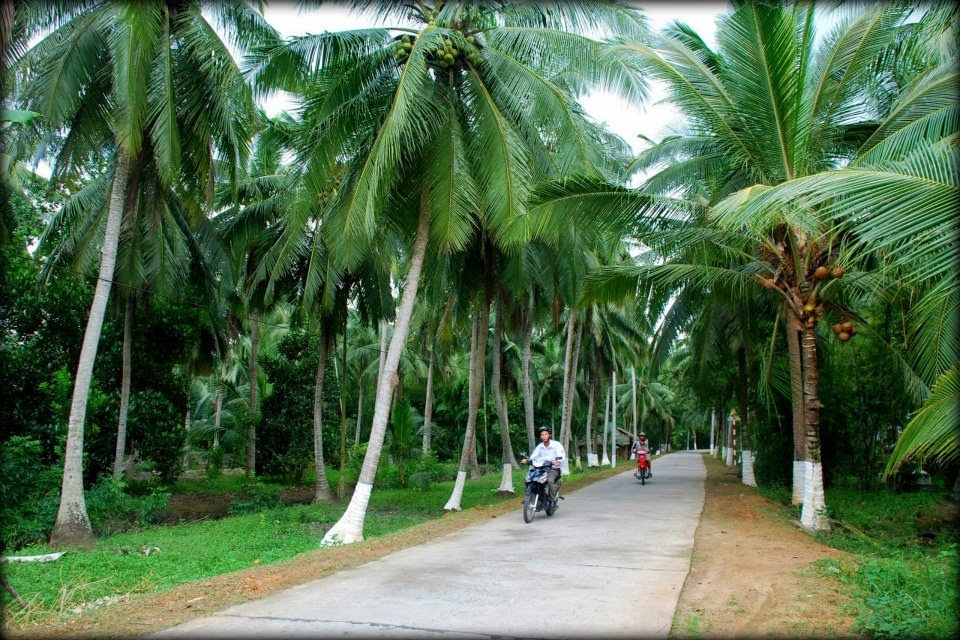 How to go to Ben Tre?
You can come to Western bus station to buy tickets, the price ranged from 80,000 to 120,000 VND and only 1.5-2 hours is you have to get to Ben Tre.
Besides, you can choose to travel by motorcycle to ẹnoy the scenery and take photograph. If you go by motorbike, 4:30 a.m is possible to avoid traffic jams.
What you can do or play in Ben Tre?
There are 4 wonderful places in Ben Tre: Long, Lan, Quy, Phung, however the most interesting place is Phung. You will enjoy the life by travelling by boat and canoe. General characteristics of four places are the roads with luxuriant orchards. When you come here, you buy tickets to enter the garden and eat fruits and buy as a gift.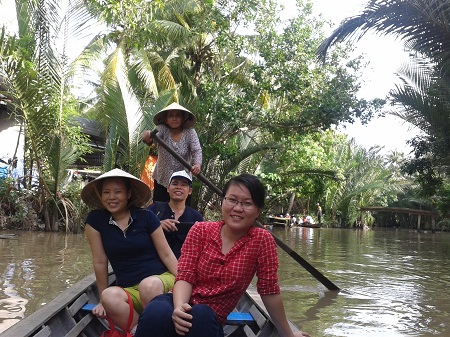 Most visitors visit the tomb of the patriotic poet, Mr Nguyen Dinh Chieu. People in there built it to memorate him, like a pride of place has generated great national poet.
After a day out to visit the tomb Con Phung and Nguyen Dinh Chieu tool, you can enter a roadside teahouses, called a cold coconut, lie back on a hammock to enjoy the open space and contemplation dusk Ben Tre river water
See more: Mekong Delta Tours
In the evening you can visit Truc Giang lake and walk along the lakeshore. Truc Giang is located in the center of Ben Tre. Water in Truc Giang is really fresh and surrounded by a system of trees, flowers creating a green space for the city. Particularly you can enoy the night market in Ben Tre which is very crowded. That is really interesting.
What things you can buy in Ben Tre?
Ben Tre is famous for coconut especially coconut candy. Besides coconut candy, you can also buy the other coconut products like coconut oil, coconut soap, coconut wine, coconut jelly. Rambutan, custard apple, mango, sweetmeats, pineapple, grapefruit… are the gifts of Ben Tre you can buy as a special gift to give everyone.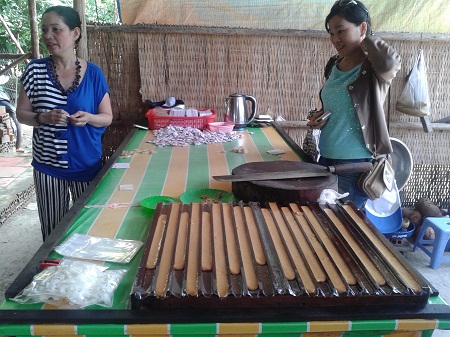 Going to Ben Tre, you will have a wonderful time with your friends or your relatives so keeping on with Ben Tre to experience the life in the countryside.