The eponymous capital of Quang Ngai province is something of an overgrown village with no obvious attractions, so most visitors only drop by for a spot of grazing at lunchtime. The few travellers who venture here come to pay their respects to the victims of the most famous atrocity of the American War. Perhaps it's the sombre mood induced by the memorial that has caused tourists to overlook one of Vietnam's less celebrated beaches, My Khe, just a couple of kilometres away.
Even before WWII, Quang Ngai was an important centre of resistance against the French. During the Franco–Viet Minh War, the area was a Viet Minh stronghold. In 1962 the South Vietnamese government introduced its ill-fated Strategic Hamlets Program. Villagers were forcibly removed from their homes and resettled in fortified hamlets, infuriating and alienating the local population and increasing popular support for the Viet Cong (VC). Some of the most bitter fighting of the American War took place here.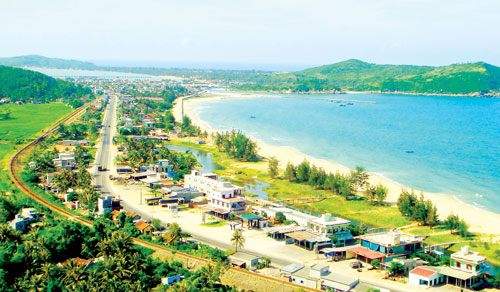 The beach at nearby My Khe is temptingly close and has a good accommodation option.
Hung Vuong Hotel HOTEL $
( 055-381 8828; 33 Ð Hung Vuong; r 200,000-280,000d) For a good-value budget bed, this is one of best cheapies in town, though the friendly family owners speak little English. The higher-priced rooms are almost quads.
( 055-382 9999; www.centralhotel.com.vn; 1 Ð Le Loi; r US$40-85) Four-star hotel where the standard rooms have shower only, but the VIP rooms have huge bath-tubs. Extra touches include a spa/massage centre, tennis court and a pool that is verging on Olympic sized.
( 055-382 2665; www.petrosetco.com.vn; 2 Ð Quang Trung; r US$52-66) This is the town's fancy dan residence, a riverside landmark complete with an opulent chandelier-heavy lobby and smart rooms, many with sweeping views.
Quang Ngai province is famous for com ga : boiled chicken over yellow rice (steamed with chicken broth) with mint, egg soup and pickled vegetables. You'll find com ga restaurants all over town. Locals tend to eat it with a spoon, so don't stress about struggling with the chopsticks.
(13 Ð Quang Trung; dishes 20,000-30,000d, set menu 35,000d;  7am-9pm) A simple, inexpensive place on busy Quang Trung that specialises in stews (including ribs, chicken, fish and pork) as well as seafood. It's half a block from the river.
(23 Ð Hung Vuong; mains 27,000-80,000d;  7.30am-8.45pm) This ever-popular restaurant been in business since 1943, has good Vietnamese food, an English menu and a friendly owner.
(474 Ð Quang Trung; meals 25,000-40,000d;  7.30am-9pm) Nhung 1 is a bustling eatery on the main drag. Famous for com ga.
THE LONG WALL OF VIETNAM
Stretching some 127km through the hinterlands of Quang Ngai and Binh Dinh provinces, the 'Long Wall of Vietnam' was only announced to the world in early 2011. Less the Great Wall of China and more Hadrian's Wall in the UK, this historic structure is now considered the longest monument in Southeast Asia. The wall runs roughly north to south, roughly paralleling the central Vietnamese coastline.
Back in 2005, Dr Andrew Hardy, head of the École Française d'Extrême Orient (EFEO) in Hanoi, discovered reference to the wall in an 1885 manuscript. Built in 1819, it was believed to have been a collaborative effort between lowland Viet people and highland Tre people to regulate trade and exact taxes. It was declared a National Heritage Site in March 2011 and there have been talks to develop tourism along the route, in consultation with English Heritage.
Sections of the wall are still in good condition, reaching up to 4 metres in height. However, there are currently no organised tours to the wall and no trained guides to introduce its history. The best chance of visiting the Long Wall of Vietnam is to talk to experienced Easy Riders in Hoi An, Nha Trang, Mui Ne or Dalat and ask them to incorporate it into an off-the-beaten-track itinerary. Parts of the wall are around 15km from the town of Quang Ngai. Some signs have been erected to help drivers locate some of most impressive parts. Two are in Ba Dong Commune (Ba To District) and another two are in Hanh Dung Commune (Nghia Hanh District).
Air
The nearest airport is Chu Lai (VCL), 36km north of Quang Ngai; it's sometimes still called Tam Ky airport, its old name. Vietnam Airlines (www.vietnamairlines.com.vn) has flights from Chu Lai to Hanoi from 820,000d, and to HCMC from around 1,380,000d. A taxi here is around 380,000d.
Bus
Quang Ngai bus station (Ð Le Thanh Ton) is situated to the south of the centre, 50m east of Ð Quang Trung. Regular buses head to all the major stops on Hwy 1, including Danang (from 40,000d, two hours) and Quy Nhon (from 75,000d, 3½ hours). Open-tour buses can drop off here, but pick-ups are harder to arrange.
Car & Motorbike
By road from Quang Ngai, it's 100km to Hoi An, 174km to Quy Nhon and 412km to Nha Trang.
Train
Trains stop at Quang Ngai Train Station (Ga Quang Nghia;  055 382 0280; 204 Ð Nguyen Chi Thanh), 1.5km west of the town centre. Destinations include Danang (81,000d, three hours), Quy Nhon (102,000d, five hours) and Nha Trang (258,000d, seven hours).