Sights
 Angkor National Museum 
( 063-966601; www.angkornationalmuseum.com; 968 Charles de Gaulle Blvd; adult/child under 1.2m US$12/6; 8.30am-6pm, to 6.30pm 1 Oct-30 Apr) A worthwhile introduction to the glories of the Khmer empire, this state-of-the-art museum helps define Angkor's historic, religious and cultural significance. Displays include 1500 exquisite stone carvings and artefacts.
Les Chantiers Écoles ARTISANAL SCHOOL
(www.artisansdangkor.com;  7.30am-5.30pm, silk farm 7am-5pm) Les Chantiers Écoles is a school specialising in teaching wood- and stone-carving techniques, traditional silk painting, lacquerware and more to impoverished youngsters. Free guided tours are available daily to learn more about traditional techniques. There is also a beautiful shop called Artisans d'Angkor.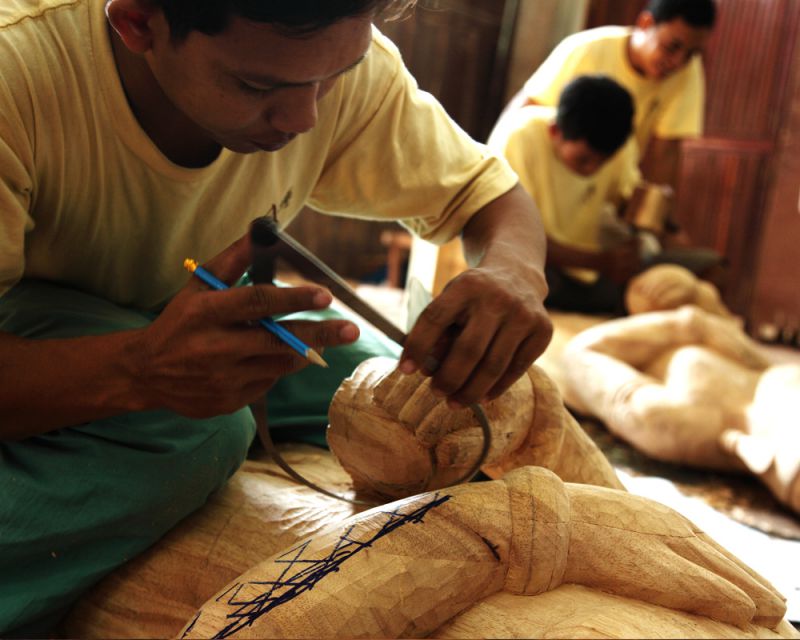 Les Chantiers Écoles also maintains a silk farm, where all stages of the production process can be seen. Free tours are available daily; a free shuttle bus departs from Les Chantiers Écoles at 9.30am and 1.30pm. The farm is about 16km west of Siem Reap.
Cambodian Cultural Village
(063-963836; www.cambodianculturalvillage.com; Airport Rd; adult/child under 1.1m US$9/free; 8am-7pm) It may be kitsch, it may be kooky, but it's very popular with Cambodians and provides a diversion for families with children. This place tries to represent all of Cambodia in a whirlwind tour of re-created houses and villages. There are dance shows and performances throughout the day, but it still doesn't attract many foreign visitors.
 Activities
There is an incredible array of activities on offer in Siem Reap.
Angkor Golf Resort 
( 063-761139; www.angkor-golf.com; green fees US$115) This world-class course was designed by celebrated British golfer Nick Faldo. Fees rise to US$175 with clubs, caddies, carts and all.
Angkor Palm COOKING COURSE
(Pithnou St; per person US$12) Informal cooking classes held from 8am to 5pm.
Bodia Spa 
( 063-761593; www.bodia-spa.com; Pithnou St;  10am-midnight) Sophisticated spa near the Psar Chaa area offering a full range of scrubs, rubs and natural remedies, including its own line of herbal products.
Off Track BICYCLE TOUR
( 093-903024; www.kko-cambodia.org; tour US$35-40)  Good-cause cycling tours around the paths of Angkor or into the countryside beyond the Western Baray. Proceeds go towards the Khmer for Khmer Organisation, which supports education and vocational training.
Quad Adventure Cambodia QUAD BIKING
( 092-787216; www.quad-adventure-cambodia.com; sunset ride US$30, full day US$170) All-terrain rides around Siem Reap take in rice fields at sunset, pretty temples and back roads through traditional villages where children wave and shout.
 Sleeping
Siem Reap offers everything from US$3 shacks with shared toilets to five-star luxury palaces.
 Ivy Guesthouse 2  $
( 012-800860; www.ivy-guesthouse.com; r US$6-15) An inviting guesthouse with a chill-out area and bar, the Ivy is a lively place to stay. The restaurant is as good as it gets among the guesthouses in town, with a huge vegetarian selection.
Shadow of Angkor Guesthouse  $
( 063-964774; www.shadowofangkor.com; 353 Pokambor Ave; r US$15-25) In a grand old French-era building overlooking the river, this friendly, 15-room place offers affordable air-con rooms in a superb setting. The newer annex across the river includes a swimming pool.
Downtown Siem Reap Hostel  $
( 012 675881; www.downtownsiemreaphostel.hostel.com; Wat Damnak area; dm US$4-6, r US$13-17) Also known as Bamboo Garden, this hostel has enticing rates given there is a small pool in the garden. Outside visitors can use the pool with a US$6 spend on food and drink.
Seven Candles Guesthouse $
( 963380; www.sevencandlesguesthouse.com; 307 Wat Bo Rd; r US$10-20)  A good-cause guesthouse: its profits help a local foundation that seeks to promote education to rural communities. Rooms include hot water, TV and fridge.
 HanumanAlaya BOUTIQUE HOTEL $$
( 063-760582; www.hanumanalaya.com; r US$60-100) A blissful boutique retreat, HanumanAlaya is set around a lush garden and pretty swimming pool. Rooms are decorated with antiques and handicrafts but include modern touches such as cable TV, minibar and safe.
Soria Moria Hotel  $$
( 063-964768; www.thesoriamoria.com; Wat Bo Rd; r US$39-63; )  A hotel with a heart, promoting local causes to help the community, this boutique place has attractive rooms with smart bathroom fittings. Fusion restaurant downstairs, sky hot tub upstairs and a new pool.
Steung Siem Reap Hotel $$
( 063-965167; www.steungsiemreaphotel.com; near Psar Chaa; r from US$63) In keeping with the French-colonial air around Psar Chaa, this hotel has high ceilings, louvre shutters and wrought-iron balconies. Three-star rooms feature smart wooden trim. The location is hard to beat.
Golden Banana BOUTIQUE HOTEL $$
( 063-761259; 063-766655; www.golden-banana.com; B&B r US$22-31, boutique r US$55-136) Prepare for some confusion, as this is Siem Reap's Banana Republic. There are now four Golden Bananas occupying this crossroad near Wat Damnak, including the original B&B and a high-rise hotel, plus two boutique hotels under different ownership. All are gay-friendly.
 La Résidence d'Angkor BOUTIQUE RESORT $$$
( 063-963390; www.residencedangkor.com; Stung Siem Reap St; r from US$280) The 54 wood-appointed rooms, among the most tasteful and inviting in town, come with verandas and huge jacuzzi-sized tubs. The gorgeous swimming pool is perfect for laps. Check out the sumptuous Kong Kea Spa.
Shinta Mani BOUTIQUE RESORT $$$
( 063-761998; www.shintamani.com; Oum Khun St; r US$83-230; )  Contemporary chic designed by renowned architect Bill Bensley, Shinta Mani Resort offers an inviting central pool, while Shinta Mani Club offers more exclusive rooms. Shinta Mani has won several international awards for responsible tourism practices.
CAMBODIA ONLINE
Andy's Cambodia (www.blog.andybrouwer.co.uk) A great gateway to all things Cambodian, it includes regular Cambodian travel articles.
ConCERT (www.concertcambodia.org) Siem Reap–based organisation 'connecting communities, environment and responsible tourism'.
Lonely Planet (www.lonelyplanet.com/cambodia) Information on travelling to and within Cambodia, the Thorn Tree Travel Forum and up-to-date travel news.
Phnom Penh Post (www.phnompenhpost.com) The online version of Cambodia's newspaper.
Sam Vesna Center (www.samveasna.org) The best source of information on sustainable visits to Cambodia's world-class bird sanctuaries.
 Eating
Worthy restaurants are sprinkled all around town but Siem Reap's culinary heart is the Psar Chaa area, whose focal point, the Alley, is literally lined with mellow eateries offering great atmosphere.
There are some good restaurants that support worthy causes or help train Cambodia's future hospitality staff with a subsidised ticket into the tourism industry.
For self-caterers, markets have fruit and vegies. Angkor Market (Sivatha St) can supply international treats such as olives and cheeses.
 Marum RESTAURANT $
(www.marum-restaurant.org; Wat Polanka area; mains US$3.25-6.75;  11am-10pm Mon-Sat)  Set in a delightful wooden house with a spacious garden, menu highlights include red-tree ant fritters and ginger basil meatballs. Part of the Tree Alliance group of training restaurants, this experience is a must.
Haven FUSION $
( 078-342404; www.haven-cambodia.com; Sok San St; mains US$3-7;  11am-10pm)  Dine here for the best of East meets West. The fish fillet with green mango is particularly zesty. Proceeds help young adult orphans make the step from institution to employment.
Blossom Cafe  $
(www.blossomcakes.org; St 6; cupcakes US$1.50;  10am-5pm Mon-Sat; )  Cupcakes are elevated to an art form here, with an incredible rotating 48 flavours. Creative coffees, teas and juices are available. Profits assist Cambodian women in vocational training.
Blue Pumpkin INTERNATIONAL $
(http://tbpumpkin.com; Pithnou St; mains US$2-6;  6am-10pm) Downstairs it could be any old cafe, albeit with a delightful selection of cakes, breads and homemade ice cream. Upstairs is another world of white minimalism, with day beds to lounge on. It has light bites, great sandwiches, filling specials and divine shakes.
Sugar Palm CAMBODIAN $$
(www.sugarpalmrestaurant.com; Taphul St; mains US$5-9;  11.30am-3pm & 5.30-10pm Mon-Sat) Set in a beautiful wooden house, this is the place to sample traditional flavours infused with herbs and spices. Owner Kethana showed celebrity chef Gordon Ramsay how to prepare amoc.
Le Tigre de Papier INTERNATIONAL $$
(www.letigredepapier.com; Pub St; mains US$2-9;  24hr) One of the best all-rounders in Siem Reap, the popular Tigre serves up authentic Khmer food, great Italian dishes and a selection of favourites from most other corners of the globe.
Cambodian BBQ BARBECUE $$
(www.angkorw.com; The Alley; mains US$5-9;  11am-11pm) Crocodile, snake, ostrich and kangaroo meat add an exotic twist to the traditional phnom pleung (hill of fire) grills. It has spawned a dozen or more copycats in the surrounding streets, many of which offer discount specials.
Chamkar VEGETARIAN $$
(www.chamkar-vegetarian.com; The Alley; mains US$4-8;  11am-11pm, closed lunch Sun) The name translates as 'farm' and the menu here includes some impressive Asian flavours, such as stuffed pumpkin or vegetable kebabs in black pepper sauce.
Le Malraux FRENCH, ASIAN $$
(www.le-malraux-siem-reap.com; Sivatha St; mains US$5-15; 7am-midnight) A good spot for gastronomes, this classy art-deco cafe-restaurant offers fine French food. Try the combination salmon tartar and carpaccio to start, followed by a quality cut from the selection of steaks.
 Cuisine Wat Damnak CAMBODIAN $$$
(www.cuisinewatdamnak.com; Sivatha Blvd; 5-course menu US$22, 6-course menu US$26;  dinner) Set in a traditional wooden house, this is the highly regarded restaurant from Siem Reap celeb chef Johannes Rivieres. Seasonal set menus focus on market-fresh ingredients and change weekly.
VIETNAM–CAMBODIA RELATIONS
Entering Cambodia from Vietnam is a leap from a powerhouse economy into one of Southeast Asia's poorest nations. Though chaotic, Ho Chi Minh City (Ho Chi Minh city) and Hanoi feel downright urban and orderly compared to less-developed Siem Reap.
As any proud Cambodian might tell you, Vietnam wasn't always economically superior. Cambodia's Khmer empire once controlled much of mainland Southeast Asia, including the ports of Saigon. By the 1800s, however, Vietnam's political dominance was established and Cambodia came under its influence.
The French later occupied both countries but favoured Vietnamese workers and bureaucrats. Though the colonialists were driven out in 1954, the 20th century's latter half brought more war – this time proxy conflicts fed by China, the US and the Soviet Union. During the American War – in a period when Cambodia was backed by the US – American planes heavily bombed its countryside to wipe out communist guerrillas. This didn't work. A sect of hardline China-backed communists, the Khmer Rouge, overran the weak US-allied government in 1975 to found a Communist regime that went on to become one of the most notorious dictatorships of the 20th century.
By 1975 both Vietnam and Cambodia had birthed communist independence movements. But despite their ideological kinship, the ancient feud didn't die, and in the late 1970s Cambodia's Khmer Rouge under Pol Pot attempted to retake land lost to Vietnam centuries before, beginning with Phu Quoc Island and later mounting a series of short-lived invasions in Vietnam's Dong Thap province. The Vietnamese responded by invading and occupying Cambodia for a decade and installing supplicant Cambodian leaders. Many of the same individuals remain in power in Cambodia today.
Leaders in both countries now speak of brotherhood between the nations, but you may hear regular Cambodians on the street speaking of Vietnam as the bully next door, and Vietnamese colloquially speaking of Cambodia as a 'little brother'. Despite this sibling rivalry, Cambodia and Vietnam share plenty of cultural common ground. Gesturing with feet, for example, is taboo. Elders are revered. Both cultures prefer to tiptoe around social confrontation, and angry outbursts are regarded as a lapse into insanity.
Differences in the home, however, are more pronounced. Swayed by Confucianism, many Vietnamese worship long-dead ancestors. Cambodians usually honour only their immediate family. Vietnam's 'two-child' laws have also kept families smaller than those in Cambodia, where more children mean more hands to support the family.
In contrast to the go-getter vibe in HCMC and Hanoi, Siem Reap still oozes laid-back warmth, but Cambodia is slowly becoming more like its rival. Visitors expecting a crumbling backwater will be taken aback by Siem Reap's deluxe new resorts and chic lounges. Though you'll still hear roosters crowing, you might also find a KFC up the block.
On the street, the ever-growing tourism wave is exposing all walks of Cambodian life to outsiders. Though Cambodians openly grumble about Vietnam, the kingdom is following in its footsteps: shaking off a tragic past, welcoming global trade and sprouting office towers from a sea of tin-roof shacks. Vietnam may think of Cambodia as a 'little brother', but it must concede its sibling is growing by the day.
By Patrick Winn – Southeast Asia Correspondent, Global Post
 Drinking
Siem Reap is now firmly on Southeast Asia's nightlife map, with many of the most interesting places situated in the vicinity of Psar Chaa, on or near Pub St.
Miss Wong COCKTAIL LOUNGE
(The Lane; 5pm-late) Miss Wong carries you back to the chic of 1920s Shanghai. The cocktails are a draw here, making it a cool place to while away an evening. Gay-friendly and extremely popular with the well-heeled expat crowd.
Asana BAR
(www.asana-cambodia.com; The Lane;  11am-late ) Also known as the wooden house, this traditional Cambodian countryside dwelling, dropped into the backstreets of Siem Reap, makes for an atmospheric place to imbibe.
Warehouse BAR
(Pithnou St; 10.30am-3am) This lively bar opposite Psar Chaa has long been popular with resident expats and travellers in Siem Reap. Top tunes, table football, a pool table and devilish drinks keep them coming until the early hours.
Laundry Bar BAR, NIGHTCLUB
( 4pm-late) One of the most alluring bars in town thanks to low lighting and discerning decor, this is the place to come for electronica and ambient sounds. It heaves on weekends or when guest DJs crank up the volume. Happy hour until 9pm.
Mezze Bar BAR
(mezzebarsiemreap.com; St 11;  6pm-late) One of the hippest bars in Siem Reap, Mezze is located above the madness that surrounds Pub St. Ascend the stairs to a contemporary lounge bar complete with original art and regular DJs.
CAMBODIA FAST FACTS
Area 181,035 sq km
Border Crossings with Vietnam Eight
Capital Phnom Penh
Country Code  855
Head of State King Sihamoni
Population 15 million
Money US$1 = 4000r (riel)
National Holiday Chaul Chnam or Khmer New Year, mid-April
Phrases sua s'dei (hello), lia suhn hao-y (goodbye), aw kohn (thank you)
 Entertainment
Classical dance shows take place all over town, but there are only a few worth considering.
Apsara Theatre DANCE
( 063-963561; www.angkorvillage.com/theatre.php; admission US$25) The setting is a striking wooden pavilion finished in the style of a wat, but the set menu is less inspiring. There are two shows per night and it's packed to the rafters with tour groups.
Temple Club DANCE
(Pub St) Free traditional dance show upstairs from 7.30pm, providing punters order some food and drink from the very reasonably priced menu.
DON'T MISS
Roll Up, Roll Up, the Circus Has Come to Town
Cambodia's answer to Cirque du Soleil, Phare (The Cambodian Circus;  015 499480; www.pharecambodiancircus.org; behind Angkor National Museum; adult/child US$15/8, premium seats US$35/18;  7.30pm daily) is so much more than a conventional circus, with an emphasis on performance art. Cambodia's leading circus, theatre and performing arts organisation Phare Ponleu Selpak opened its big top for nightly shows in 2013 and several past stars have gone on to perform in international shows around the world. An inspiring night out for adults and children alike, Phare reinvests all proceeds into Phare Ponleu Selpak activities. Animal lovers will be pleased to note there are no animals used in any performance.
 Shopping
Siem Reap has an excellent selection of Cambodian-made handicrafts. Psar Chaa is well stocked with anything you may want to buy in Cambodia, and lots you don't. There are bargains to be had if you haggle patiently and humorously. Angkor Night Market (www.angkornightmarket.com; 4pm-midnight) is packed with silks, handicrafts and souvenirs. Up-and-coming Alley West is also a great strip to browse.
A number of shops support Cambodia's disabled and disenfranchised.
Artisans d'Angkor HANDICRAFTS
(www.artisansdangkor.com;  7.30am-6.30pm) One of the best places in Cambodia for quality souvenirs and gifts, with everything from silk clothing to elegant reproductions of Angkorian-era statuary.
Rajana HANDICRAFTS
( 063-964744; www.rajanacrafts.org; Sivatha St; 9am-9pm Mon-Sat) This quirky little boutique offers original wooden and metalware objects, some hewn from the shells of decommissioned weapons. Rajana promotes fair trade.
Samatoa CLOTHING
( 012 285930; www.samatoa.com; Pithnou St;  8am-11pm) If you find yourself in need of a party frock, this designer dress shop offers original threads in silk, with the option of a tailored fit in 48 hours. Samatoa promotes fair trade.
Senteurs d'Angkor HANDICRAFTS
( 063-964860; Pithnou St;  8.30am-9.30pm) Opposite Psar Chaa, this shop has an eclectic collection of silk and carvings, as well as a superb range of traditional beauty products and spices, all sourced locally.
Smateria ACCESSORIES
(www.smateria.com; Alley West;  10am-10pm) Recycling rocks here, with funky bags made from construction nets, plastic bags, motorbike seat covers and more. Fair-trade enterprise employing Cambodians with disabilities.
 Information
Pick up the free Siem Reap Angkor Visitors Guide (www.canbypublications.com) or the two handy booklets produced by Pocket Guide Cambodia (www.cambodiapocketguide.com), or look them up online.
There are ATMs at the airport and in banks and minimarts all over central Siem Reap, especially along Sivatha Blvd. The greatest concentration of internet shops is along Sivatha Blvd and around Psar Chaa.
Royal Angkor International Hospital ( 063-761888; www.royalangkorhospital.com; Airport Rd) A new international facility; affiliated with the Bangkok Hospital, so very expensive.
Tourist Police ( 097-778 0013) At the main Angkor ticket checkpoint.
 VISAS FOR CAMBODIA
For most nationalities, one-month tourist visas (US$20) are available on arrival at Siem Reap and Phnom Penh airports and all land border crossings. One passport-sized photo is required. One-month tourist e-visas (US$20 plus a US$5 processing fee), which take three business days to issue and are valid for entry to Cambodia at the airports and the Bavet–Moc Bai border crossing with Vietnam, are available at www.mfaic.gov.kh.
Anyone planning a side trip to the temples of Angkor and then returning to Vietnam will need a multiple-entry Vietnam visa or will need to arrange another visa while in Cambodia.
 Getting There & Away
There are two main options for travelling between Vietnam and Cambodia. Air travel is more convenient, with daily flight connections between Ho Chi Minh City (HCMC), Hanoi and Siem Reap. Road travel is a more daunting prospect as it takes an entire day to travel direct between HCMC and Siem Reap, including a change of bus in Phnom Penh. However, it is easy enough to break the journey in the lively Cambodian capital.
Air
Siem Reap International Airport (REP;  063 761 261; www.cambodia-airports.com) is 7km west of the centre. Vietnam Airlines offers regular daily connections between Siem Reap and HCMC (one way from US$135, five daily) or Hanoi (from US$195, four daily). Silk Air also offers two flights a week connecting Siem Reap and Danang (from US$245).
Bus
Most travellers use international buses between HCMC and Phnom Penh, crossing at the Moc Bai (Vietnam)–Bavet (Cambodia) border. Buses take about six hours or so, including border-crossing formalities. Tickets usually cost US$10 to US$12. Regular services run throughout the day between 6am and about 2pm in both directions. Buses leave from the Pham Ngu Lao area of Ho Chi Minh City. In Phnom Penh, they arrive and depart from various bus offices around the city, including the following popular operators:
Capitol Tour ( 023-217627; 14 St 182; US$23)
Mekong Express ( 023-427518; www.catmekongexpress.com; 2020 NH5)
Sapaco ( 023-210300; www.sapacotourist.com; Sihanouk Blvd)
In theory it is possible to connect the same day with a change of bus in Phnom Penh, but this is easier travelling from Ho Chi Minh City to Siem Reap as opposed to the other direction, as Phnom Penh to Siem Reap services operate later in the afternoon.
Tickets between Siem Reap and Phnom Penh (six hours) cost US$5 to US$13, depending on the level of service (air-con, leg room, a toilet, a host). There are also some night buses between Phnom Penh and Siem Reap, which could be useful for those in a hurry.
In Siem Reap, all buses depart from the bus station, which is 3km east of town and about 1km south of NH6. Tickets are available at guesthouses, hotels, bus offices, travel agencies and ticket kiosks. Some bus companies send a minibus around to pick up passengers at their place of lodging. Be prepared for a rugby scrum of eager moto (motorbike taxi) drivers when you get off the bus in Siem Reap.
 Getting Around
From the airport, an official moto /taxi/van costs US$2/7/8; remork-motos (tuk-tuk; US$5) are available outside the terminal. From the bus station, a moto / remork to the city centre should cost about $1/3.
Short moto trips around the centre of town cost 2000r or 3000r (US$1 at night). A remork should be about double that, more with lots of people.