Few people stop in Bac Lieu, but bird – watchers pass through en route to the excellent sanctuary near town. The town has a few elegant but forlorn French colonial buildings lining the waterfront, but little else of interest.
The grandest of these buildings is the Cong Tu Hotel ( 0781-395 3304; 13 Ð Dien Bien Phu; r 300,000-500,000d; ), built in 1919 as a private mansion with materials imported from France. The family's oldest son was a notorious playboy (cong tu) whose fabled exploits included burning money to boil an egg in an effort to impress a woman. After squandering the family fortune, the house was sold and converted into a hotel where you can still stay. Alternatively, inexpensive guesthouses line the road into town from Soc Trang (rooms cost around US$10).
Bac Lieu Bird Sanctuary NATURE RESERVE
(;  0781-383 5991; admission 15,000d;  7.30am-5pm) This bird sanctuary, 6km southwest of town, is notable for its 50-odd species of bird, including a large population of graceful white herons. Bird populations peak in the rainy season – approximately May to October. The birds nest until about January, then fly off in search of greener pastures. There are basically no birds here from February until the rainy season begins again.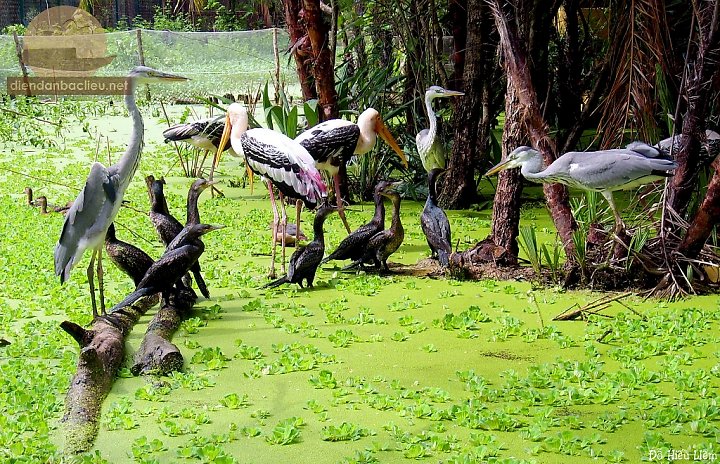 The trek is through dense (and often muddy) jungle: bring plenty of repellent, good shoes, water and binoculars. Pay the admission fee when you reach the entrance; an observation tower is located within the sanctuary. You can (and should) hire a guide here, as you may get lost without one. The guides aren't supposed to receive money, so tip them discreetly; most guides do not speak English. Transport and guides can also be arranged through the Bac Lieu Tourist office (at a mark-up).
Pho Ngheu Thanh Huong VIETNAMESE $
(43 Tran Quynh; mains 25,000-47,000d) While you could probably buy similar pho (noodle soups) and banh mi (filled baguettes) from a street stall, this smart eatery offers a fairy-lit rooftop from which to watch the traffic zoom by.
(cnr Ð Tran Phu & Ba Trieu; 10am-11pm) This 1st-floor cafe overlooking one of the many busy roundabouts on Ð Tran Phu is black and white and chrome all over, with chic chairs and a wall of TV screens. A good spot for Vietnamese coffee and cake, or something a little harder.
Bac Lieu Tourist ( 0781-382 4273; www.baclieutourist.com; 2 Ð Hoang Van Thu; 7-11am & 1-5pm) Helpful tourist office with basic town maps and information about trips to the bird sanctuary.
Post Office (20 Ð Tran Phu) Off the main roundabout.
The bus station (Ben Xe Tinh Bac Lieu) is on the main road into town, 1km north of the centre. From here you can catch regular buses to Ho Chi Minh City (130,000d), Soc Trang (65,000d), Ha Tien (130,000d), Ca Mau (30,000d) and Can Tho (65,000d).